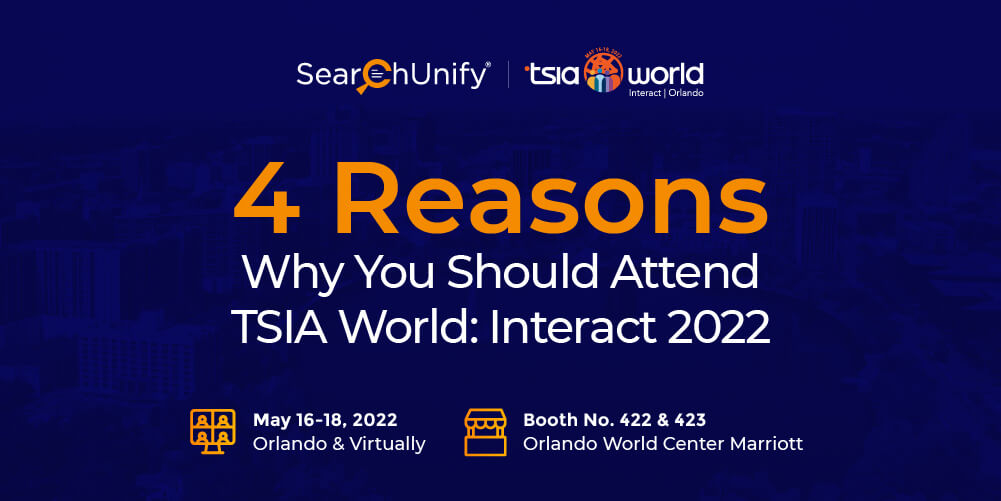 The SaaS industry is riding the hyper-digitization wave. That has changed the way CX is perceived. Low-code development platforms, AI-infused innovations, and XaaS or 'everything-as-a-service' business models got their moment in the sun.
But with evolving customer attitudes and behaviors, CX professionals are having a hard time keeping up and focusing on newer strategies to raise the CX bar.
To get a scoop on all tech advancements in the customer experience world, the Technology & Services World: Interact Conference, Orlando is worth attending. For those who don't know, TSIA Conferences are an immersive, global hybrid learning experience where a lineup of keynote speakers and industry stalwarts in customer experience come together to share exclusive insights and innovations you need in today's ever-changing business environment.
The upcoming event is set to unfold on May 16-18 in Orlando, Florida. You can visit in-person or join virtually.
Here are four reasons why you should capitalize on this three-day hybrid conference:
1. To Connect with Technology Leaders
The conference gives you a platform to better interact with your industry experts and seek advice from them. This empowers you to elevate your industry knowledge with more market insights, latest technology trends, and so on. Be part of countless industry keynotes & sessions on topics around customer service, navigating the XaaS transformation, creating a viable XaaS offer, and accelerating recurring revenues.
2. To Build Your Network with Industry Peers
There's no shred of doubt that one-on-one with peers is a great way to interact and share business stories. That allows you to create a strong network of like-minded tech and service leaders from different business verticals. At the TSIA conference, networking is more than just a card exchange. So, make the most out of this CX extravaganza. As the old saying goes, "Great opportunities don't come every day—recognize and seize them with every chance you get." 😀
3. To Conquer the Peak of Inflated Customer Expectations
This three-day event is packed with sessions and keynotes to satiate your customer's appetite. It promises insights on several topics—customer success, education services, field services, professional services, managed services, support services, subscription-based (XaaS) business models, designing for adoption, monetization strategies, and so on. It is useful for various business verticals—Technology Services, Sales and Channel Optimization, and Product teams.
4. To Experience Real AI in Action
The future of customer interactions is dynamic & AI-enabled. In fact, MarketsandMarkets forecasts the global artificial intelligence (AI) market will be worth USD 309.6 billion by 2026. That means next-gen AI is bound to play a big role in refining your services and processes and meeting customer expectations. At the TSIA Conference, innovative technology vendors will unleash the power of real AI and open the door to enterprise success.
Looking Forward to Meeting You at Booth No. 422 & 423 in the Expo Hall
Are you ready to grab your lanyard and get back to sharing ideas at the much-awaited TSIA conference? Don't forget to stop by our booth to learn how SearchUnify empowers leading companies to build sustainable customer support and deliver hyper-personalized, relevant self-service experiences.
Also, we are a Gold sponsor for the three-day hybrid event & eagerly await to meet you!
In addition, SearchUnify & SailPoint, a leading identity security solution provider and one of our elite clients, are conducting a joint session on 'Incremental Change for Continuous DCX Improvement' at TSIA Conference 2022. This session will unfold on May 16th from 12:30 PM-12:50 PM at Theater 2, InteractZone.
The experts from both organizations will talk about how SailPoint unlocked community success with an intelligent chatbot & actionable insights. In addition, they will shine a light on getting both their feet firmly planted in the endeavors of futuristic enterprise success. Find more details for the session here.
Hope to meet you at the conference! You never know what serendipity has in store for us! 🙂