By continuing to use our website, you consent to the use of cookies. Please refer our cookie policy for more details.
The Next-Gen Virtual Assistant
for Proactive Support
Deliver superior customer and employee experience with hyper-personalized, contextual, and timely responses.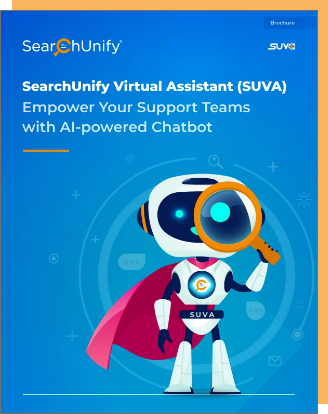 "A Best-of-Breed" Intelligent
Bot Trusted by Leading
Companies Globally
Enterprise-wide Applications
of Conversational AI
Customer Self-Service
Drive engagement & adoption by creating hyper-personalized experiences, managing round-the-clock L1 queries, leveraging advanced real-time analytics, and much more.
Employee Enablement
Empower employees with a next-gen "e-buddy" that helps resolve all their HR and IT-related queries swiftly by delivering accurate answers whenever required.
Our Customers Love SUVA
"When we looked back at Skipper's conversational performance, just on those issues, we saw a significant impact. Not only more customers engaged with Skipper, Skipper was able to help them self-service. We almost tripled our average monthly savings just for these issues."

Igal Dar
Technologies & KCS Manager, Field Operations
SailPoint
SUVA for Your Conversational AI Needs
Finds Answers in a Split-
second from All KBs
Delivers Relevant Results with
Intent & Entity Extraction
Powers Contextual, Intent-
Sensitive Responses with NLG
Leverages Unsupervised
Learning for Intent
Suggestions
Unlocks Contextual
Conversations with Dynamic
Decision Tree Structures
Generates Accurate User
Journey Insights
Enables Seamless Chatbot-
Agent Handoffs
Empowers Transactional
Queries
Augments Customer &
Employee Self-Service
Experiences
Awards and Recognition
SearchUnify's Intelligent Chatbot Named Winner in 2022 Artificial Intelligence Excellence Awards
Forrester recognized our chatbots for leveraging search technology in The Forrester WaveTM : Cognitive Search, Q2 2019
TSIA named our chatbot "a best in breed" for our vision to build chatbots on top of cognitive search technology
SearchUnify's Intelligent Chatbot won the 2021 AI TechAward in the "Chatbots" category.
Why is SUVA the Best Chatbot
It specializes in precise and empathetic conversations that will leave your customers speechless! It leverages NLP to gauge intent and deliver contextually correct answers that keep users engaged and coming back for more.
Low Deployment Time (1-2 weeks)
Exceptional Customer Experience
Higher Customer Satisfaction
Seamless Hand-offs
Time & Cost Effective Training
Improved Employee Productivity
Multilingual Support
Better Engagement & Adoption
Request a
Live Demo Now!
Embark on the Journey of Next-Gen
Customer Support and Experience
© 2017 - 2023 SearchUnify. All rights reserved.