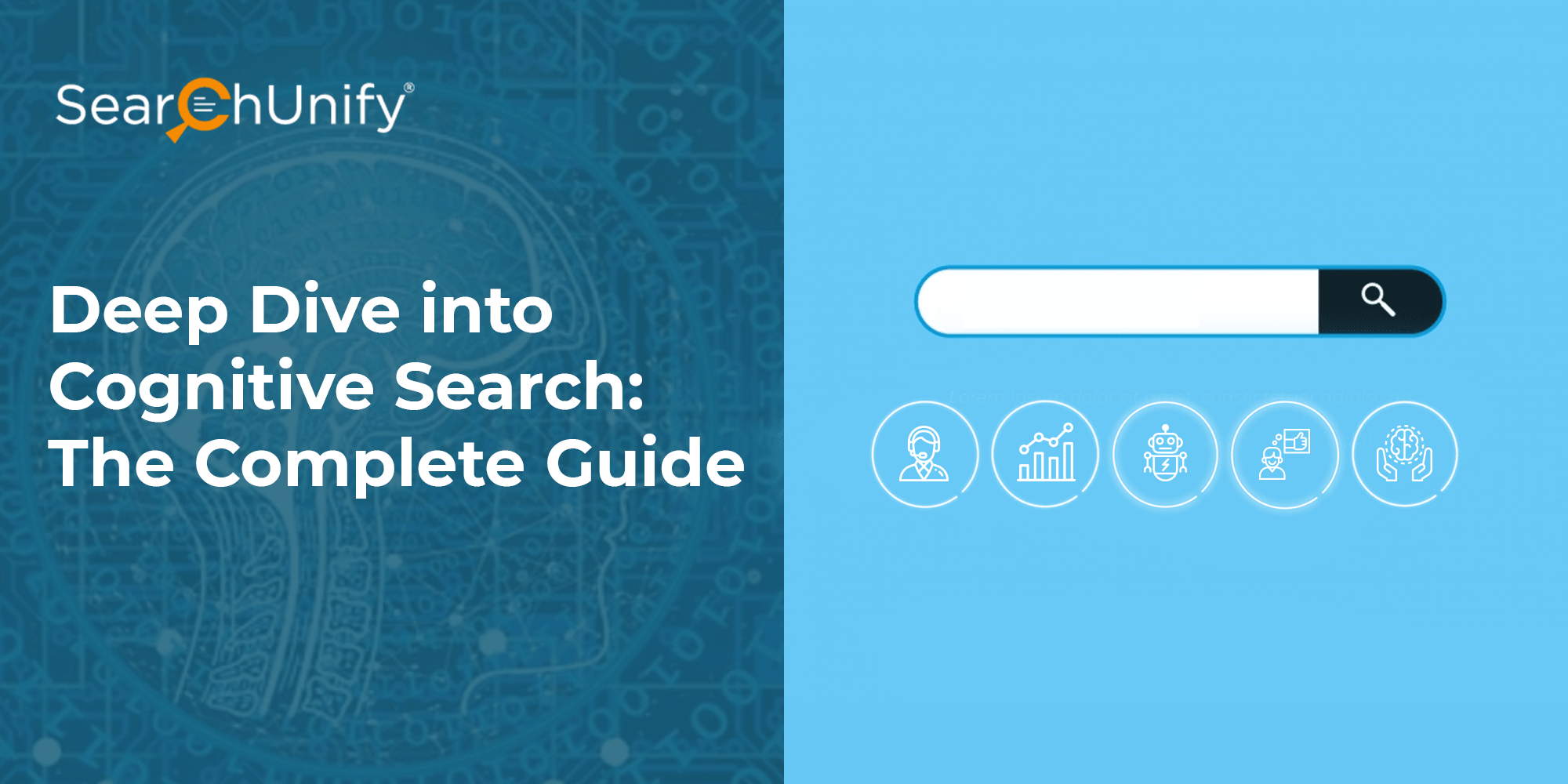 Need to identify a black spot on a sheet of paper? Piece of cake. But what if you have to find a spot with a certain radius among a cluster of spots from a whole book? Such is the need of the hour. One needs to smartly sift through the cornucopia of information in the system. This is where cognitive search kicks in.
But before we delve into the cognitive weeds, let's talk a bit about the predecessor that laid its foundation stone – enterprise search.
Organizations use a variety of solutions that save data on their clouds, thus making it almost impossible for your employees to find information on their own from a single search interface. But with the inception of enterprise search, it became possible. How? Let me explain.
Once a query is entered, it is picked up by the engine's endpoint and forwarded to a cloud where it is processed and matched with a fitting answer from the searchable index of logical categories. Crawlers ingest structured & unstructured data from the added repositories and the finalized pieces are then picked up and displayed to the search user.
2. What Makes Cognitive Search Great for Businesses?
So now that you have a good understanding of the basics, let's talk about how cognitive search can turn out to be a big asset for organizations.
2.1. Self-service
2.1.1 Customer Self-service

Gone are the days when phones were the only way of reaching a support team. In fact, the modern customer prefers to self-serve. HBR stated that 81% of customers prefer to self-solve their issues before reaching out to a support representative.

When customers face an issue, they prefer to find answers online. That's why it is imperative for businesses to implement self-service solutions. However, there's a problem. Many people find your self-service channels difficult to use. These solutions also need to live up to customers' expectations or else they end up being a dejected novelty.

But what do customers expect? They expect the search on your self-service channels to be just as capable as Google, if not better. Here is what it needs to offer:

One operation to search multiple repositories at once.

This would eliminate the need to switch to different platforms to look for the same thing

Contextually relevant and personalized results at the top.

If that's not the case, many people won't bother looking beyond the top 3-4 results, let alone the second page. Pretty harsh, right?

Not having to type the complete query.

When I'm typing a query, I often stop after a few keystrokes to check if the suggestions mirror my mind. If it isn't there, I would be forced to type in the complete query. But the worst thing that can happen is me waiting for suggestions that never populate. What a buzzkill!

That sounds like a lot, doesn't it? Fortunately, cognitive search bridges the gap between expectations and reality. It consolidates a pool of information that enables customers to search multiple repositories from the point of search.

With machine learning & natural language processing (NLP) powering its core, it understands queries and correspondingly provides relevant results. And yes, it can gauge queries on the fly. This elevates the customer experience and keeps them happy.

2.1.2 Employee Self-Service

As the name suggests, it allows employees to take care of several job-related tasks that would otherwise need to be completed by other resources or management. Employee self-service helps enterprises save labor hours and increase efficiency. And when you add cognitive search to the mix, the result is nothing short of exhilarating. Here's how:

Onboarding: The first few days can be a tad daunting for new hires. You might have a lot of information on internal community, employee handbook, intranet, etc. But for new employees, finding it can be a challenge. Cognitive search provides cross-platform search to your new recruits which improves information discovery and accelerates the onboarding process.
Upskilling: Surprisingly, many organizations only train their agents at the time of joining. Needless to say the learning should never end. The insights engine can track and report agent performance so that the managers can zero-in on the areas of improvements, if any. Accordingly, they can develop training programs to overcome hurdles and help agents upskill like never before.

2.1.3 Chatbots in Self-service

One just can't talk about self-service without mentioning chatbots. But what will be of more interest to you is its smarter, more versatile sibling – search-aided bots. And the best part is that they benefit both customers and agents.

For customers, these intelligent bots can fine-tune conversations for every individual user. Thanks to AI and NLU, they can identify the intent and provide more contextual responses. They can mine search data and previous interactions to deliver engaging & effective answers.

Virtual assistants for agents give your support heroes the ability to quickly send out the first response when a case comes in. They quickly analyze previous cases and their subsequent responses to suggest a fitting answer in the form of a comment or an article. And of course, they handle basic queries and reduce the burden on your agents. This also gives your agents more time to resolve complex issues and hence improve CSAT.

After putting all these efforts into self-service, you might as well want to see the results by measuring self-service success. For that, you'll need a couple of concrete self-service metrics that you can base your judgement on.
2.2 Customer Service
Customer service is not what it used to be a decade ago. Now customers expect businesses to help them on a multitude of channels like email, social media, website, community, chat, and whatnot. And they do not want to wait at all.
Fail to be proactive and they won't waste a breath mourning the inconvenience. They will instantly start looking at alternatives. So your contact center and its agents need to be up to snuff. Again, cognitive search can help. Let's see how:
2.2.1 Improving Contact Center Quality

The present-day customers seek immediacy & personalization. Unfortunately, many contact centers fail on these fronts. But cognitive search can turn the tables by:

Combining KBs:

Enterprises create knowledge to make the going easy for employees & customers. But it's often scattered across platforms. One has to tirelessly switch across KBs to find the ideal solution. A cognitive engine scans multiple repositories and delivers relevant content within the contact center.

Augmenting Knowledge Creation: KCS is a renowned method for elevating contact centers. It involves agents adding new articles for new that they resolve. But they seldom show interest in knowledge creation. Thanks to cognitive search, you can automate the KCS building process. As the agent resolves a new issue, AI analyzes the interaction and auto-populates a help article on a predefined template.

2.2.2 Driving Agent Productivity

The job of a customer service representative is undoubtedly tough. Thankfully, cognitive engines often bundle with an array of AI-fueled apps that make their job easier and maximize productivity. Some of them include:

Cross-Channel Search:

As mentioned earlier, support executives have to look all over your web properties to help a customer. This not only slows down the process but also infuriates your service agents. A cognitive search engine creates a unified knowledge pool that agents can use to instantly find relevant information across all KBs.

Agent Assist:

Quickly sending out that first response is crucial, irrespective of the service channel. Well, what if you give your agents an agent of their own? Something that leverages machine learning to quickly analyze similar cases related to a new ticket to quickly suggest a fitting response? That will definitely reduce stress on your agents.

Smart Insights:

Cognitive engines can mine analytical data that offers insight into what agents search frequently, whether they find results or not, which results are getting more engagement, etc. This helps support managers to identify the hurdles and then clear the path for agents.
About SearchUnify
SearchUnify, by Grazitti, is an AI platform that powers cognitive search, an insights engine, and applications. The cognitive search solution delivers relevant and personalized search results with cross-platform enterprise search powered by AI algorithms derived from end-user behavior.