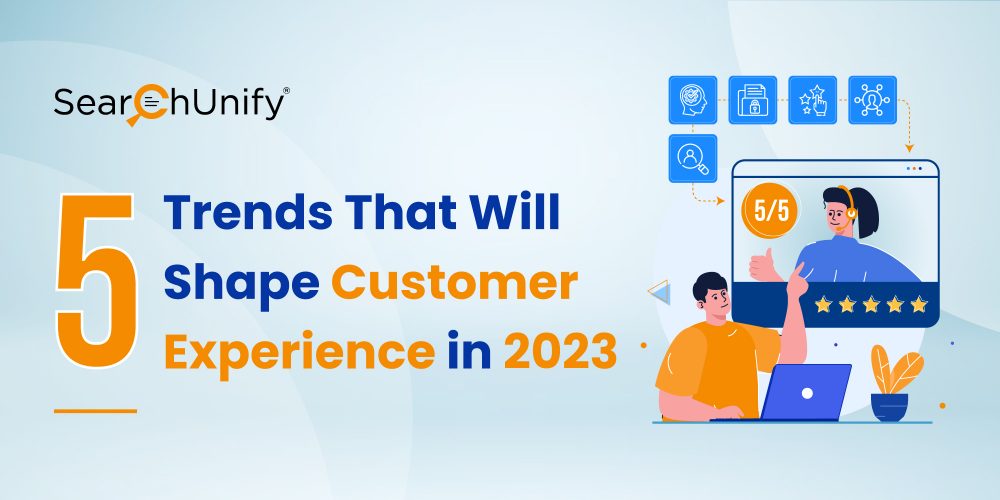 According to Zendesk, 61% of customers would defect to a competitor after only one bad experience.
Delivering optimum customer experience (CX) is key to future-proofing your business and gaining an edge over your competitors.
Therefore, it is important for organizations to stay in touch with the latest CX trends. With that in mind, let's look at the ones for 2023.
1. Hyper-personalization Will Be a Game Changer
According to Salesforce, hyper-personalization lowers acquisition costs, while significantly boosting conversion rates.
Personalization has come a long way and with most companies offering it, customers still expect more.
Think about it, your email must be flooded with offers by brands, especially around the holidays. But only a few are hyper-personalized to you. And those are the ones that catch your attention the most.
While personalized interactions required generic customer data collection, hyper-personalized interactions use an individual's historical data to cater to their personal preferences. Incorporating the latter into your marketing strategy will elevate CX almost instantly!
2. Scaling Self-service Will Become a Necessity
According to Zendesk, 98% of consumers have used self-service channels including FAQs and help centers.
Though most organizations have self-help portals in place, they have trouble scaling them. Cognitive search is a great option that makes it easier for users to find what they're looking for.
What's more, advanced enterprise search solutions provide you with insights into customers' journeys, making it easier to pinpoint the areas that need improvement. Self-service is also considered a major contributing factor to the overall customer experience.
Check out this blog to know how you can evaluate self-service success in aspects other than deflection.
3. Brands Will Have to Strengthen Their Data Security
"Gartner research shows that 88% of boards regard cybersecurity as a business risk rather than solely a technical IT problem."
AI has already advanced to the point that it's capable of being at the forefront of cybersecurity. It even has the added advantage of not needing constant human interaction.
In fact, its subsets, ML, and deep learning help analyze data from multiple endpoints swiftly and efficiently. This paves way for the quick detection of vulnerabilities, making it easier to recognize potential threats and stop security breaches well in time.
It should also be made a common practice within organizations to restrict access controls to only authorized people and adhere to the highest standards for business process control.
4. Employee Experience (EX) Directly Impacts Customer Experience (CX)
Any organization's success depends on the relationship between its customers and employees. After all, delivering optimum CX is quite often in the hands of your support team. When provided with the right tools and applications, agents can cut down on resolution time and increase productivity.
Customer Relationship Management (CRM) tools are the perfect way to support your employees by giving them the resources they need. They promote clearer data visibility, improved messaging, simplified collaboration, and many other advantages.
Also, there are all sorts of AI-powered applications on the market that boost agent productivity, allowing them to provide better experiences for customers. Therefore, choosing the right tools and applications that correlate with your organization's requirements also has a significant impact.
5. The Omnichannel Approach Will Become More Widespread
Many enterprises currently follow the multichannel approach, meaning that they are active on multiple channels. The omnichannel approach takes it a step further by integrating all these channels to provide seamless digital experiences.
Nowadays, customers often use more than one channel to start and continue a conversation. By adopting the omnichannel approach, companies can streamline the communication process, allowing all departments to access important information.
As a result, employees do not have to ferret around for information and can be more productive. Taking on the omnichannel approach will allow you to be more customer-centric and form better relationships.
If you wish to learn in-depth about the same and significantly improve CSAT, check out this Support (re)Focus session.
Leveraging the Right Tools to Augment CX
Having a carefully crafted CX strategy is essential for brands to make a name for themselves in 2023. It will significantly impact whether your business reaches its true potential or not.
It is also important to keep in mind that positive customer experiences promote customer loyalty and play a major part in making them your brand's patrons for life.
If you're also wondering how to augment your CX, get in touch with the leading unified cognitive platform for a demo today!