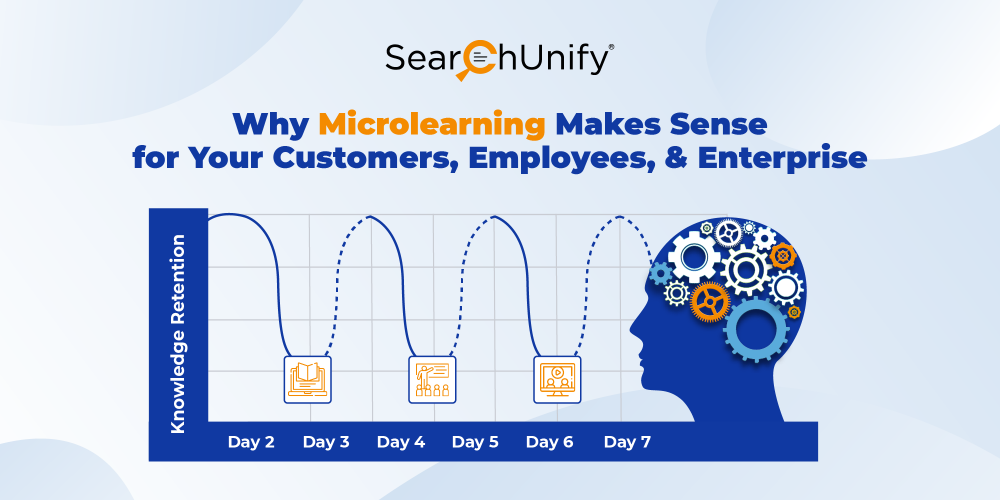 Modern developments have revolutionized our lives for the better. But with the advancements comes an information surge that is hard to keep up with and adds to the existing knowledge gaps. What's more, customers and employees are now running low on time and have the attention span of a child. That creates the need for a fast-paced delivery and consumption of pretty much everything.
Fun Fact: The average attention span of humans is 8 seconds.
Longish training and learning regimes tend to exhaust your employees and customers alike. The notion that a human brain can only hold a limited amount of information at a given time is true. Hence, a bite-sized learning approach like microlearning becomes a paragon solution. Microlearning is not a new fad or buzzword in the eLearning industry; it's here to stay. Microlearning refers to a skill-based approach that delivers bite-sized knowledge that is concise, focused, and can be absorbed on the go in the form of highly crisp and short learning materials.
What is Microlearning?
Just like the name suggests, microlearning imparts knowledge for a single problem or query in small chunks and can be assimilated within minutes. Typically designed in rich media formats to make the content more interesting, this training approach facilitates cross-platform learning and is available on multiple devices like desktops, tablets, smartphones, etc. Presentations, audio podcasts, games, scenarios, assessments, games, brief online lessons, etc., are amongst the most popular mediums of microlearning.
For instance, let's say you just purchased a new electronic product and are looking for a demonstration video or instruction manual. While doing so, you come across a few videos. Which factors would determine the criteria for the video you select?
For starters, you might prefer videos that rank higher. Other factors remain the number of views and maybe an eccentric or relatable title. But do you know what the deciding factor is? It's the duration or the length of a video. Odds are, you will choose a 5-minute video as opposed to the one that stretches over 45 minutes (even if the longer video ranks higher). This is the role that microlearning plays to knock the ball of long training sessions out of the park.
What are the Characteristics of Microlearning?
Microlearning is certainly easy and fast. However, this does not imply that microlearning content can be created on a whim. It still involves a lot of work in terms of planning, designing, developing, and reviewing. Let's take a quick look at the three characteristics of microlearning content:
Brevity – Day-long training sessions are passé. When it comes to microlearning, always remember, less is more. The learning material or courses are designed to facilitate small nuggets of knowledge, usually not exceeding a few minutes. Hence making it easier to watch and retain.
Focus – Microlearning must engage and address a single problem or question. However, if you are dealing with a complex topic, then it must be broken down into several modules or lessons and be hyperlinked with the rest at the end.
Flexibility – The workable and pliant nature of microlearning is the reason why it took precedence over other formats of learning. The modules are designed to facilitate ease of accessibility. Learners can access the content when they need it irrespective of their location or device.
Key Benefits of Microlearning for Training
1. Provides Non-disruptive Learning Within The Workflow
The ultimate goal of microlearning is to enhance an individual's performance and knowledge without compromising or disrupting the workflow. The learning modules are short, ideally ranging between 5 to 10 minutes, and adopt a learner-centric approach where the employee/customer enjoys complete flexibility. Add to that, each module targets a single learning topic hence keeping it succinct and less time-consuming. This means employees and customers can assimilate learning into their schedules with zero hassles.
2. Renders Immediate Value Learning and Relevance
In order to stay apace with the ever-evolving business developments, organizations need to keep their workforce on the top of their game with proper training and knowledge. However, more often than not, these training sessions can be lengthy and repetitive for individuals. As a result, your employees will be unnecessarily drained out. This is where microlearning steps in with its byte-sized modules. Employees and customers can choose a module of their choice for selective learning and skip the parts that they feel are redundant. This will not only improve the effectiveness of the training program but also keep the employees hooked while empowering them to evolve and upskill.
3. Facilitates Learning On The Go
What used to be a luxury once has now become a basic necessity. Yes, we're talking about the portable devices that have taken over our lives. With the availability of digital devices, everything has gone mobile, including the training modules. It's easier now, more than ever, to access learning content while you're on the move, anytime, anywhere. The convenient and learner-centric nature of microlearning modules entitles the learners to crack on their session precisely when they need it.
4. Promotes A Collaborative Learning Experience
Microlearning encourages the ongoing development of employees' or customers' knowledge by focusing on group-centered tasks via collaborative learning. This form of learning goes beyond the micro-mobile learning experience. Here, people move over digital spaces and into a collaborative environment to exchange ideas, ask queries, share their knowledge or expertise, discuss best practices, and more. This practice doubles the impact since it involves shifting the emphasis from individual efforts to group work. Amongst the top examples of collaborative learning are group projects or presentations.
5. Fills Knowledge Gaps
There is an inherent flaw in the yearly compliance training sessions conducted by companies. For starters, they're lengthy and contribute to the information chaos. This gives rise to a knowledge gap between what was taught, learned, and actually retained. In order to maximize retained information, companies must formulate microlearning training approaches that involve clubbing together related topics to make the training sessions shorter and relevant. Thereafter, these micro-learning training sessions can be scheduled to span over a short period of time or when the learner wants it. This will ensure better retention of what was indoctrinated.
Byte-Sized Takeaway
Microlearning facilitates the development of an agile workforce and is a crucial tool for upskilling or reskilling workers who wish to thrive in a dynamic industry. Owing to the on-demand or just-in-time feature of microlearning, employees and customers can hone their existing skill sets or acquire new capabilities using this personalized and convenient learning method.
If you also wish to maximize the impact of your self-service learning and training models, then watch this webinar. It ropes in experts on training, content, and customer success from Brightree and SearchUnify to discuss the paradigm shift in learning behavior and methods. It also spills the beans on key strategies to turn this learning into business results.