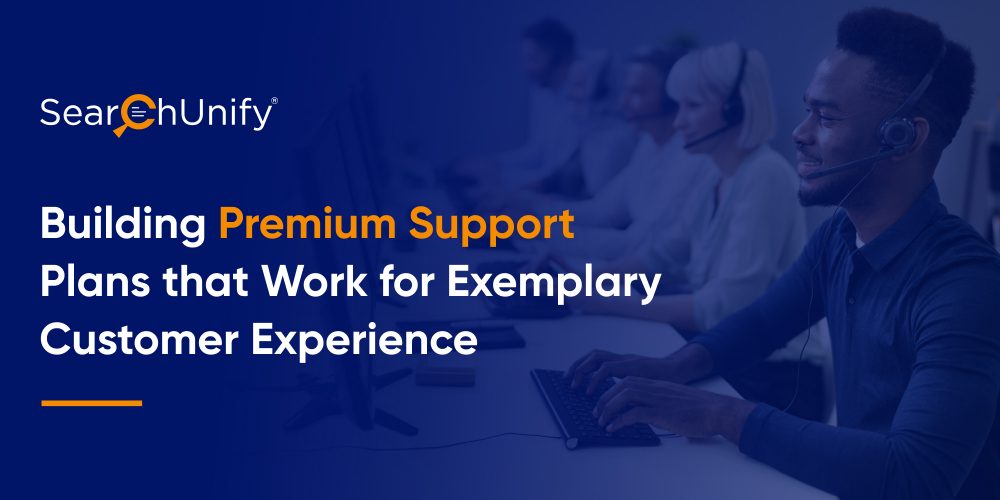 In today's digital age, businesses strive to go the extra mile by providing exceptional service. As a result, premium support has emerged as a valuable solution, enabling businesses to set a new benchmark by delivering unparalleled assistance and customer care.
Curious about the magic behind premium support? Uncover its secret ingredients – from faster response times and dedicated agents to extended support hours, premium support offers customers a heightened level of assistance and prioritization.
Surprisingly, many organizations hesitate to embrace this solution and miss out on its abundant benefits. But fear not! Implementing premium support is easier than you can imagine. Let's explore what it truly means and discover the myriad advantages it brings to the table.
Wondering Whether Customers Will Pay More for Support?
Besides the fact that you're offering them elevated support. Listed below are some benefits that will help get them on board.
Customer Aware Support
Customer Aware Support is a specialized service that offers customers a head start in resolving technical issues and enhancing their overall premium support experience.
Unlimited Case Submissions
Premium support customers can submit an unlimited number of cases or interact with the support team without any restrictions.
Priority Queuing
Customers availing of Bronze, Silver, or Gold support offerings will receive priority in case management over those with basic support. However, all severity 1 case must be prioritized regardless of the support package purchased.
Annual Health Checks
Premium customers have the option to request an annual health check, providing valuable insights into the quality and performance of a specific use case. This is the perfect opportunity to check in with them and ensure that everything is going smoothly.
Round-the-clock Platform Support
The support team will be available 24x7x365 to promptly address issues related to connectivity, access, single sign-on, and other platform-related matters.
Considerations for Building Premium Support Plans
Are you ready to step into the premium world of support, but don't know how to start or what to offer? Here are some key considerations to keep in mind:
Closed Groups Within Community Forums
When designing premium support plans, consider creating a closed group within your community forums exclusively for the subscribers. This private space fosters a sense of exclusivity and creates a community of like-minded individuals who can support and learn from each other.
Integration With Applications for Better Analytics
Integrating applications such as intelligent chatbots with access to insights into your premium support plans will enhance their effectiveness. By analyzing customer interactions, feedback, and support data, you can gain valuable insights into customer behavior, preferences, and pain points. It further enables you to make data-driven decisions and continually improve your premium services.
Persistent: Channel Agnostic
Customers should be able to seamlessly switch between support channels (such as phone, email, or chat) without losing the context of their previous interactions. Additionally, premium support agents should be well-informed about the customer's history and previous support interactions for a cohesive and efficient support experience.
Personalized: Tailored to Customer's Experiences
A crucial consideration for premium support plans is to offer personalized training sessions to your customers, keeping their specific challenges, goals, and preferences in mind. This personalized approach demonstrates that you value each customer individually, leading to increased customer satisfaction and loyalty.
AI-ML Automation
Consider integrating intelligent technologies such as Artificial Intelligence (AI) and Machine Learning (ML) into your premium support plans. Doing so can automate repetitive tasks, provide instant responses to common queries, and analyze vast amounts of data to uncover patterns and trends. Remember, it helps streamline your support processes, improve response times, and deliver proactive solutions to customers.
Assigning a Sales Configurator at the Beginning of Customer Onboarding
Consider assigning a sales configurator to your premium support customers right at the beginning of their onboarding process. This would help them receive guidance for the initial setup, configuration, and customization of the products or services. A smooth onboarding experience paves the way for a strong foundation for ongoing support.
Blueprint for Success: How to Build Exceptional Premium Support Plans
Segment Customers
Classify and group customers based on relevant criteria such as industry, size, or specific needs to understand their support requirements better. Segmenting your customer base becomes essential as you identify those unwilling to pay for support and those open to paying either a nominal or significant amount.
Gather Customer Input
Engage with customers through surveys, interviews, and feedback mechanisms to gather insights on their expectations, pain points, and support expectations.
Identify Patterns
Analyze the collected customer input to identify common patterns and recurring themes that will prove useful in shaping the design of the support plans.
Identify Offer Gaps
Identify any gaps or areas where the current support offerings are not meeting customer needs or expectations, ensuring a comprehensive and well-rounded support plan.
Define Service Offer
Develop a detailed service offer that aligns with customer segments, addresses identified gaps, and provides a clear description of the support services to be provided.
Pilot and Validate the Offer
Test the support plan with a selected group of customers to validate its effectiveness, gather feedback, and make necessary adjustments before offering it to a wider audience.
Determine Pricing
Determine the pricing structure for the premium support plans, considering factors such as the value provided, market competition, and customer willingness to pay.
Scale up Revenue and Margins
Once the premium support plans are launched and established, focus on scaling up revenue and improving profit margins through effective marketing, sales strategies, and continuous optimization of the support offerings.
Want to Gain a Deeper Understanding of Premium Support?
If you wish to explore all about premium support at a higher level, I've got just the solution for you!
Check out this webinar on "Your Questions Answered: Realigning Premium Support Programs for Today's Economy" which will answer all your queries related to premium support. It delves into the various aspects of premium support services, providing valuable insights into their definition, purpose, and implementation. Happy Listening!