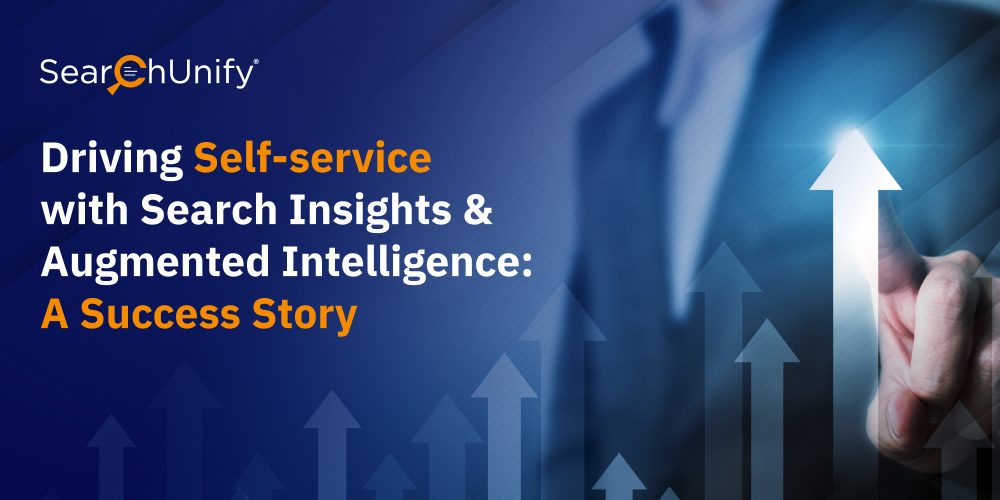 Imagine your favorite coffee machine breaks, leaving you without your morning pick-me-up. What would you do in this situation? Would you rather spend two hours talking to customer support, or Google your way out? Well, there's a better solution—Self-service.
You can easily access instructions on the self-service portal and fix the machine in just 15-20 minutes by yourself. This is the power of self-service, yet it only achieves an average success rate of 54.6% according to TSIA. The statistics call out the need for innovative solutions to amplify the outcomes multifold.
A leading SaaS platform was sailing the same boat but integrating a next-gen solution not only revolutionized its self-service outcomes but increased case deflection rates exponentially. Read on to know how.
A Quick Overview of the Company
It is a SaaS company, trusted by over 9,000 organizations worldwide including over half of the Fortune 500 to get their data and analytics unified. With offices around the world, it is headquartered in California. The company aims to solve the world's toughest problems and future-proof them via one single platform.
Unmasking the Broader Self-Service Challenges
While the organization achieved success, the team also encountered challenges that needed to be addressed:
a) Enhancing User Experience: The team discovered that users were not utilizing self-service portals effectively, resulting in increased case creation.
b) Improving Content Findability: The team found that their content pieces were text-heavy and difficult to navigate, affecting content findability.
c) Irrelevant Search Results: There was a lack of documentation for customer-reported issues, leading to irrelevant search results.
To find a solution that helps the team overcome these challenges, SearchUnify, a unified cognitive platform was brought into the picture.
From Hurdles to Success: The Clients' Self-Service Transformation
The company reinvented the wheel by utilizing search insights and business intelligence to elevate self-service outcomes. The four-progressive steps were taken:
1. Smart Case Segregation
To begin, the team conducted a thorough historical analysis for identifying the specific problems faced by users. They focused primarily on component areas, product areas, and case subjects that had a significant case volume. The analysis revealed that 25-30% of cases could not be resolved through self-service or deflection. They also found that their wealth of knowledge articles, documents, blogs, and other content pieces could address only 70-75% of cases.
In order to achieve their first-stage deflection targets, the team collaborated with SearchUnify to explore proactive approaches and strategies. They then collaborated with SearchUnify to brainstorm proactive approaches to achieve their first-stage deflection targets with ease.
2. Content Gap Analysis
Almost every organization categorizes its cases differently.
To optimize content and analytics, the team adopted a strategic approach to categorize their cases periodically. This enabled them to identify gaps in their content and analytics systems, gaining a comprehensive understanding of their knowledge base and areas needing improvement.
Additionally, they leveraged intelligent search insights, analyzing search patterns and user behavior to identify content gaps and enhance their knowledge base. This proactive approach resulted in an improved self-service experience, meeting the goal of stage 2 deflection.
3. Self-Service Behavior Analysis
Self-service business intelligence accounted for $4.73 in 2018 and is expected to reach $14.19 billion dollars by 2026.
With the deployment of the SearchUnify platform, the company made remarkable discoveries. They found that 88% of cases were initiated by customers who hadn't even explored the self-service portal. To address this, it implemented the following enhancements:
Configuring multiple search clients to optimize search functionality and enhance self-service outcomes.
Establishing 360-degree connections to bridge the gap between self-service journeys across various platforms.
Introducing a streamlined one-step approach for case creation, accompanied by the proactive display of relevant articles and an additional pop-up form. These improvements resulted in improved conversion rates and stage 2 deflection.
Orienting UI enhancements to improve user experience.
Proposing relevant metadata content in search results to assist users in finding valuable information.
Enabling rich snippets to extract and showcase invaluable information, leading to an elevated customer experience.
Through these initiatives, the client achieved significant improvements.
4. Taxonomy Building and Reranking
Taxonomy has transformed knowledge management for the client, thanks to SearchUnify's powerful ML engine that enabled the company to tag its legacy content and rerank search results. With this collaboration, they achieved remarkable results:
Created a data-level taxonomy to enhance organization and categorization
Provided intelligent solutions for various error codes, improving troubleshooting efficiency
Implemented reranking based on semantics to suggest similar articles and boost their visibility
Tagged content with relevant information for enhancing searchability and discoverability
Leveraged advanced features like content annotation, intelligent tagging, NLP generation, and cutting-edge solutions like Knowbler
Utilized AI-driven quality controls to revolutionize knowledge discovery and enhance self-service outcomes
The End Game: Dynamic Duo Forged Self-Service Success
Roping in SearchUnify brought phenomenal results for the client. With the right goals and constant focus on execution, they were able to flourish and experience:
10% increase in Stage 1 deflection
3% increase in Stage 2 deflection from significantly low numbers
P.S. That's not it! We have an engaging webinar to help you build a thriving self-service ecosystem.
And don't forget to book your Demo now!