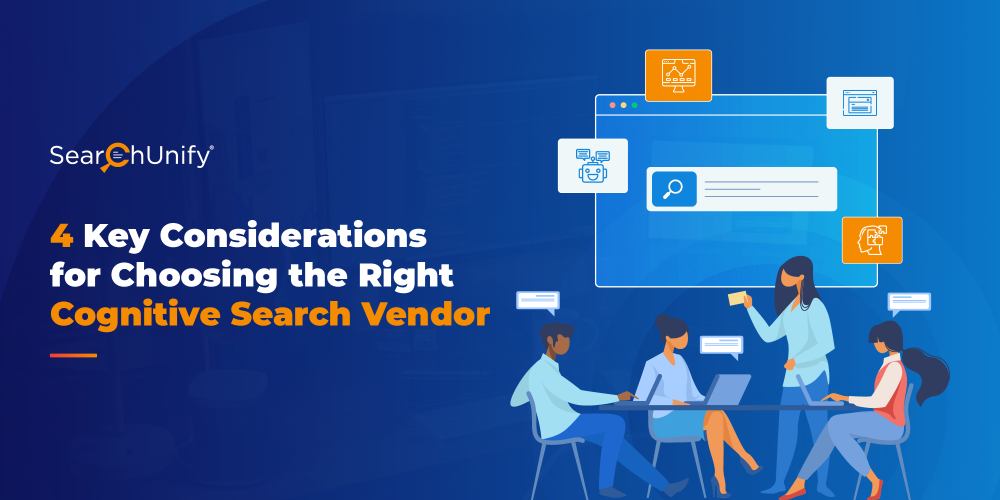 The more the data, the better your business will be. But is this statement always correct?
Enterprises feel that the more data they have, the more they learn from it and make informed strategies for lasting success. While data is the currency of the digital age, its overload is a curse. In fact, the massive volumes of unstructured data, and the silos it resides in, can become a monumental challenge that exacerbates content findability and several other problems.
According to The Forrester Wave™: Cognitive Search, Q3 2021:
"Knowledge is power" goes for every enterprise. However, much of that knowledge is locked up tight as a drum in data silos ad infinitum. Cognitive search platforms ingest, organize, and understand data from enterprise data sources to provide employees with precise insights and answers to important business questions.
Modern cognitive search engines leverage NLP, ML, deep learning, and semantic processing to surface increasingly contextual results. Put simply, cognitive search platforms inject relevance, advanced analytics, and hyper-personalization to search results for an enhanced employee, as well as customer experience. But you can only achieve the pinnacle of success if you have chosen the right vendor for your enterprise.
Choosing The Right Cognitive Search Vendor
No matter what type of enterprise you lead, you will rely on a vendor's expertise to steer your search in the right direction. Having a plethora of vendors to choose from for your business-specific needs can be daunting. Hence, it is important to get some clarity on the key criteria before choosing a vendor. Here are our top four picks for the same:
1. Real-time Search Analytics & Insights
The moment you wake up in the morning, your brain starts analyzing information in real-time to make decisions—getting out of bed, making coffee, strategizing on what time you are stepping out for work, and so on. Real-time analytics works similarly.
An advanced cognitive search platform offers real-time analytics into user behavior and content usability that turns your employees into intellectual geniuses. Hence, focus on a product's analytical capabilities while choosing a platform for your business. SearchUnify's real-time analytics and reports, such as Total Searches, Clicks, Conversions, Case Deflection, etc., equip enterprises to dive deeper into content gaps and plug them.
2. Search Tuning Capabilities
The Forrester Wave™: Cognitive Search, Q3 2021 states,
"Enterprises need tuning tools that search administrators can use to boost or bury search results to increase precision… Enterprise buyers should look for vendors that have a combination of automatic and manual tuning tools to increase precision".
If you've ever searched a website only to find a bunch of useless, unrelated results, then you know just how frustrating it can be for your users. They might end up going to your competitor. That's why search relevance is vital to the user experience.
Once the AI-powered search engine is in place, it is time to fine-tune its search relevance. A unified cognitive platform like SearchUnify comes with advanced search tuning capabilities. The AI algorithms analyze synonyms, search intent, user click-throughs to decipher the query and surface the most relevant content instead of simply matching keywords. You can also manually tune the results based on specific keywords, content sources, users' intent, etc.
3. Cognitive Search-based Apps for Use Cases
Inconsistent agent response times can lure your customers away, adding to the churn rate and crippling growth. What if we tell you that cognitive search powers not just a (search) box but also a plethora of applications that lower turnaround times, enhance UX, and even take customer self-service to the next level? You should look for vendors that offer these applications and make for a holistic platform.
SearchUnify fits the bill. With next-gen apps like Agent Helper, Community Helper, Intelligent Chatbots, KCS Enabler, and Escalation Predictor, it eliminates poor content findability, user search experience bottlenecks, generic experience for all users, and poor insights. This way, you can deliver breakthrough digital experiences.
According to The Forrester Wave™, "SearchUnify is specifically designed to boost the digital experiences both for customer self-service and to enable agents to find answers faster."
4. Implementation And Scalability
Lastly, you should consider choosing a vendor that, in addition to adding new capabilities to the engine today, offers limitless, efficient scaling for tomorrow. SearchUnify is easy to implement, as well as scale.
It offers out-of-the-box support for 40+ native connectors that make integrating with several content sources a breeze. It also offers bundled Universal Content API to build a connector yourself to connect to any platform.
The Forrester Wave™ states that "SearchUnify has prebuilt data connectors to numerous cloud-based data sources that make it easy to combine data from commonly used SaaS apps, including Microsoft Dynamics 365, Salesforce, Jira, WordPress, and Khoros."
Want to Know More About SearchUnify? Get the Full Report Here!
We've barely scratched the surface. SearchUnify was cited as a "Strong Performer" among the 13 leading cognitive search vendors across 26 comprehensive criteria in The Forrester Wave™: Cognitive Search, Q3 2021. Learn more as to what Forrester had to say about SearchUnify in this full report. In addition, if you want to witness the product live in action, then request a live demo today!