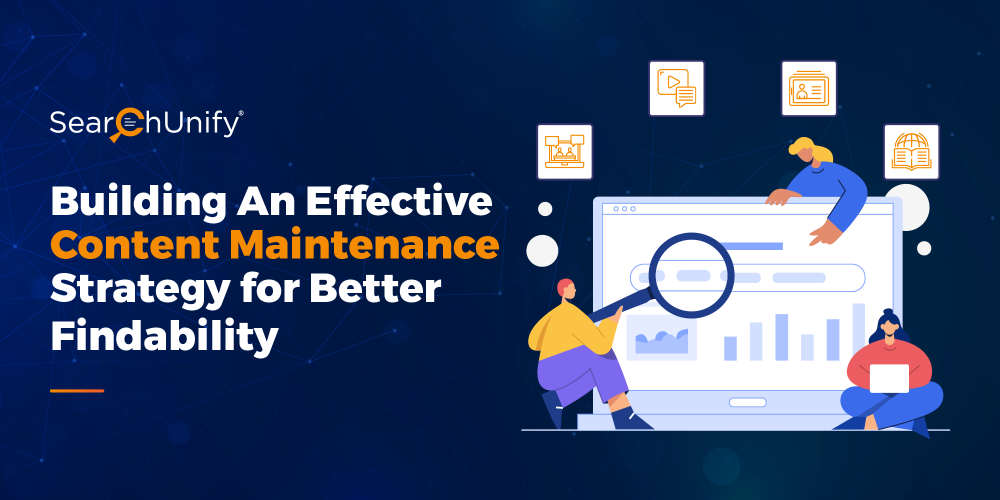 The only thing worse than finding no information at all is finding outdated information. If this happens, customers end up doing the evitable – raising a ticket.
Your organization may be creating a lot of content to enable your customers to help themselves. Your customers may still be struggling to find it. Most organizations have their self-help portals cluttered and bloated with outdated content, because of which users can't find what they seek. Once you've tossed your content in this information jungle, how do you ensure that it stays relevant, accurate, and accessible? What should be the next course of action?
This is where the need for creating an effective content management strategy becomes apparent. The goal of a content maintenance strategy is to eliminate the bottlenecks in making relevant content easily findable. It strengthens your customer self-service efforts, improves organizational productivity, reduces caseload and agent burnout, and helps improve customer satisfaction. In this blog post, we'll take a look at a few best practices to manage your content well and keep it relevant to those who're looking for it.
Content Maintenance Best Practices for Enterprise Search Success
Well-managed and maintained content helps increase your ability to optimize self-service resources. Given below are a few sure-fire ways to create an effective content maintenance plan:
1. Audit Content
Old, relevant content often gets buried when new content crops up and is hardly ever revisited or reused. This is where regular and well-organized content audits come into the picture. Content audit is the process of systematically analyzing and examining all the content that exists within your organization irrespective of where it resides (self-help portals, knowledge base, etc). Doing so will help you recognize content that can be reused or repurposed, updated, discarded, or archived.
Start with creating a spreadsheet of the existing organizational content and collecting the URLs of web pages you wish to audit. It can be anything from blog posts, videos, PDFs, webinars, etc. We recommend going through each piece of content either manually or by using an advanced cognitive platform that comes with a robust insights engine. It enables you to identify & bridge content gaps through detailed reports such as Unsuccessful Searches, Searches with No Results, etc., and helps you gauge your content efficacy.
2. Assess Content Assets and Categorize Them
Once the data has been collected in regard to the type and number of content pieces, the next step is to analyze and classify them into the following categories – keep, update, and archive. The content that is performing well and does not require an update, is relevant and is placed under the 'keep' category. Next up comes content that contains outdated information and needs to be updated or reviewed. It falls under the 'update' category. Finally, the content pieces that can't be updated or require a lot of resources for rework must be deleted or archived.
3. Create An Action Plan
Now that you have categorized each piece of content, it's time to create a solid action plan. To get started, use the insights obtained from the analysis conducted in the previous steps to zero in on the piece of content that needs to be acted upon first. We recommend that you rank them on the basis of priority or timelines. Content priority can be determined by weighing pre-established factors (like required resources in terms of manpower, work hours) against the results a particular piece of content is expected to generate. Thereafter, simply add a 'priority column' in your spreadsheet and conquer one content piece at a time by rewriting, reusing, or restructuring it.
4. Update Frequency
There is no rule of thumb when it comes to deciding the frequency of conducting a content audit. Ultimately, it all boils down to how often you publish content clubbed with how quickly that content is likely to get dated. Ideally, conducting an audit once every couple of years is the general guideline. However, if you're an organization that uploads content regularly, then we recommend running an audit as frequently as every year.
Lastly, the onus to manage these updates falls on either a department or hand-picked individuals. The key, here, is to ensure that someone takes the responsibility of overseeing these content audits and guaranteeing that they are conducted timely and efficiently.
Make relevant content easily findable and accessible
Keeping your organization's content fresh, relevant, and valuable is one of the few things appreciated and rewarded by users. Hence, it becomes imperative to track the progress of your content and conduct a content audit every now and then, to turn your website's maintenance into a smooth flowing operation. Doing so will ensure the content remains accurate and up-to-date. Additionally, you'll replace or restructure outdated content that could have otherwise plagued your site's performance.
Now that businesses are majorly data-driven, it's paramount to surface relevant information. This is why businesses are investing to implement an intelligent search solution to transform the user experience by only suggesting apt information. But implementing intelligent search is no easy feat. This report by TSIA, a leading research and advisory firm, lists 10 best practices that companies should do for successful search implementation. Download it for free and get started on your intelligent search journey.