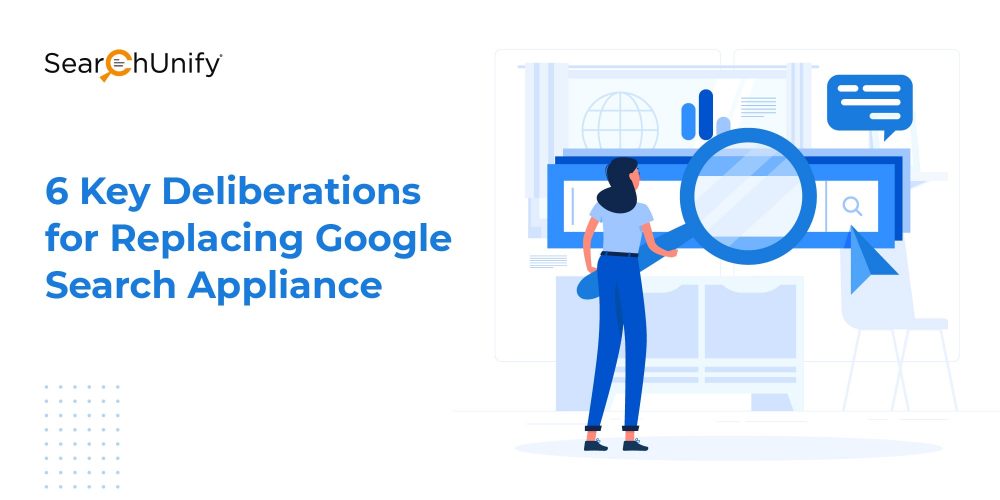 Google is phasing out Google Search Appliance (GSA) in 2018. If you are one of the many who have been using GSA, you may be struggling with deciding the course ahead for your enterprise search. In this blog post, we will explore six parameters you must consider when choosing a GSA replacement.
Given the wide range of choices being offered in the market, a lot of questions may be troubling you – "How do I choose the right alternative solution that will grow in sync with my organization?" or "how do I ensure minimal risks while upgrading from GSA?".
These 6 key deliberations will help you answer these questions and evaluate your potential GSA replacement.

Fundamental Technology: A technologically advanced AI-driven search solution which provides in-built configuration of platforms, high scalability, minimal licensing costs will meet not only your current objectives but also the future requirements of your business. It is very important to understand the details about the product's programming technology, scalability, options to integrate information sources and the total cost of ownership including hardware or hosting cost if any.
Deployment: If you have done your research, you would probably know that the many alternatives for GSA that are available in the market can be hard to implement and the deployment time stretches up to months. Rely on a GSA alternative that can be deployed quickly and does not require third-party integrations. It should be a plug and play search solution with out-of-the-box connectors for various platforms ensuring quick, secure, and seamless migration from GSA with zero downtime. Ideally, it should be possible to implement such a solution in a matter of minutes and not months.
Architecture Complexity: Be vary of complex architectures and a feature-overloaded inflexible product. In today's world of ready applications, you simply don't want to pay for a configuration or features you are never going to use. Most products require a lot of implementation effort by the product vendor itself or implementation services providers add to the product's cost and complexity. The key is to go strategic and invest in an easy-to-configure product that meets your unique requirements perfectly.
Algorithm and Relevancy: Relevancy ranking is the method to sort and order the search results in such a way that the results most likely to be of relevance to a query will be show at the top. Relevancy depends on consistently evolving algorithms where machine learning can be a key factor. An ideal search solution should provide AI-powered flexible search algorithms that can optimize search results automatically (based on context and relevance) as well as allow you to manually optimize search rankings through manual relevance boosting. It should support and optimize query-based search functions.
User Friendliness: The UI should be easy to use for end users as well as administrators. It should be intuitive and user-centric, encouraging the user to search. To test the usability and user-friendliness of your shortlisted enterprise search solution, take a demo of the solution and see how easy it is to sync content platforms, access dashboards, manage access permissions, and handle backend.
System and Data Security: Security is of paramount importance for an enterprise search solution as multiple repositories are accessed. The search solution should provide document level security as well as user role-based security. It should help define access levels with ease, so user retrieves information respecting access permissions across all content sources. If the content sources aren't native, ensure that the search solution supports secure configuration of connectors.

The retirement of Google Search Appliance has brought you the opportunity to upgrade it to an AI-driven search solution with the quickest time to value. SearchUnify is an innovative search solution that offers a low-risk transition from GSA and comes with a host of next-generation features.
As you gauge alternatives for GSA replacement against the above six deliberations and other criteria you may have, SearchUnify will outshine and exceed your expectations. Its ever-evolving technology makes it a future-ready solution that meets your growing needs.
This AI-driven enterprise search solution has multiple use cases. It's an ideal solution for site search, community search (Salesforce community search, Jive community search, Lithium search), support portal search, CRM search (Salesforce search, Zendesk search), content solutions (MadCap, MindTouch), knowledgebase search etc.
Want to See SearchUnify in Action? Get a Demo!
See it live in action or migrate from GSA to SearchUnify today. Write to us at info@searchunify.com for more information.
Stay tuned for our next blog post "Top Considerations for Google Search Appliance Replacement" detailing what GSA limitations your GSA replacement should overcome.