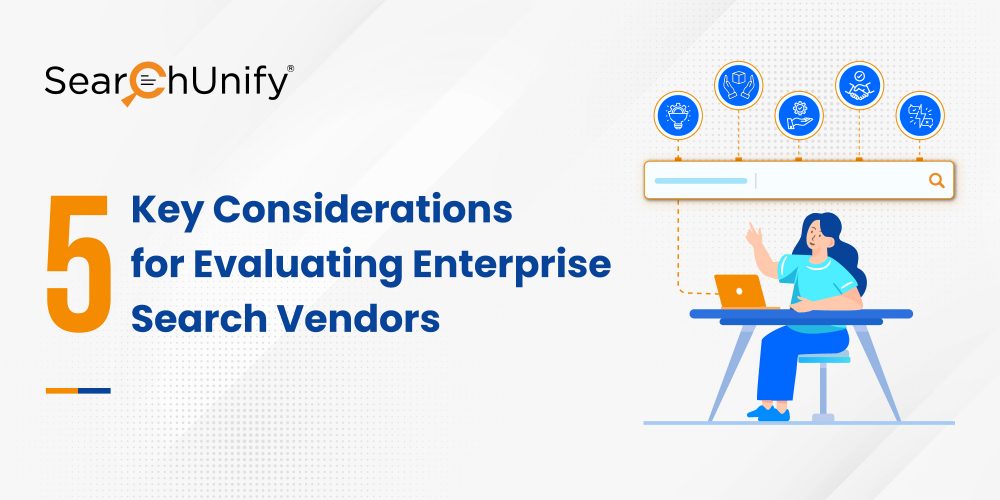 Revenue in the Enterprise Software segment is projected to reach US$347.30bn by 2027.
In the era of digital transformation, one of the most efficacious ways to optimize big data volumes is to use an advanced enterprise search solution. Organizations can choose to either build, borrow, or buy one. While there is no thumb rule when it comes to this decision, here are a few considerations that'll help you make the right decision for your business.
Now if you choose to borrow or buy an enterprise search tool, there are plenty of vendors who offer to sell or lend. Although they all focus on creating immense value, it is imperative that any vendor selection should be aligned with the organization's needs.
So what precisely should you take into consideration to make the right choice? This blog post reveals. Let's get rolling.
Evaluating Enterprise Search Vendor Compatibility
1. Strategy & Innovation
Change is the only constant, and the organizations embracing it entirely are successful. Your software partner's agility highly influences your ability to quickly adapt to changing conditions. So, plump for a vendor that's not just capable of responding to the change, but can also proactively come to grips with your organizational needs.
You need to understand the vendor's long-term vision as it's the north star of the overall company strategy. Ascertain how it is going to manage knowledge within the workflows to simplify knowledge discovery and sharing, thereby creating a one-stop knowledge hub for your employees and customers. Also, get the hang of the vendor's AI innovation. Understand how it's introducing novelty to the existing product lines or processes to keep pace with the changing industry trends.
Did You Know? According to McKinsey, 84% of executives say that innovation is important to their growth strategy.
2. Product Experience
When you purchase a product, you are sold on its potential to enhance your capabilities and/or streamline workflows. So look for a software vendor that can propel your organization forward instead of being an albatross around the neck.
The increasing product complexity demands intuitive product experiences. So, a vendor must ensure enough in-app help and support within the product in the form of comprehensive documentation, insightful how-to videos, immersive blog posts, SME's podcasts, and so on. The product must be designed to guide, educate, and nudge users at the appropriate points; thereby driving product adoption, building loyalty, and improving net promoter scores.
3. Service Experience
The product is no longer confined to the tool. Experience is the new product. Stellar service experience is at the heart of every successful software provider. So along with evaluating the product features, understand the people who support them.
You'll get multiple opportunities to interact with the software provider throughout the evaluation process. The way these interactions pan out plays a crucial role in building a long-lasting partnership. Because being disrespected or getting bogged down by their ineptitude or neglect is the last thing you need.
Did You Know? 93% of customers are likely to make repeat purchases with companies that offer excellent customer service.
4. Negotiation & Contract Experience
The negotiation and contracting phase plays a significant role in establishing an organization's baseline of nature. Since both parties are always looking to get the best, negotiations don't have to be adversarial. Hand-pick a software vendor that places your interest first and has friendly negotiations.
5. Conflict Resolution
Regardless of the product's value proposition and how airtight your customer service is, conflicts during the course of your partnership are inevitable. But what really matters here is whether your software provider jumps into the trenches to resolve it or if will they leave you hanging. So go for a software provider who can be reasonable, fair, and amiable when push comes to shove.
Not all conflicts are bad. Sometimes your ability to respond can turn a conflict into a creative opportunity.
Emotional Footprint Report: Your One-Stop Guide to Real Users' Reviews of the Leading Enterprise Solutions
SoftwareReviews, a division of IT research and consulting firm Info-Tech Research Group, captures the most compelling, useful, and detailed information on software performance. Based on real customer ratings, it helps evaluate, compare, and ultimately select the best tool for your business. In their recent Buyer Experience Report, Emotional Footprints, they also evaluated SearchUnify. We are exhilarated beyond words to have received a cumulative score of 8.3 CX score, wherein we got the highest possible ratings for transparency, fairness, respectfulness, and integrity. You can check out the complete report here.
Want to Dig Deeper & Know The Secret of A Foolproof Enterprise Search Solution? This eBook is for You!
The most efficient way to manage the oceans of data is an enterprise search solution. So don't be hasty! Rushing into the selection can be detrimental to your organization and can mar customer experience for years. On the flip side, a superior solution can make both your customers and employees' lives easier by revolutionizing information discovery.
So once you have evaluated the vendor, it's time to assess the search solution. Here's a comprehensive eBook to help you with the same.