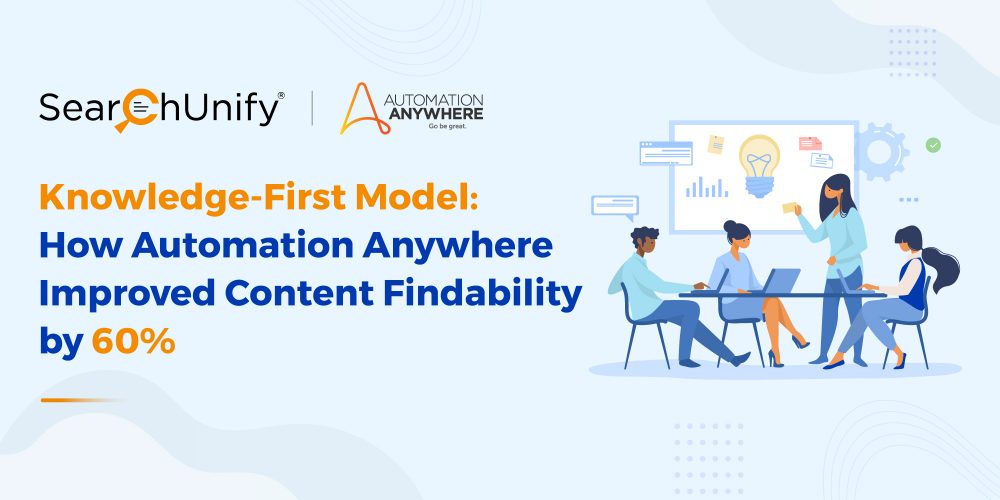 60-90% of issues that support agents resolve are recurring. And, 98% of support managers' time is spent on putting out fires, managing escalations, and firefighting.
Whether you are a startup or a fifty-year-old organization, speedy case resolutions will remain one of your ultimate goals.
However, many enterprises still depend on the case-first model. Consequently, their support teams spend most of their time finding the right information from an abundance of unstructured data which causes a delay in turnaround time and more churn rates.
This is where the knowledge-first support model comes to the rescue. It focuses on capturing and leveraging enterprise knowledge to ensure that the right information reaches the right audience at the right time. All this offloads some weight from support reps' shoulders and empowers them to perform at their best.
But there's a catch: transitioning from a case-first to a knowledge-first model isn't an easy-breezy. In light of this, we held a riveting session with Automation Anywhere on "Navigating the Shift Towards Knowledge-First Support" at TSIA World: Envision, Las Vegas.
Go through the session rundown to know how Automation Anywhere easily went down that road and achieved impeccable results.
The Automation Anywhere Success with SearchUnify
Automation Anywhere is a leading Robotic Process Automation (RPA) solution provider that automates end-to-end business processes across all industries. The company wanted to improve its self-service and support experiences expeditiously.
The team at Automation Anywhere realized that with span-new roadblocks emerging, the case-first model is bound to render obsolete. Subsequently, they wanted to inculcate a knowledge-first approach to provide their external & internal users with the relevant self-help content at the right time.
"Shifting the customers to the habit of self-serving is what we were envisioning," says Pankaj Bhardwaj, Senior VP, Customer Support at Automation Anywhere.
Here are the 5 crucial steps taken by Automation Anywhere & SearchUnify toward creating a knowledge-first support culture.
1. Establishing A Strategic Framework for the Knowledge-first Model
To incorporate the knowledge-first culture, it is prominent to understand the organization's mission, vision, and goals (MVG) and devise a framework based on that.
Automation Anywhere developed an actionable strategic plan that defined KCS initiatives for key stakeholders in detail.
Below are the three primary stakeholders of Automation Anywhere's KCS program and their ultimate objectives:
| | |
| --- | --- |
| Stakeholder | Objective |
| Customers | Redefining self-service for better support experience |
| Employees/Agents | Focusing on resolving unknown issues |
| Business | Improving case resolution and curtailing escalations |
2. Redefining the Considerations for Support Content Creation
"Knowledge becomes power only when we put it into use."
Knowledge management is one of the key practices for support organizations. Its effectiveness relies on how well one captures the new knowledge, improves it, and updates the existing knowledge.
The team at Automation Anywhere did the likewise. They automated their knowledge creation process to capture the finer details. In fact, they analyzed content standards to remove customer‑specific information & PII information.
The documented information is further reused and disseminated to solve repetitive issues in the future, thus improving the case deflection rate.
3. Leveraging Intelligent Search for Augmenting Content Findability
Automation Anywhere used to offer all the technical information on their website to help customers seamlessly adopt their assortment of RPA and bot products. However, the challenge arose when customers had to juggle multiple content repositories to find relevant information. This is where their joint effort with SearchUnify did the trick.
SearchUnify, a unified cognitive platform, helped Automation Anywhere implement the knowledge‑first model successfully. The platform provides a 360-degree view of enterprise knowledge from across disparate content repositories. Thus, empowering customers with access to relevant information without having to switch tabs.
The organization cashed in on SearchUnify's 50+ native connectors to create a unified view of content discovery for customers. In addition, SearchUnify's dynamic facets allow customers to fine‑tune or limit results according to their needs. Exciting, right?
4. Quantifying Content Efficacy and Relevancy through Real-time Search Insights
Real-time analytics is a secret sauce for creating a hyper-personalized, exceptional customer experience. After all, it enables the visibility of customers' activity across all touchpoints, seeing in real time the pages they visit before and after conducting the search.
Automation Anywhere harnessed SearchUnify's Self-Service Analytics, Content & KB Analytics, and Support Analytics to measure the case deflection, prioritize the knowledge relevance, and improve the efficiency of knowledge management.
The detailed reports, such as searches with no results, click position report, case form page report, articles attached to case report, etc. enabled them to track and forecast vital metrics and prepare actionable strategies for a seamless customer support experience.
5. Building a Culture of Effective Knowledge Sharing Among Support Teams
Knowledge management isn't only about quantity, but quality too. Associating support agents' quality contributions to the knowledge repository with recognition and rewards can skyrocket their participation.
The team at Automation Anywhere made it possible by creating and implementing a conceptual framework of gamification. They recognize and award their key performers every month and in quarterly "All-Hands Sessions" to amp up their work environment and promote a healthy culture.
The Result?
Building a knowledge-first culture has proved to be a boon for Automation Anywhere. In the journey of scaling their self-service, their team witnessed a significant increase in agent productivity and customer experience.
Here are some of the exceptional business outcomes achieved by Automation Anywhere as a result of leveraging the knowledge-first model:
| | |
| --- | --- |
| 100% | Participation from Support Engineers in KB Contribution |
| 57.5% | Users Searching for Content Found Relevant Answers |
| 34% | Cumulative Case Deflection |
| 30% | Reduction in "Time to Resolve" for cases where KBs are reused. |
Want to Seamlessly Switch to a Knowledge-First Support Model?
The transition from the case-first to knowledge-first model helped Automation Anywhere refine its agent and customer experience to several notches higher. If you are curious to know what's next for the innovative firm, tune into our on-demand session now. Or you can request a free demo to see how we can help integrate the knowledge-first approach into your support ecosystem.