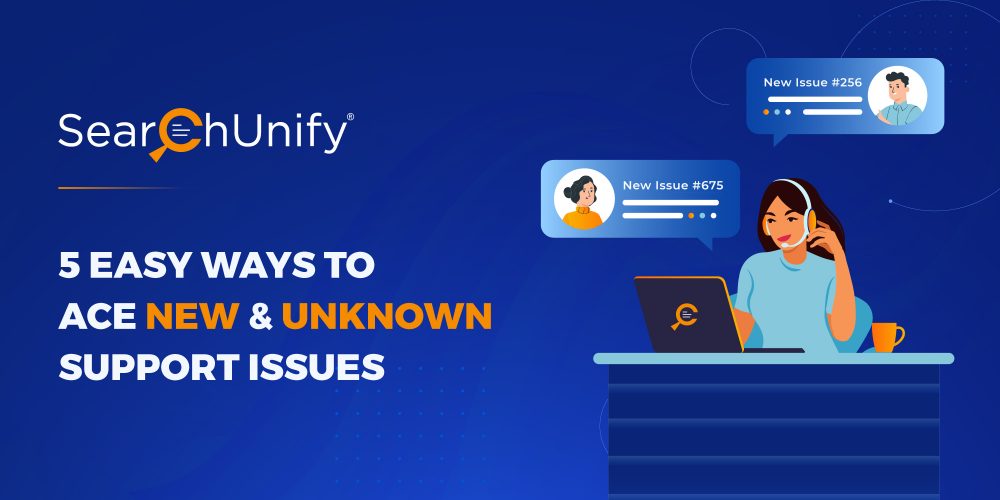 Time is of the essence, especially in the world of support where companies are always racing against it. Customers expect instant resolutions. If you fail to live up to their expectations, they wouldn't think twice before jumping ship.
Zendesk revealed that after more than one bad experience, around 80% of consumers say they would rather do business with a competitor — a blot on the competitive radar most companies can't afford. So, how can companies make it impeccable?
Speed bumps en route to providing an exceptional customer experience are inevitable. Numerous elements reduce the speed and efficiency of agents, hence obstructing hassle-free CX. Incomplete product knowledge, inability to answer support questions, difficulty in finding relevant answers, inapt case triaging, etc., are a few factors that spell doom for support organizations.
They receive a significant amount of queries daily. As a result, agents end up answering many basic & repetitive questions. So, how can you cut down the time they spend solving recurring cases and dedicate more time to solving new issues? This post reveals!
Expedite Your Agent's Ability to Solve Unknown Issues
To accomplish the feat of bringing time spent on known issues to a minimum and empowering agents with the means to resolve unknown issues, continue reading:
1. Facilitate Easy Knowledge Transfer
An organization can resolve queries quickly if it delivers the right information to the right people. But if that doesn't happen, it not only delays the resolutions but also mars CX. Businesses must invest in a system that cultivates easy knowledge transfer and management to streamline information availability. Imbibing KCS values in your workflows is a good place to start.
Next up, your support executives need the right skills and knowledge to succeed. One way to go about it is roping in support liaisons to help new agents with internal procedures along with corroborating an effective knowledge transfer. Doing so ensures agents are equipped to handle any new or unknown issue that might come their way.
Intelligent apps like Knowbler are a great way to capture, store, share, and improve knowledge. The app populates new articles on a pre-defined template as a by-product of agents' resolutions for undocumented issues. This ensures your agents focus on resolving unknown issues rather than spend their time updating KB articles or reinventing the wheel.
2. Encourage Release Testing Across Support Organization
When a product or service evolves, the changes trickle down to its support. Since your support agents will be on the frontline answering queries around it, what better way to receive in-depth knowledge of the new features than allowing them to experience the product firsthand prior to the official release?
Running functional tests establishes a few things. First, the support team ensures the change hasn't affected previously developed and tested features. Next, they can identify bugs that were overlooked during the pre-testing stage. The adoption of release testing heps with quality control and assurance while providing a safety net to roll out the release only after all the snags are fixed.
58% of product teams say that their customer support teams influence the product roadmap
3. Create a Dynamic KB Accompanying Any New Releases
A study by Forrester confirmed that customers prefer knowledge bases to all other self-service channels.
A knowledge base is a reservoir of content that helps your customer understand and use your products or services easily. And every release brings multiple customer queries in tow. The best course of action to manage this new incident wave is with self-help articles that answer questions like installation, usability, functionality, bug fixes, and approved workarounds. This dynamic, up-to-date KB will further simplify knowledge discovery and promote case deflection on self-service portals.
4. Provide Real-time Information for Support Engineers
Customers often seek answers to simple questions via self-service portals. On the contrary, each time a new issue arises, they turn to your support agents for help. Since the issue is fresh, agents must possess necessary means to deliver relevant and correct information. But, how can you ensure they render contextual support while also expediting the resolution time for unknown or new issues?
By equipping your support team with the superpower of real-time customer insights. Doing so enables agents to glean exact user queries along with the actions they undertook to address that need, prior to creating a case. Consequently, agents can suggest new and relevant solutions as opposed to reiterating what the users have already tried, thus reducing turnaround time and elevating CSAT.
5. Automate Case Triaging Process
A PwC research opines, "Nearly 80% of American consumers say that speed, convenience, knowledgeable help and friendly service are the most important elements of a positive customer experience."
Every case requires a different level of attention depending on the severity. But if urgent tickets do not get picked on time, they might lead to SLA breaches. Integrating your ticketing system with cognitive technology facilitates effective case triaging after matching customer intent with agents' skills and proficiency. How?
AI-fueled ticketing models analyze customer profile, sentiment, case priority, agent expertise, past cases resolved, etc., to assign incoming queries to the most suitable support agent right off the bat. This not only keeps escalations at bay but also streamlines support operations and boosts first call resolutions.
Make Your Agents Support Ready with Cognitive Technology
"Support readiness" means having all the documentation and training in place to tackle known and unknown issues, hence guaranteeing a superlative support experience every time.
Your KBs have pertinent information for every known issue. But to fetch case-resolving information at lightning-fast speed from the labyrinth of silos, your organization's tech stack must work wonders.
But how? A unified cognitive platform perfectly fits the bill. It helps unearth a goldmine of data while helping you make better decisions, improve your bottom line, and lock in a lifetime of recurring value. Wondering how? Then request a demo today!