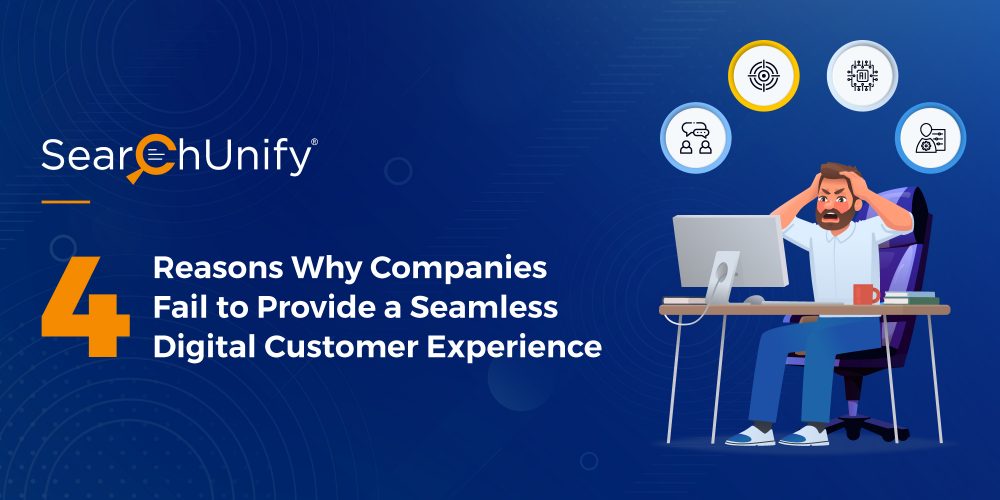 According to a survey, 61% of the respondents believe that customer experience will overtake price and product as the most important brand differentiator.
Customers have a plethora of options at their behest. A remarkable CX is what differentiates a top-notch brand from an average one. And, with digitalization displacing the physical side of human interactions, firms are continually adding digital channels in a bid to not be obscure.
This is where Digital Customer Experience (DCX) comes in. It encompasses the interactions a user has with your organization via digital touchpoints. Simply put, it is a holistic, multi-channel view of your brand's online presence.
Why is DCX Important?
The onslaught of the pandemic triggered urgency in companies to remain relevant in this epoch of digital natives. The customers are increasingly demanding relevant content that is personalized to a T, channel agnostic, and delivered seamlessly.
Hence, with digital interactions becoming so widespread, the experience customers have on these channels becomes a vital cog, a competitive frontier, and a key differentiator.
According to research by Aberdeen Group, "Companies with the strongest omnichannel customer experience strategies retain an average of 89% of their customers, in comparison to 33% of companies with weak strategies."
The Counter-Intuitive Result of Adding Digital Channels
Did you know? In the U.S., the estimated cost of customers switching due to poor service is $1.6T.
Call it an experience disconnect where more channels won't alone cure what ails CX. The addition of channels makes a cobbled piecemeal that complicates and fragments the entire customer journey instead of simplifying it.
With high product complexity and a fragmented approach to DCX, the industry has created a tangled, disconnected digital customer experience that is detrimental to CSAT.
This is one of the many reasons why companies are failing at DCX. If you find yourself aboard a similar ship, then this post is a godsend for you. It discusses the hurdles your organization needs to overcome in its journey to seamless DCX.
Why Are Companies Failing at DCX?
Given below are four reasons that cast a shadow over an organization's digital customer experience:
1. Stovepiped Approach to Digital Technology
54% of marketers say that disjointed and siloed data is the biggest barrier to building an accurate, integrated view of the customer journey.
Imagine a customer's frustration each time they have to reiterate their personal information just because they shifted to a different channel. Pretty annoying, right?
If your organization is also stuck in the labyrinth of fragmented and unsynced digital channels, toggling between them can be a nightmare for your users. This platform-hopping results in delayed responses and long-wait times, ultimately tainting your DCX strategy. That makes it imperative to orchestrate CX in a way that ensures the history and context of customers' interaction move with them, irrespective of the channel they use.
2. Misaligned Departmental Goals
According to the Dimension Data CX Benchmarking Report, "54% of organizations report their customer experience operations are managed in silos."
Organizational structures where departments are self-contained can be detrimental to an effective DCX strategy. They work in silos and render customer experiences isolated from the rest of the company.
For instance, your sales and marketing departments might share different links they assume will be helpful to prospective customers as opposed to working in tandem to identify and address customer needs to ultimately suggest the right content.
This sub-par inter-departmental communication and collaboration ultimately impedes the enterprise from presenting a unified front. And, who wants to deal with a sundered organization?
3. Limited Digital Personalization
Incomplete or vague customer profiles can blight the DCX by engaging prospects and leads with an irrelevant offer, or worse, the wrong solution. What's more, today's tech-savvy customers seek seamless and personalized experiences, and rightfully so. However, nailing personalization is no easy feat. Because, without a 360-degree view of the customer's journey, your chance of creating a hyper-personalized experience for them is slim to none.
4. Inadequate Real-time Customer Feedback
Not every dissatisfied user would voice their concerns. So, before things start going downhill, it's imperative for organizations to solicit customer feedback.
In fact, brands are viewed more favorably by 77% of customers if they proactively invite feedback.
However, knowing is just a small piece of a bigger picture. You must also act on the negative feedback promptly. If you don't have a system that collates customer feedback from all points across their journey and glean valuable insights from it, then it could be inimical to building a superlative digital customer experience.
Double Down On DCX with The CIPA Model
Having already gone into the value of creating a cohesive DCX, it's paramount for firms to pivot and evolve. Adopting the CIPA (Connected, Informed, Personalized, and Agile) model can help with that. The model is the panacea for offering seamless, end-to-end DCX.
Intrigued, aren't you? Then join John Ragsdale and Vishal Sharma for a high-octane live webinar on March 22 at 11 AM PT & 2 PM ET. They'll talk about building a superlative DCX strategy and the role cognitive technology plays in its value realization.