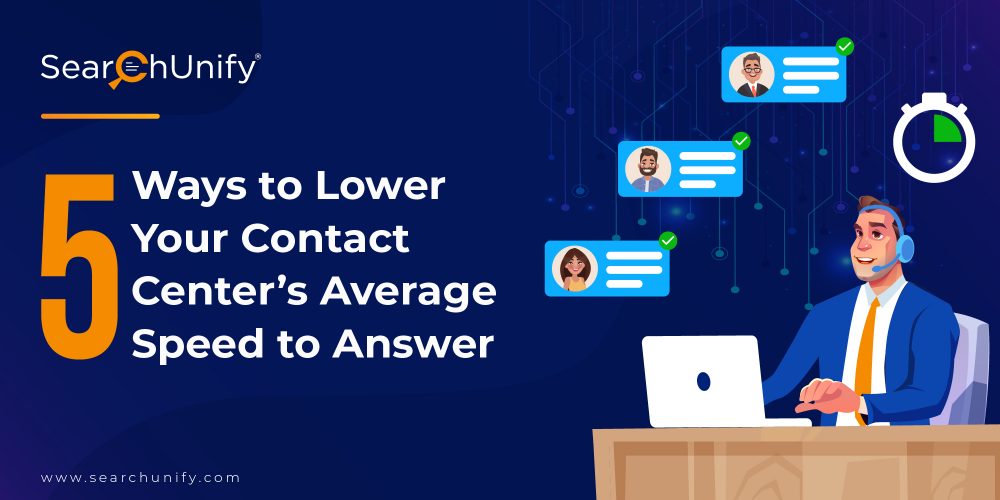 Nobody likes calling customer service these days.
Many reasons behind it: confusing IVR menus, infinite transfers, reiterating query after every transfer, bot-like agents, and whatnot. When you put all these ingredients together, you get a painstakingly long waiting time. Reminds me of a Tom Petty single where he says, "the waiting is the hardest part." ♫ ?
Now, the question arises—how can contact centers address this problem? The key is knowing your hold time and finding the fastest path to get your customers' issues resolved. Analyzing metrics like Average Speed of Answer (ASA) can help with that.
In this blog post, we'll explore the fundamentals of ASA, how it differs from other metrics, and why it is crucial for measuring contact center success. So, let's get the ball rolling!
What is the Average Speed of Answer & Why Does It Matter?
In simple words, Average Speed of Answer (ASA) is a decisive contact center metric that tracks the average amount of time a customer must wait in a queue before reaching a service agent.
In the world of break-neck speed, customers now value their time more than ever. This makes it paramount for service managers to continuously monitor the overall responsiveness of their contact centers.
Metrics like ASA come to the rescue. It gauges how efficiently a service agent answers an inbound call. The longer the ASA is, the more it infuriates the customer.
Such information allows the managers to identify their goals and take proactive measures accordingly. A good strategy increases the customer satisfaction score, lowers operating costs, and delivers a seamless customer experience.
Moreover, ASA allows contact centers to detect the effectiveness of menu options present in the IVR system. In case of improvement, the menus can be re-designed for faster resolutions and low response times.
Now, let's see how it is calculated:
Imagine a service team that comes across 2,000 voice calls in a month. The total time in queue for all the calls adds up to 100,000 seconds. Therefore, the ASA is 50 seconds (100,000 seconds÷2,000 calls). Please note that abandoned calls are excluded while calculating ASA.
Here is the caveat: There is a misapprehension that a lower ASA implies higher customer satisfaction. But not really! Let me explain.
Picture this: ASA and cost per ticket of a service desk is 45 seconds and $25 respectively. Analysis suggests that ASA can be reduced to just 30 seconds if they hire five additional service agents. But this would surge the cost per ticket to $35, including the training & development of the recruits.
More agents would mean the customers don't have to wait as much. If they were getting unsatisfactory resolutions earlier, the odds are they would still receive the same. Just the delivery would be faster. So, the firm would be bearing the additional cost for little to no impact on CSAT.
Little Tip: It is better to simultaneously look at metrics like AHT, CSAT, ASA, FCR, etc., instead of in a vacuum to make more astute observations.
How ASA is Different from AHT and FCR
Since we are talking about measuring the contact center's effectiveness through ASA, it is safe to address the metrics that are also the results of efficiency—AHT and FCR. While they are often used interchangeably, they serve different purposes in the industry.
| | | | |
| --- | --- | --- | --- |
| | Average Speed of Answer | Average Handle Time | First Call Resolution |
| Definition | Tracks the average time taken by an agent to answer the inbound call | Tracks the total time spent in customer interaction and other processes | Denotes the % of customers whose queries were solved in the first go |
| Channels | Used for Voice live channels | Used for Voice and Chat | Used for Voice and Chat |
| Formula | ASA = (Total Length of Customer Wait Time/Total Number of Calls Answered) x 100 | AHT = AHT = Total Talk time + Total Hold Time + Total Follow-up Time/Total Number of Calls Answered | FCR = Total No. of Calls Resolved on First Attempt/Total Number of Calls Received |
Hope it clears the difference. Now, it's time to see how can we lower ASA with the help of real AI. Dig in below.
Cognitive Technology: The Encompassing Package to Lower ASA in Jiffy
Contact centers thrives on agent collaboration and productivity. The underlying purpose is to serve the customers with the right solution in a timely manner and lower the ASA. Cognitive technology comes in clutch and improves your agent efficiency to achieve this purpose. Keep reading to learn how:
1. Kickstart the Resolution Process with Intelligent Case Triaging
Customers generally call you after exhausting all the self-service options. The chances are they are already frustrated and sought resolution by yesterday. If this ticket reaches a less experienced agent, it will only add fuel to the fire. And let's not talk about the re-routing scenario.
Next-gen apps like Escalation Predictor help you route every case to the best-fitting agent with expertise on the subject matter right from the start. This helps in instant resolutions and reduces MTTR. Hence, happy customers, happy agents!
2. Find the Right Answers with Unified Content Discovery
Studies have shown that agents spend up to 20% of their time—which equals to one day a week—searching for knowledge. It is because they scour multiple content repositories, which makes it cumbersome to find the right content at the right time during the resolution process. Time to take care of that.
Cognitive platforms' native connectors index all the disparate information that allows the agents to find relevant answers instantly. It helps in enhancing AX and CX expeditiously. Sounds impressive, right?
3. Implement Proactive Support with Intelligent Swarming
There comes a time when an agent seeks additional expertise for the query. Rather than ping-ponging the ticket from one agent to the next-tiered agent, it will be better if the assigned agent collaborates with SMEs for instant resolution. This model is called Intelligent Swarming.
Cutting-edge solutions like Agent Helper can help you implement the same. Here's how: it leverages tools like Slack for real-time agent collaboration. If a support engineer requires assistance, the app will suggest the best-fitting SMEs for the query and quickly create a group with all the case data to help resolve the problem. Convenient, right?
4. Deliver User Journey Insights with ML-Powered Algorithms
Modern customers explore all your self-service portals before knocking on the door of customer care. Steering clear of the already-suggested solution would be a smart move.
Cognitive platforms tap into the user's data including search behaviors, profile, past issues, etc. It is analyzed and then populated within your service mavens' console. This allows them to take proactive actions, resulting in quick resolutions. Hence, lowering the ASA.
5. Deflect L1 Queries with Agent-Assist Bots
Service agents juggle with truckloads of tasks regularly: handling repetitive customer inquiries, maintaining knowledge base and CRM, troubleshooting complex tickets, and so on. What if we tell you a lot of them can be automated?
With Intelligent Chatbots, you can automate all your repetitive tasks and proactively answer L1 queries. When a complex query comes in, it seamlessly hands-off with a quick summary of the interaction to the agent. All this offloads your agents and gives them plenty of time to focus on more complex tasks, thus, augmenting agent productivity and CX.
Is Your Contact Center Ready to Deliver Best-In-Class Experience?
Contact centers have embraced new digital trends with open arms. But to stand out from the crowd, it is imperative to adopt AI-powered technologies that expedite your agent productivity and enhance your customer experience swiftly. Download this e-book and learn how you can upskill your agents to cater to the evolving customer expectations.
If you want to connect with our experts, request a demo today!