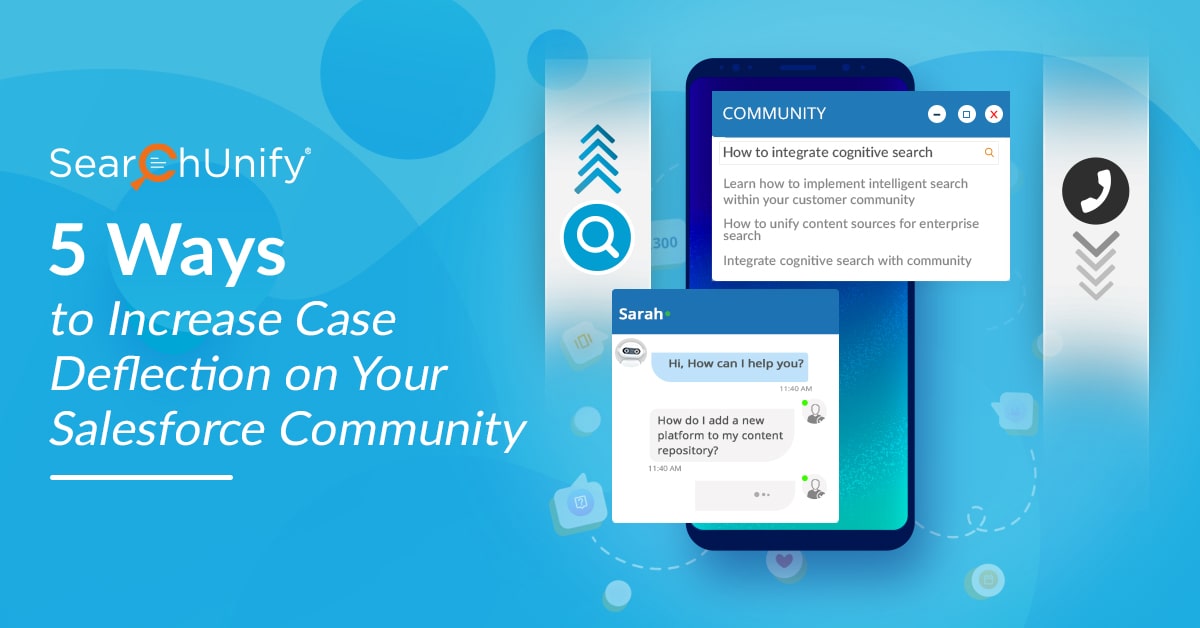 "I will always choose a lazy person to do a difficult job because a lazy person will find an easy way to do it."
– Bill Gates
Millennials have grown up with this mantra and want solutions to their problems in the most effortless and fastest way possible. And the first place they go for finding their answers is your online community. Now, being a community specialist how do you make sure your overwhelmed customers go happy and smiling?
Self-service. Bingo!
And case deflection is one of the most important ways to achieve self-service success.
Having said that, how do you promote case deflection on your salesforce community? Here are 5 ways of achieving the same:
1. All-at-One Place
Imagine the plight of your users if they have to visit multiple platforms or portals laden with information to get an answer. Every time they have to switch, they move towards exhaustion and ultimately abandon your brand altogether. NewVoiceMedia reports, "After one negative experience, 51% of customers will never do business with that company again."
So, how do you tackle that?
With access to case resolving knowledge spread across your enterprise sources right from the community, you significantly reduce the occurrence of subpar experience, hence driving CSAT and case deflection. Your community serves as a powerful engine for quickly resolving customer queries firsthand.
2. Chatbots to Gear Up the Game
Growing numbers of community users not only imply an increase in case volume but also a set of common queries and use cases. It's inefficient and underwhelming for your support representatives to waste their energy answering these repetitive questions. Fortunately, deploying a chatbot in this unpleasant picture will paint it rosy.
According to Gartner, 85% of customer service interactions will be with chatbots by 2020. Employing a chatbot offers a couple of benefits. First, it promotes case deflection by handling a lion's share of recurring customer queries so that your service representatives are not overworked and can devote more time in resolving complex issues. Not just that, an AI-fueled bot uses behavioral and conversion data to provide better results. Better results pave way for case deflection which in turn helps build and sustain a self-serve community.
3. Nip It In The Bud
80% of your support cases are caused by 20% issues. Your support reps spend most of their time resolving similar issues time and again. What if you could make help content that resolves those common issues available to your community users before they submit their case? Case deflected!
4. Recommend Solutions Proactively
Gone are the days when businesses would take their sweet time to get back to a customer. Now, your customers expect your help on the fly. You can do that by providing proactive content suggestions and recommendations. In this ever-evolving digital world, you always need to be there for them like a genie! This will help keep them happily engaged with your brand.
5. Act on the Analytics
Analytics is undoubtedly an indispensable business requirement. Through a deep analysis of all the content that you have across your enterprise, you can see which queries are the most searched, which results are the most clicked and the topics on which the users couldn't find anything.
This information helps you to fill the content gaps in your knowledge base. As a result, you get satisfied customers who have solutions to each query.
Conclusion
It is beyond a shadow of a doubt that case deflection goes a long way towards achieving self-service success. A cognitive search platform can surely come in handy. This expert guide explains what you should look for while choosing a search provider for Salesforce. Download it and get started on your AI-powered case deflection journey today!