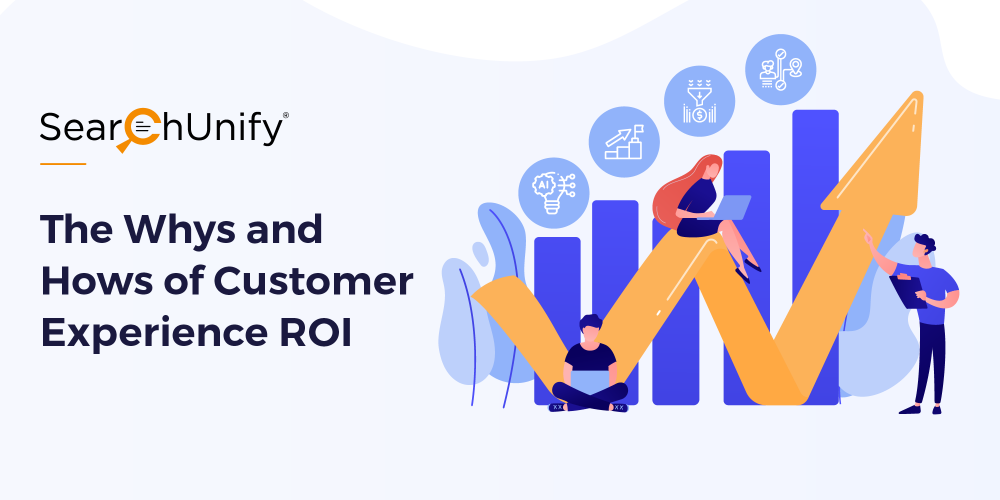 Brands with superior customer experience bring in 5.7 times more revenue than their competitors.
A number of facts and surveys prove that a stellar CX is non-negotiable for brands to survive. 73% of customers say a good experience is key in influencing their purchase decisions. We cannot emphasize enough the importance of creating unique and memorable experiences so that customers don't feel unheard or neglected and abandon the brand. But as the saying goes if you can measure it, you can monetize it. This is where CX leaders miss the mark.
Why Measuring the ROI Of CX Is Hard?
It is easy to calculate the ROI of investments that have immediate results. But quantifying the ROI of CX efforts is a tad difficult because creating a brand experience is a multi-step process. Additionally, implementing customer feedback and consequently improving CX can take months or even years to obtain the desired and measurable results. By and large, the following three key reasons impede proving CX ROI:
No Precise Insights: Many CX professionals struggle to gather hard data; and anecdotes alone don't suffice in evaluating the effectiveness of a CX strategy.
Lack Of Vision: The impact of small increase in CX metrics including NPS, CSAT score, etc. is often overlooked.
No Direct Ownership: Since CX is often a siloed responsibility, no one or no specific team is held accountable for its ROI.
Tips & Tricks For Creating A Foolproof ROI Model for CX Transformation
Whenever CX professionals fail to quantify their efforts against business results, their funding requests hit a wall and projects stall out. Therefore, the need of the hour is a foolproof ROI model to convince the C-suite to invest in CX initiatives. Let's see how we can make it work.
1. Align Your Business Goals With the Current Situation
Strategizing CX initiatives without understanding your situation is like shooting in the dark. Studying your current state helps in documenting, tracking, and optimizing processes for better performance, efficiency, and outcomes. For example, if you are struggling with poor CSAT scores, your aim should be to diligently implement customer feedback and make your customers feel valued everytime they contact you.
2. Evaluate the Potential Range Of CX-Fueled Benefits
Based on the type and scale of industry, benefits of CX come in many shapes and sizes. Follow a step-by-step process to identify whether you'll witness more revenue benefits from reduced customer churn, cross-sell or up-sell to existing customers, or acquire new customers through augmented word-of-mouth. Once the evaluation is done right, formulating a proposal that wins C-suite backing becomes a cakewalk.
3. Map Out Your CX Investment Journey
Once you have identified the potential benefits, the need to determine the investments in the form of training, technology, operations, and professional services that'll complement your efforts kicks in. You need to estimate the size and timeline of required expenditures in order to accurately model the ROI of CX transformation.
4. Shape Customer Journey With Cognitive Technology
Managing both reality and perception is of paramount importance to stay ahead of the curve. You need to understand how human minds interpret experiences and form memories — the key to which is personalization. After all, customer experiences are quite subjective in nature. With the intelligence and smartness of cognitive computing, you can enhance your internal connectivity to optimize the existing pool of data. You can rethink and restructure CX strategies by eliminating bottlenecks and delivering value to the right people at the right time.
How to Maximize the ROI OF Your CX Initiatives?
Without a doubt, the better the value of an initiative, the easier it is to persuade executives for support. We have jotted down a few tried-and-tested methods that'll come in handy to reap the maximum benefits out of your CX initiatives.
1. Adopt A Long-Term Vision
Chasing short-term, self-serving, and unrealistic goals is not the right way to go about quantifying your CX efforts. Focus on strategies and outcomes that mature over a reasonable period of time to benefit both customers and the company.
Having established that, take heart in quick wins because a 5% increase in retention or a 30% increase in average sales doesn't happen overnight or in a few months. Be patient and forecast eventual increases to align them with your longer-term strategies. Once you get a hang of the definite process, it becomes easier to understand CX ROI.
2. Be Proactive & Take Preemptive Measures
You need to tap into your customers' emotions to delight them. While interacting with your brand, customers leave clues at multiple digital touchpoints. Leverage smart apps like Agent Helper to connect the dots and better understand your customers. Also, get your hands on the complete log of user sessions to identify the root cause of the issue and deliver proactive help.
3. Facilitate Connected Customer Experience
A customer journey is often divided into the following three stages: Pre-sales, Onboarding, and Post-sales. When it comes to creating a memorable customer experience, it is of utmost importance to consider the entire journey as one because the difference between adequate and awesome experiences is simply a matter of connection.
There's a plethora of information about customers at each digital touchpoint but it's all in vain if it's isolated and siloed. Stellar customer experiences come from great internal connectivity that unifies data from multiple touchpoints to deliver seamless and personalized experiences. This is where cognitive technology comes into play. By providing a connected CX and ensuring seamless hand-offs, it leaves no stone unturned to delight your customers.
4. Choose Your CX Metrics
There are myriads of key performance metrics (KPMs) that can be used to measure the success of customer experience. However, only a handful of them are needed to gauge the effectiveness of your CX strategy; based on the industry, type of business, and company priorities. A few commonly used CX KPMs are Net Promoter Score (NPS), CSAT, Customer Loyalty, Conversion Rates, Customer Retention, CLV, and Customer Referrals.
Looking For Ways to Deliver An Outstanding Support Experience? Here's A One-Stop Guide For You!
The key to a stellar customer experience is personalization because one-service-doesn't-fit-all. To know how personalized support interactions have augmented customer experiences over time, download our eBook A Support Leader's Guide to Personalized Customer Experience. The comprehensive guide will also equip you with a gamut of ways to deliver personalized support with AI-powered search engines. Download it right away!