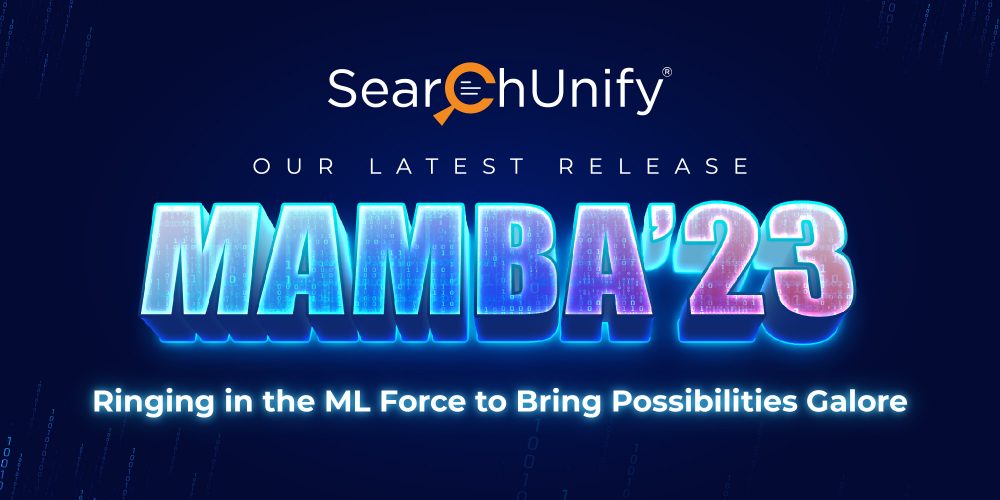 It is that time of the year when we lift the curtains on our much-anticipated release to satiate the appetite of our excellence-hungry customers.
Upholding the tradition, Mamba '23 brings some massive upgrades and new features ideated via periodic customer feedback and changing trends. So, rest assured, you're in for pleasant surprises—for we are ushering in a whole slew of functional and cosmetic features and enhancements that will set your organization up for success.
This release, like our past releases, is the brainchild of our research, technology, and product experts. That said, our strong innovation momentum is also accredited to the feedback and valuable suggestions of our customers who're undoubtedly our best judges and advisors. Their feedback keeps us laser-focused and enables us to move in the right direction.
Are you excited to know what's in it? Here's a full rundown of everything that Mamba '23 is bringing to the table:
1. App Tray
The entire arsenal of support applications has undergone massive changes to amp up the UX and deliver greater value. Here are some notable changes:
A. Knowbler (Earlier KCS Enabler):
Uninhibited access to information is the driving force behind stellar support and self-service experiences. With Mamba '23, we're revolutionizing knowledge management by making knowledge creation and sharing a part of your workflow. Let's get into the weeds to understand how:
Simplify Knowledge Sharing: Knowbler makes sharing help articles a five-finger exercise. Support agents have three options for sharing useful content: Copy to Clipboard, Share via Case Comment, and Send via Email. Doing so not only simplifies knowledge sharing but also makes publishing and attaching articles a part of an agent's workflow. Win-win, isn't it?
Monitor Content Health: Knowbler moves the needle to keep your KBs in pristine condition with easy health checks. Its Content Health dashboard evaluates all the pieces on the following parameters: accuracy, uniqueness, completeness, links' validity, and metadata. Once the admin selects the parameters that seem more crucial to their organization, the app's real AI gets to work and predicts the quality score for each draft. If the content reviewer agrees, they can accept the scores. Else, assign a custom score. This way, the organization can quantify the overall content health. Easy-peasy, right?
B. SUVA (Earlier Chatbot)
Our much-acclaimed chatbot has also undergone quite a few upgrades. The significant ones include:
Augment HR Operations: We are launching our beloved chatbot for HR support with Mamba '23. It'll take over routine HR operations, training, and onboarding to amplify employee productivity. It'll also double up as an employee handbook to ensure quick query resolutions.
Simplify IT assistance: SUVA is now available for IT assistance to multiply the productivity of your employees and cut down on IT support costs. As SUVA would take mundane tasks away from their day-to-day activities, the IT support staff can focus on value-adding responsibilities.
Faster, Concise, & More Interactive StoryBoard: Maneuvering your way across stories to find the correct node is a daunting task. Mamba '23 makes the job easier. It enables users to search for nodes directly from a search bar. Therefore, simplifying bot maintenance and optimization.
C. Agent Helper
Our much-loved sentiment analysis wizardry will also be elevating agent experiences. It now has a dedicated space within the Agent Helper application to facilitate real-time sentiment probing for all cases and depicts them using happy, neutral, and sad emojis. Leveraging these learnings, the agents can smartly prioritize the tickets and keep customer frustration away.
D. Escalation Predictor
The prevalence of colloquial language and expressions such as slangs, abbreviations, etc., poses a major challenge for natural language systems. But not when Escalation Predictor is your ally. It now supports automatic slang detection and identification, thereby better understanding the intent and mood of customers. As a result, it's now become easier than ever to keep escalations at bay.
2. Machine Learning Workbench
The ML Workbench offers admins the tools to test the impact of SearchUnify's proprietary machine learning algorithms. It unveils what goes under the hood to deliver relevant answers every time.
That's not all. We intend to push the envelope in the next release by completely handing over the reins of our ML systems to the customers. They will then have the leeway to mold the core as per their needs and further gear the ML train toward yielding accurate pitstops (results). Nifty, right?
3. Search Experience
Search has always been a big part of our journey. Needless to say that Mamba '23 also brings notable enhancements to ameliorate the search experience. Here's how:
Recommends Relevant Articles: The feature offers users most popular articles related to their query at the bottom of the search results page. They are deduced using collaborative filtering. It takes into consideration articles referred by other users and articles that are highly relevant to the search query.
4. Insights Engine
Mamba '23 stays put on the path to step up your tuning experience and is introducing a new report:
Top Search Queries with Unranked Results: Mamba '23 adds more depth to the plethora of already existing reports by introducing a brand new, comprehensive report—Top Search Queries with Unranked Results. The report highlights articles that users find useful but are buried deep inside the labyrinth of search results. Additionally, admins can get their hands on a ready-to-use list of content recommendations that require boosting, thereby maximizing content reach and consumption.
5. Integrations
Every release takes SearchUnify a step closer to integrating all the enterprise platforms under the sun. Towards that end, Mamba '23 paves the way for the following content sources:
Monday.com
Monday.com is a project management tool with support for CRM, resource management, and practically anything a business needs.
KnowledgeOwl
KnowledgeOwl is carving a niche in the customer service world with its robust knowledge base software.
Guru
Guru is a popular platform for companies seeking to create collaborative knowledge bases for internal use.
6. User Interface
Mamba '23 comes packed with nifty changes that are going to step up your admin experience.
Track API Consumption Data: The "API Logs" tab has been replaced with "API Consumption" and now gleans actionable insights each time an API operation is invoked. It tags along the following two reports: Current Quota Consumption and API Consumption for Previous Instances. Both these reports provide up-to-date statistics on API data usage.
Assess Crawling Progress in Real-Time: With this enhancement, admins can now put a real-time pulse on the crawling status. They can ascertain the number of indexed files while a manual crawl is still in progress.
Souped-up Search Experience with Imperium Editor: The all-new Imperium editor offers powerful customization capabilities and enables admins to tweak the appearance of search box, page rating widget, facets, content source tabs, scroll, featured snippets, and bookmarks. Additionally, it allows admins to upload their CSS in Styles and JavaScript in Custom Components.
Interested to Know How Our Highly Versatile Platform Can Turbocharge Personalization for Your Org?
Mamba '23 not only irons out any kinks in your search experience but also scores big on personalization, thus enabling you to extract more value and provide stellar agent and customer experiences.
Do you also want to experience the serendipity of relevant information arriving at the moment of need? Do you want to attune your customer reps to achieve organizational goals effectively? Then you must request a live demo and see the holy grail of enterprise success unfold right in front of you.