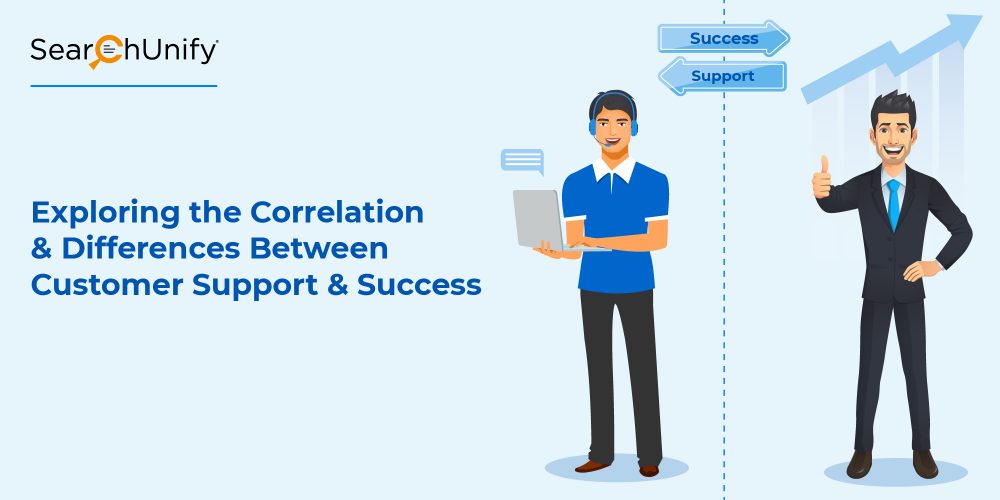 Customer success is one of the biggest buzzwords right now. As per Business Insider, customer success specialists have seen 34% annual growth in demand in the past five years. But, alas, not all companies have adopted it yet. Even worse, 36% of companies are unaware of the difference between customer support and customer success. Do you also think that they are the same? If yes, then this blog post will acquaint you with the similarities, differences, and a lot more. Let's get rolling.
Customer Support vs. Customer Success
Before we dive into the difference between customer support and customer success, we'd like you to recall the best customer experience you've ever had. Irrespective of the mode of communication, you are likely to remember the one that was quick, easy, responsive, empathetic, and personalized. Ultimately, the best support experiences are the ones that make customers feel valued and ensure that all their challenges are addressed.
But wouldn't it be better if customers didn't have any problem in the first place? Or even better, you contacted them proactively because you knew they needed help. That's exactly the difference between customer support and customer success. Support teams focus on reactively fixing what's broken, but CSMs assure proactive engagement and anticipation to reach out to customers even before they need any help. One is based on what happens on the spur of the moment, while the other is pre-emptive.
| Basis of Difference | Customer Support | Customer Success |
| --- | --- | --- |
| Approach | Reactive | Proactive |
| Objective | Issue resolution and avoidance | Help customers to attain their desired business outcomes |
| Maturity | Over a 25 year-old field and an ocean of data is available on how to do it right | Over a 10 year-old field and no conclusive data on how to get it right is yet available |
| Duration | Transactional in nature with a starting and an end point | May or may not be transactional; No terminal point as the relationship continues as long as the customer exists |
| KPIs and Metrics | Measure resolution times, quality of the service provided, and overall customer satisfaction | Measure business impact like customer retention, expansion, and overall customer lifetime value |
| Business Impact | Drives customer satisfaction | Drives revenue and expansion |
Customer Support Or Customer Success — Which One Would You Prefer?
While each team has specific responsibilities over the customer journey, together, they cover all aspects of a great customer experience. Customer support is the key to resolving incoming tickets or cases and boosting CSAT scores, whereas customer success emphasizes on empowering customers to augment loyalty and revenues. Choosing one over the other isn't really a wise decision.
Customer support is indispensable during the early stages of customer journey. When a customer is onboarding, a little hand-holding is required to get them accustomed to the services and products. That's where customer support comes into the picture. On the flip side, customer success is imperative to build the lifetime value of customers through proactive support. By acknowledging the coexistence of both, companies can hit the jackpot as opposed to siloing the two as stand-alone functions or departments.
Consider customer support as acquisition and customer success as lifetime value.
Aligning Customer Success with Customer Support
A high degree of collaboration is required between customer success and customer support to deliver a stellar brand experience. To make it happen, support tickets and cases need to be accessible for both teams. As a result, the support team can introduce customers to CSM for help, or the customer success team can open support cases on behalf of customers. Such scenarios demand seamless handoffs to deliver a compelling experience. Therefore, a 360-degree view of the customer journey is non-negotiable.
Once both teams are on the same page, you can rationally leverage customer data to make informed decisions. For example, if your support team consistently encounters tickets where customers were unable to find helpful content, then they can relay that information to the customer success team. The success team can further work with the content team to update the knowledge base and eliminate the issue.
How Does Cognitive Technology Bridge the Gap Between Customer Success and Support?
In the end, it all trickles down to making your customers feel valued. To know how artificial intelligence and cognitive technology contribute towards delivering an exceptional customer experience, download our eBook Improving Customer Experience With AI.