It takes a village to provide an unforgettable user experience that drives brand loyalty and gives your customers a reason to keep coming back. But how? Only a handful of brands have recognized that the key to stellar UX is infusing AI into the business.
Investing in technologies based on AI & machine learning will help you have a leg up on the competition. They help you in leveraging neglected user data at different touchpoints for improving customer experience. And this is just the tip of the iceberg. There's a lot more where this came from.
Our guest today Bharat Sethi, has worked with a number of technical teams and assisted them with measuring and improving user experience. Tune in to this episode and hear him talk about:
Key components that influence a user experience
Technologies that will shape the future of CX
Metrics to measure & improve user experience
Featured Speakers
Bharat SethiTechnical Lead,
SearchUnify Guest
Bharat is a Technical Lead and a core member of the SearchUnify team since its inception. He has more than 5 years of experience in application and web development in services as well as products across multiple verticals, including digital marketing, banking, and telecommunications.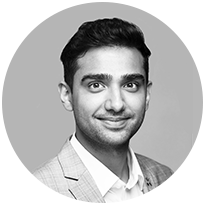 Anuraag VermaMarketing Manager, SearchUnify Host
Anuraag Verma is a marketing manager at SearchUnify, a unified cognitive search platform for customer-first enterprises. An avid marketer, storyteller and branding enthusiast, he holds an MS in Marketing from the University of Southern California.