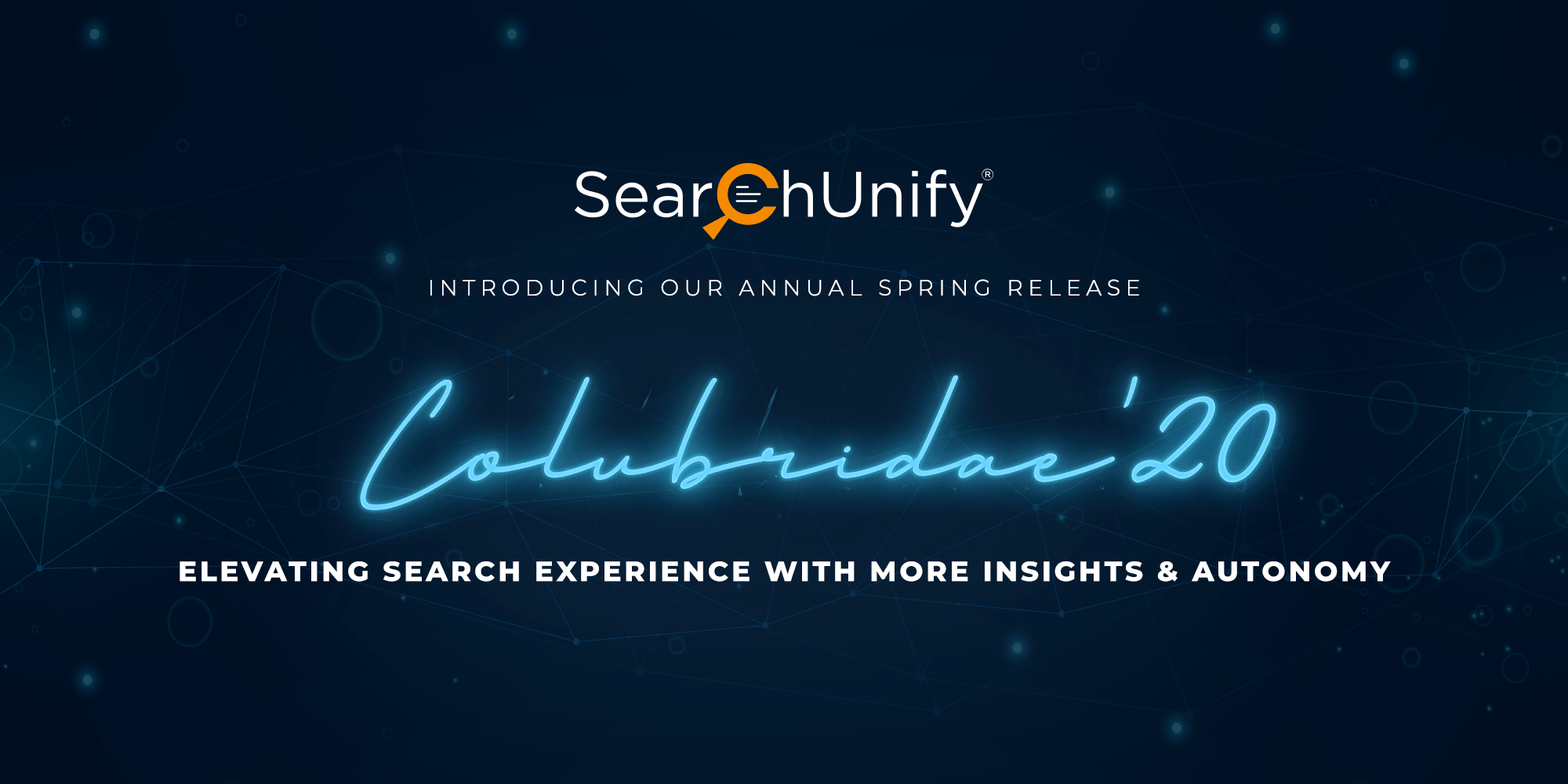 It is that time of the year when we dole out our power-packed release to feed your ever-growing appetite for information discovery, insights, and relevance. Following that tradition, we're proud to introduce our latest release: Colubridae '20.
Keeping in mind the changing priorities of businesses, in these ever-evolving times, it aims to facilitate remote collaboration. You can now leverage SearchUnify within SharePoint portals to keep your remote working employees productive and engaged.
The release also enhances the search capabilities along with a slew of other updates that drive the console to a new level. Here's a quick roundup of everything it brings to the table.
1. More Supported Platforms
Extending support to more platforms has always been one of our top priorities. More supported platforms mean you can create a bigger pool of information and deploy smart search on more digital channels. This facilitates better matching of queries with relevant results.
Content Sources: You can now index and display content from Skilljar as well. This helps the management to closely monitor how operations & training programs are going. Similarly, your Higher Logic powered community is also indexable.
Search Clients: Intelligent search can now be implemented on Higher Logic, Adobe Experience Manager (AEM) and SharePoint too. This provides customers & prospects more access to your content while driving up collaboration among employees. A win-win on both ends, right?
2. Intelligent Community Helper
After the success of Agent Helper, we decided to build something that would help community managers drive engagement. Thus came the mighty Community Helper, the nifty bot that works tirelessly to keep the community in its pristine form.
It keeps an eye on new queries and can provide meaningful responses if need be. This can be helpful in odd hours when the number of active members is low. It uses set templates—which are sentiment adaptive—and your repositories to frame meaningful responses.
3. Smarter Bot Interactions
Our bots have come a long way from what they were back when we first rolled them out. Colubridae '20 takes them to an even higher level. Here's how:
Custom Slots & Webhooks: Chatbot now supports custom slots that enable you to configure how they recognize & process user-provided information. Webhooks help the bot to interact with users more effectively by communicating with third-party apps and portals.
Unsupervised Intent Learning: The bot leverages machine learning and monitors all user search queries from SearchUnify's insight engine to train itself on unidentified intents. This keeps the manual input to a bare minimum.
System Entities: Say goodbye to manually defining entities because the bot is now capable of doing that on its own from the taxonomy on your systems. This helps to accelerate the story creation process.
Streamlined Support Workflow: On a Salesforce-powered community, when a user is interacting with a Chatbot, they can create a case from the chat client window itself. User doesn't need to visit the case creation page and login there again. They can simply ask the chatbot and it will take care of the rest.
Sweet, right? Well, allow me to throw the proverbial cherry on top. We figured that all these updates do drive up the desirability of the bots and the users might want more of them. So starting Colubridae '20, every instance will provide five fully-customizable chatbots, a fivefold bump from earlier!
4. More Focussed Reporting
Analytics has always been one of our fortes. If that wasn't enough, Colubridae '20 sets a new echelon by tracking six times more data from every nook and cranny of your infrastructure. It introduces two comprehensive reports while adding more depth to the already existing reports to keep the number crunchers grinning. More on that later. First up are the brand new reports.
Top Down Deflection Report: It provides a top-down view of cases for better comprehension of what isn't working. The report includes which cases were created in the last week, month, and quarter. It also highlights the leading ticket creators along with their complete session details.
KCS Usage Report: The earlier version of the KCS report (rolled out with Mamba '20) revealed the articles created from case resolutions and highlighted the leading contributors to the knowledge base. This new report also monitors the KCS-generated articles in terms of 'attach to case' and share counts to gauge the efficacy of the KM program.
Another great addition that I'd like to talk about is the souped-up session tracking report. It now comes with filters that also work in conjunction with each other. It will empower admins to extract a lot more insights. Lastly, the release also segments reports into different personas-based bundles for Community, Support, and Content Manager for easier access.
Additionally, if you are a Salesforce user, we have more news for you. SearchUnify package – which includes SearchUnify for Service Cloud, Community Cloud, and Salesforce Apps – is now available on Salesforce AppExchange. You can simply download it with a click from there as well.
End Notes
To sum it up, the release brings about plenty of new additions and upgrades to help users do more. The enhancements not only score big on search experience but also search adoption and time to value while also extracting more actionable insights.
Furthermore, it aims to drive engagement as well as CSAT score across your web properties by helping you make data-backed decisions and deliver better outcomes. In case of any queries or to know more about any of the above-mentioned upgrades, drop a line at info@searchunify.com.