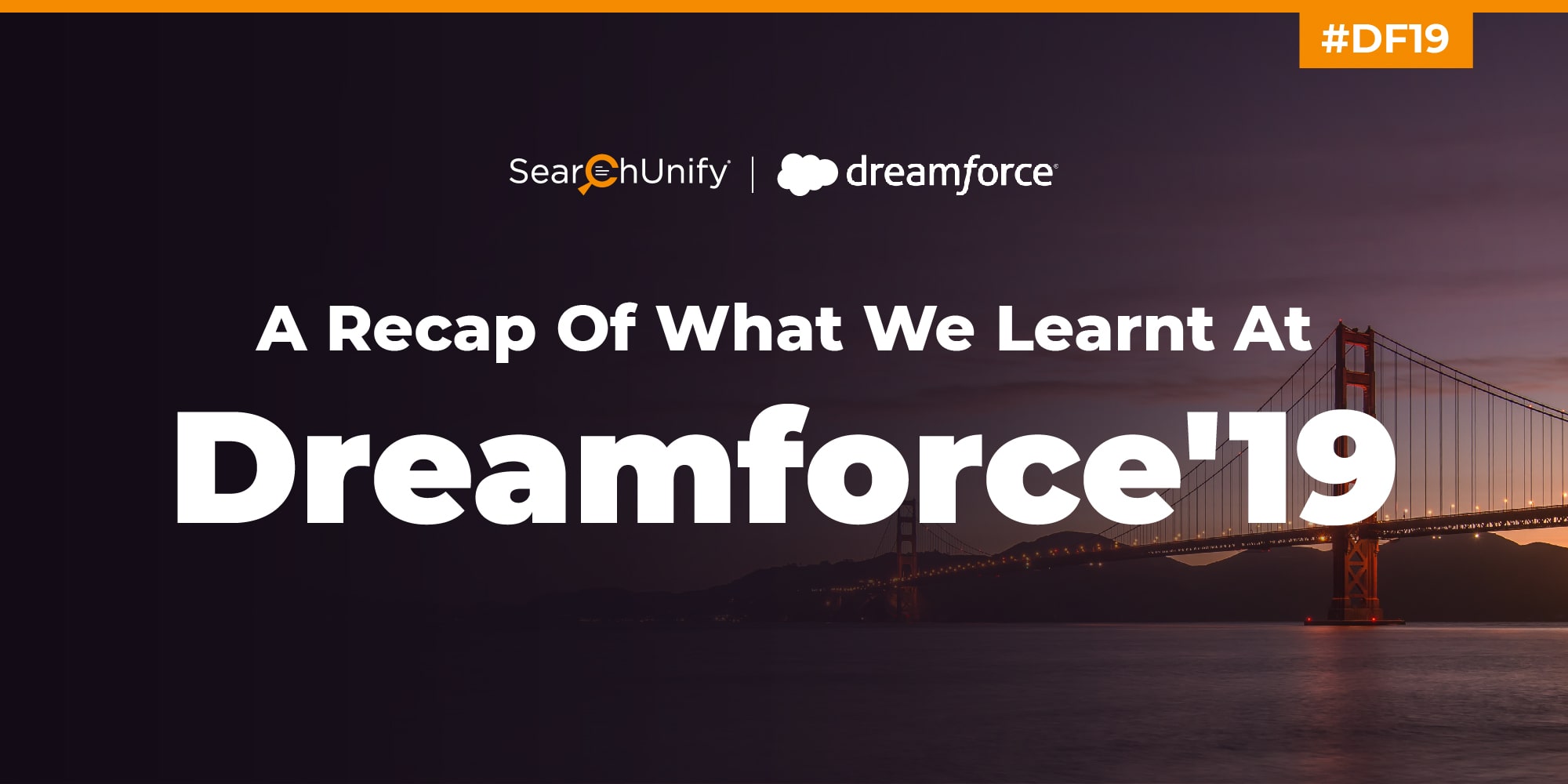 I was one of the fortunate few who had the golden opportunity to be part of Dreamforce '19. The conference is an event that any true Salesforce enthusiast marks down on their yearly calendar, and once again, it exceeded expectations. I use the word "fortunate" because the magnitude of tech, business networking, innovation, humanitarianism & entertainment was matchless, with distinguished speakers including former US President Barack Obama, blessing attendees and trailblazers alike with their collective words of wisdom.
Although the magical moments of Dreamforce '19 can't truly be replicated here in this blog post, here are several major announcements and key takeaways from the blockbuster event:
Key Announcements
Extended Partnership with Amazon Web Services
Salesforce will integrate and offer Amazon Connect as its preferred computer-telephony integration (CTI) partner. By Summer 2020, it will become the basis for the offering known as Service Cloud Voice, which will enable organizations to provide superior customer service and swifter outcomes over a traditionally costly communication channel. In tandem, AWS released new content on its learning platform, Trailhead, to inculcate cloud-related proficiency and skills in anticipation of this forthcoming release.
Einstein, Salesforce Voice Assistant, took Center Stage
Einstein will enable service reps to talk with their CRM platform i..e, Salesforce and solidify the rising trend of businesses adopting voice-based technologies. So next time you are bouncing back and forth between meetings and need to update activity logs in Salesforce, you can do so in a jiffy with no need to login to your laptop. Just command the genius and it will verbally log the update. Pretty cool, right?
Expanded Partnership with Microsoft
Microsoft Azure is now Salesforce's public cloud provider for Marketing Cloud. This new chapter of Salesforce and Microsoft partnership unfolds with additional integrations that connect Sales Cloud and Service Cloud with Microsoft Teams. This will boost team productivity and reduce employee & customer onboarding time, removing friction from your business processes.
More Productivity for Apple Users
Apple users rejoice as Salesforce announced Trailhead GO, an exclusive app for iOS & iPadOS users, that consists of more than 700 modules related to business and tech skills to learn and specialize. They have also refined the Salesforce Mobile App for iOS which is now powered by Einstein. With smarter analytics and Siri shortcuts, it delivers a powerful user experience.
Key Takeaways
Artificial intelligence was, undoubtedly, a key theme around which products and services were showcased at the Dreamforce Expo. Salesforce Customer 360 Truth was promoted to build deeper customer relationships and engagement. It connects data silos between different teams in your company, including sales, marketing, support and much more to elevate a single source of truth (SSOT) with respect to customer data. This powers connected touchpoints where customers feel every interaction is part of an ongoing conversation started by them.
Voice was positioned as tech that would power future customer service. Service Cloud Voice combines 'the wireless' with Service Cloud, to unify phone and other digital channels with CRM in real-time. In service, Einstein will come to aid service agents by recommending KB articles and next-best-action by using NLP capabilities and advanced technology to convert voice to text and vice-versa.
To add on, it will also perform keyword monitoring & fetch rich insights and trends from conversations to alert managers on their competitor mention and best practices on business topics.
SearchUnify's Dreamforce Experience
SearchUnify's team consisting of Salesforce champions and seasoned search specialists demonstrated our AI-powered apps on the Expo floor and in off-site events for our customers, prospects, analysts, and partners alike. The apps were based on the theme of empowering organizations to elevate their Salesforce capabilities & accelerate their digital transformation initiatives by delivering consistent outcomes in your customer's preferred communication method (web self-service & chatbots) at a substantial reduction in human involvement.
The feedback we've received is indicative that our approach will continue to align in helping companies succeed during the 4th Industrial Revolution, delivering differentiated value over the competition, and scaling operations in ways that have not been achieved at any point in history.
In short, Dreamforce was the inspirational event that it was billed as, and we at SearchUnify are looking forward to helping our clients stay ahead of their competition by leveraging the innovation that we saw in San Francisco.
Should you have an interest in speaking with our team in how to mask the technical complexity of digital transformation, please feel free to send us a note at info@searchunify.com. We'll be ready to listen and guide you to the promised land.