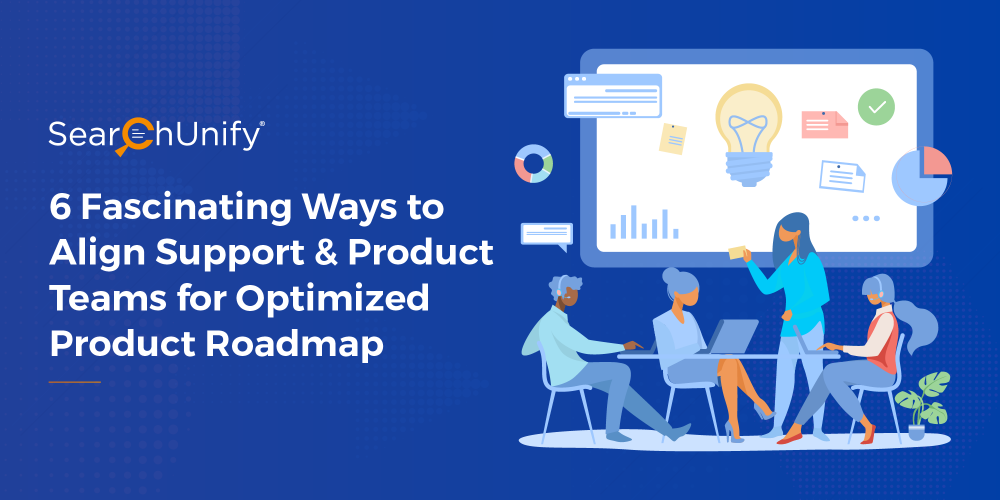 Whether you're just getting started or featured in Forbes' 'World's Most Valuable Brands,' your ultimate goal is to make your customers happy. And the best way to do that is by making their experience with your product butter-smooth. This goal becomes more achievable if your customer support & product teams work together.
But do they?
Only 58% of product teams say that their customer support teams influence the product roadmap. Your support agents engage with customers directly to resolve issues, work on requests, etc. Hence, they know all about the frustrations and can point towards the product areas that can be better. If you take their inputs regularly, you'll be able to make the product so flawless that your customers start advocating and recommending it to peers and friends.
Let's dive deeper into this topic and see how insights from support teams can assist product improvement or development.
6 Insanely Good Ways to Leverage Support Insights for Augmenting Product Development
1. Harvest Product Feedback from Agents via Tools They Use
Your support team uses a myriad of tools. There should be a system that lets them tag a case or ticket as a possible product or feature enhancement. Some advanced solutions also let you create alerts for such tags that show up in the product team's or manager's inbox.
Then, the product team can accept or reject the suggestions after evaluation. This way, you make it easy for support agents to pass on their insights and ensure no important suggestion gets missed.
2. Leverage Machine Learning & NLP for Heavy Caseload Analysis
Support tickets contain a wealth of information regarding the most common sources of customer issues. If a certain product feature is generating more percentage of tickets, it needs to be addressed.
Having said that, supervising these cases manually to identify the root cause is tedious. And as time passes and your customer base grows, the (manual) going will only get more difficult. You can lean on technology to do the heavy-lifting. Some solutions augment the performance of your existing support platforms by fetching insights and identifying topics or features that lead to a lot of tickets.
Once you feed the existing support ticket data to the solution, it uses ML and NLP to decipher ticket signals and churn out topics that need maximum attention. We'll talk more about this at the end of the blog.
3. Hold Monthly Meetings Between Support & Product
Communication is powerful. The amount of insights that a product team will get after simply talking to the support team is immense. Ever tried that? Having a meeting of a few support agents and product team members every month is a great way to discover common customer complaints, problems, and product-related bugs.
These meetings also serve the purpose of educating support agents with specialized knowledge so that they can give more refined answers. Hence, a monthly catch-up helps bridge the gap between the kind of product customers want and what it already is.
4. Get Real-Time Insights From In-App Support
Many times support teams receive queries about a specific button or feature that the customers can't find. After all, software products are getting complex day by day. This happens because product teams visualize and create features & functionalities whereas customers are the ones actually using them. Therefore, there can be a gap in hypothetical scenarios and the actual ease of use.
Support platforms provide search analytics that furnishes rich insights into where end-users are facing friction inside the application. Product teams can use this to improve and create a product experience that's in line with customer needs.
5. Spot Friction in Customer Support Journeys and Smoothen It
Today's customers are tech-savvy and that's why self-service is on the rise. HBR noted that "across industries, fully 81% of all customers attempt to take care of matters themselves before reaching out to a live representative." What if you could see all the things they tried before logging a support case?
Some support applications like Agent Helper create a complete log of the customer journey such as articles viewed, terms searched, search results clicked, etc., on your online knowledge bases and self-service portals. Regular audit of these insights by product teams is a must to reduce product-related friction for customers. As a side benefit, this will also reduce the number of support tickets.
6. Make Support Agents Your Beta Testers Before New Feature Launch
Every product release requires quality assurance, so why not convert your support agents into beta testers? This establishes two things. First, your support reps are acquainted with new features and feel more confident while recommending them to customers or answering queries around them.
Next, it serves as a form of internal validation before showcasing your new release to the customers. Now that's what you call butter-smooth.
Takeaway
Despite the benefits of integrating your support and product teams, most companies fail in bringing these two powerhouses together. This creates knowledge silos. You don't need a plethora of tech solutions to integrate different departments; just a unified cognitive platform on top of your existing tech stack will do. It serves as an end-to-end solution for service leaders and future-proofs your customer support and product experiences. Need more information?
Download This Resource to Grasp The Benefits of a Unified Cognitive Platform
A holistic solution for your company's ecosystem, SearchUnify's cognitive platform is robust yet versatile to adapt to changing business needs. Apps built on top of it help everyone from customers and agents to support, and product teams. Get your free copy of the datasheet here.