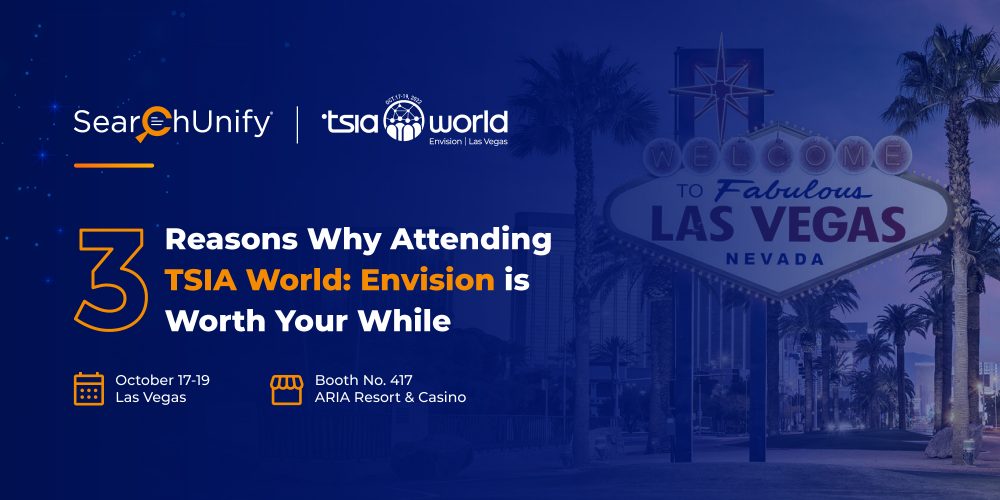 It's no secret that the technology landscape is advancing at a faster pace than ever before. Cutting-edge technologies like Artificial Intelligence (AI) are revolutionizing the way businesses interact and support their customers. In fact, 57% of businesses leverage AI applications to elevate their customer service, process optimization, and make data-driven decisions.
But it can be quite a strenuous task to devise effective CX strategies, especially when there is a constant shift in customer behaviors and attitudes.
In light of this, TSIA World: Envision is back with a bang!
To give you a brief, the TSIA conference is a premier event featuring a lineup of keynote speakers and industry stalwarts. Together, they enlighten the support industry with exclusive insights and stellar strategies for futuristic success.
So if you want to stay abreast with all tech advancements in the customer experience realm, TSIA World: Envision is the place to be. The three-day event is scheduled to be held from Oct 17-19, 2022, in the heart of downtown Las Vegas.
Here are three reasons why attending the immersive technology conference is worth your time:
1. Connect with Industry Juggernauts
The conference is an incredible forum to interact and build valuable relationships with like-minded leaders. Enjoy unrivaled networking opportunities while getting to know the industry's experts' hot takes on unlocking new opportunities to retain and grow customers. As they say, "Networking is not just about connecting people. It's about connecting people with people, people with ideas, and people with opportunities."
What's more? More than 100+ keynotes and sessions on topics— Customer Success, XaaS Partner & Channel Optimization, Data & Analytics, Diversity Equity & Inclusion— will be delivered to help you pragmatically respond to industry challenges.
2. Conquer Business Challenges for a Stronger Support Ecosystem
Great customer support isn't an easy feat to achieve. With the presence of knowledge silos across disparate repositories, it's hard for support mavens to find and equip updated and relevant information.
This is where the knowledge-first model comes into play. It ensures that the right knowledge reaches the right people timely. That amplifies the customer experience while enhancing agent productivity. Curious to know more? Then, join Alok Ramsisaria, CEO, Grazitti Interactive (SearchUnify's parent company), and Pankaj Bhardwaj, Senior Vice President, Customer Support, Automation Anywhere, for a riveting session as they discuss the right blend of technology and process to ensure sustainable customer experience with knowledge-first support.
3. Future-proof Your Business Workflow with Cognitive Tech
New-age customers look forward to blazing-fast, relevant, and personalized experiences across all touchpoints. But the stumbling blocks like poor content findability, impersonal experience, etc., might impede their experience, hence, placing an additional burden on the support teams. Enter cognitive technology!
Built on the core of AI, machine learning, and NLP, it empowers support teams to proactively curate a seamless digital customer experience and eliminate the challenges for good. Gartner also states that by 2023, the majority of organizations using AI for digital commerce will achieve at least 25% improvement in customer satisfaction, revenue, or cost reduction.
To experience cutting-edge technology in action, you should join the renowned TSIA conference 2022. After all, it is going to see innovative technology leaders unleashing the power of real AI to improve every aspect of customer experience.
Wrapping Up!
TSIA World: Envision is a great platform to keep up with the next "big things" in the technology world and take your industry expertise to a higher echelon. So, board your ship and get ready for a transformative experience that will transform the future of your support industry.
If you're keen on learning how SearchUnify ensures their clients stay ahead of the customer support game, don't forget to stop by our booth #417.
Hope you are excited to join our session with Automation Anywhere, on "Navigating the Cultural & Technology Shift to Knowledge-first Support" too. It will take place on October 18 at 10: 15 AM PST.
What's more? You will also stand a chance to win exciting gifts (iPhone, AirTags, and more), so get there and be the lucky fella! Find more details about the session here.