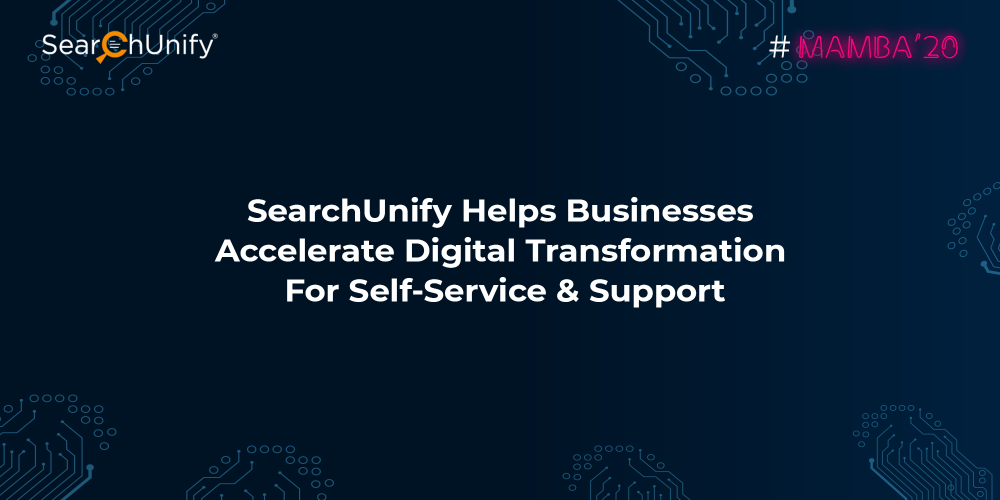 We're proud to introduce the latest release of SearchUnify – Mamba '20. It ushers in a bucketload of interesting additions along with functional and cosmetic enhancements that aim to build on the solution's capability and user experience.
Our goal is to develop a unified tech stack that helps power digital transformation across self-service portals & support teams. Not just that, we have also made key additions to the admin console to help them gain actionable insights faster. Incorporating feedback from our customers and changing trends we have packaged key upgrades in our latest release. They've been categorized and explained in the forthcoming points.
1. Supported Platforms
Staying true to our commitment to include as many enterprise platforms as possible in SearchUnify's arsenal, Mamba '20 further adds native support for three new content sources and a search client. These include:
Content Sources:

Docebo, Slack, Vimeo

Search Clients:

Slack chatbot
2. Amped up ML for Seamless Search
Mamba '20 significantly amps up the cognitive abilities of the solution. Here's how it improves the end-user experience:
Smarter Recommendations: Users who search for a query now will see search recommendations as they type two or more alphabets. The search engine will not auto-complete the query but will show multiple recommendations in a drop-down menu that will include the recent search queries they typed starting with the same alphabets. Also, at the bottom of the search results page, they'll see a list of similar searches

– search queries that other users made with the same intent.

Typo-Proof Search Results: Incorrect search queries or typos also fetch correct search results as the engine learns common misspellings of words from the dictionary that trains it. If a user makes a typo, the search engine will suggest the correct keywords asking them 'Did you mean?'
Better Sorting of Search Results: Users now have the choice to sort their search results by relevance or content creation date

. This ensures that they can access the latest content quickly and conveniently.
3. Salesforce
The latest release brings in a myriad of changes that help make the most of your Salesforce org. These include:
New Agent Assist:

Your agents using Salesforce Service Console now have the ability to resolve customer cases even faster with an all-new agent assist. This window/widget inside their Service Console will quickly show them the top articles for the given case, top related cases, top agents that resolved similar cases, and insights into the user activity before they logged the case to help them better understand the context of the case.

Hand-off Connector:

Sometimes, the customers aren't satisfied with the solution provided by a chatbot. In such cases, the chatbot can quickly connect them to the live agents on Salesforce along with the conversation history so that the live agent has a better understanding of the customer issue before responding to him/her.

Object-level Crawling:

Crawling the entire Salesforce org every time after adding more data to an object is time-consuming. With Mamba '20, you can specify the object that's been updated and choose to crawl only that. This greatly reduces the time needed to update the index.

Access Control:

Admins now have an option to manage Salesforce data access controls directly from the SearchUnify admin panel.
4. Chatbots
The new release brings all-new chatbots that are customizable, analyzable, and better trainable.
Theme Editor:

You want your chatbot to reflect your brand identity. With Mamba '20, admins can configure and customize chatbots according to your branding – their colors, fonts, themes, names, responses, everything.

Analytics:

The chatbot now tracks and reports real-time analytics of user interactions. In addition to that, it can also provide the transcript for any session to the agent as well as admin.

Training:

These new chatbots are fast learners and are easier to train. You can set them up and train them in just three easy steps and they're ready to engage and delight users.

Direct Case Creation*:

If a user chatting with your chatbot intends to log a case, they will not have to navigate to a case creation page for that. They can simply ask the chatbot to do it for them and the chatbot will take care of it.
5. Admin Interface and Experience
With Mamba '20, we've enhanced the experience not only for your end-users but for SearchUnify admins as well with some nifty upgrades.
Customizable Interface:

Logged in users can now tailor their interface according to their own needs and their selections will be remembered. Admins can also customize or choose one of the default templates for the search interfaces.

Automated Summarization:

The solution now leverages NLP to convert comprehensive reports into precise, everyday English for quicker processing. It can also analyze the available data sets to suggest the next course of action.

Smart Tuning:

To see the impact of boosting, a test window now shows the before & after the position of search results along with their boosting scores. Additionally, admins now can automate the promotion and demotion of fresh and outdated content respectively.

Two-Stage Deflection:

Mamba '20 introduces a new, comprehensive formula that leverages a two-stage deflection model to provide a more accurate picture of search effectiveness.

NLP Manager:

This is a new addition that helps improve the suggestions that the end-users see. It helps manage synonyms and configure the 'Did you mean' suggestions displayed to the users.

Revamped Dashboard:

The previous dashboard offered a lot of information which would confuse some users. For a better and more immersive experience, the dashboard now displays the most popular and relevant reports.

Facet Manager:

Admins can now merge multiple facets to create a new category, Additionally, they can also choose to keep this branching visible to the users or not.

Customizable Session Tracking Reports:

Not all sessions are the same. Only some of them are of interest to the organization. With that in mind, Mamba '20 adds the ability to configure session tracking reports based on the user journey.

New Search Reports:

The solution extracts & reports more performance data based on content sources. Additionally, it reports the knowledge pieces that deflected most cases as well as keywords that lead to new cases.

Improved Synonyms:

SearchUnify's synonym factory is even more powerful now. It now has the ability to learn and add multiple synonyms and abbreviations for one keyword/phrase. Admins can manually add new words to the synonym list as well.
6. Security
Security has always been our primary area of focus. With every new release, we ensure that we stay on top in this area. With Mamba '20, we've enhanced security with:
Two-Factor Authentication:

To further enhance the security of your enterprise data and minimize the chances of any fraudulent access, Mamba '20 protects your SearchUnify instance with 2-step authentication for the admins.
7. Multilingual Search
Enterprises that have a diverse user-base have their support portals in multiple languages. SearchUnify has always supported multiple languages and with Mamba '20, we've extended the number of supported languages to 30, including double-byte character languages, so your users can find what they seek in the language of their choice.
To make the user search experience even faster in the Chrome browser, we've introduced the SearchUnify Chrome Extension, which enables users to access SearchUnify search results directly from the Chrome search bar with a single click. You can find it here.
To put it simply, Mamba '20 brings a lot to the table that helps improve CSAT, engagement, security, customization, and more exhaustive analytics. This is a big step-up that aims to empower customers to drive more value out of their enterprise platforms. For more information, feel free to drop a line at info@searchunify.com.
*This feature is currently supported for Khoros communities.