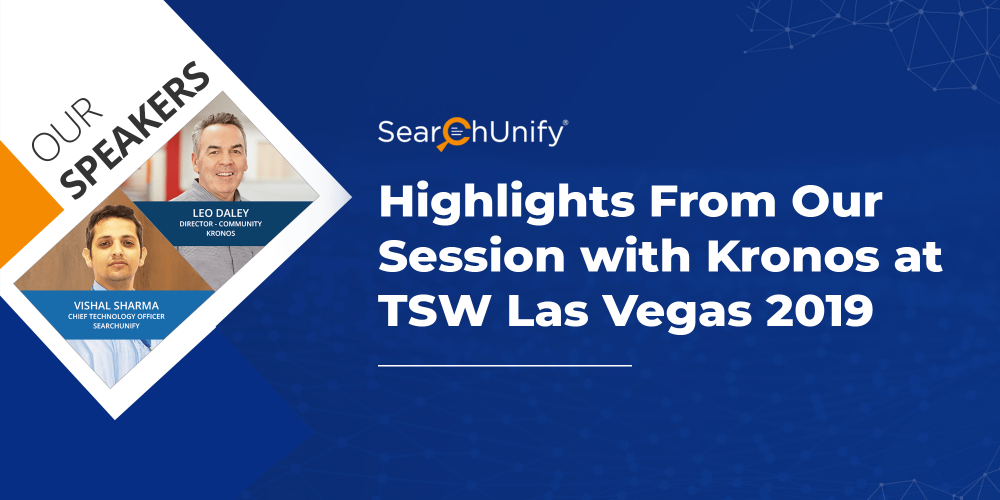 Last week was an absolute delight as I got the opportunity (at TSW Las Vegas 2019) to share my insights on cognitive search & its role in digitally transforming enterprises. It was a privilege to share the stage with Leo Daley, Community Director, Kronos.
Kronos is a leading provider of Workforce Management and Human Capital Management cloud solutions that enable organizations to manage and engage their workforce. Kronos industry-centric workforce applications are purpose-built for businesses, healthcare providers, educational institutions, and government agencies of all sizes.
Coming back to the session, around half of TSIA members (48%) are planning to invest in cognitive search in 2019-20. Keeping that in mind, Leo and I talked about how Kronos leveraged SearchUnify to embark on a smooth and successful cognitive search journey.
The Rising Interest in Cognitive Engines
The reason firms are investing in cognitive search platforms is because it propels smarter self-service and support, both of which rank quite high on enterprises' to-do list. Some tools also fuse AI and search data to power chatbots that enhance the user experience and, by extension, self-service.
It also personalizes the search experience and helps optimize your content strategy with real-time insights into content consumption and discovery. It also augments agent productivity, automates knowledge creation & maximizes ROI of your support ecosystem.
The Kronos Tale
We have been helping Kronos to cut through information clutter on its community, support, and internal portals. This was a step-by-step process, and I'll be explaining it here in three sections.
Customer Community
To enable customers to self-serve, Kronos had a customer community with enterprise search on it. The community had ample documents & articles but limited facets & filters, which made it pretty difficult for users to find relevant content. The search results were fetched from several enterprise platforms and the content appearing in the search results was skewed towards the more-used platforms. Hence, the community users weren't getting relevant search results. Additionally, it was becoming hard to find relevant content amid massive chunks of information added with every new release.
With SearchUnify's faceted search, the content spread on the community became better organized, categorized, and easy to access. User experience was enhanced manifold after proper segregation of articles & docs under categories like QA, Cases, KB, Product Help Files, eLearning, Ideas, etc.
Support Portal
Kronos, like most enterprises, has help content and documentation spread across multiple platforms such as JIRA, SNOW, etc. However, they weren't connected. So, when the support professionals had to leave the Service Cloud to look for helpful information, it decelerated them and the rate of case resolution. Also, the need to use more enterprise platforms meant the employees had to get accustomed to more products to do their job.
SearchUnify unified content across different repositories and made it accessible from the Console. It also enabled service reps to attach articles to a case from the Console itself. This improved case resolution rate and agent experience. Additionally, the time spent on training the support heroes for multiple enterprise platforms went down significantly as all the relevant information could be searched from the Support Console.
While creating a case, SearchUnify's algorithm would suggest content based on the selected product and issues related to it. These filtered and product-relevant suggestions helped Kronos achieve up to 12% case deflection.
Internal Portal
Kronos had specific content sources that were solely used by its professional services team. However, like the support KBs, these too were siloed repositories which made finding useful information quite a challenge.
To overcome this hurdle, they got a custom cognitive search solution that indexed all content sources relevant to the professional services team. This empowered the said team to steer clear of unnecessary knowledge and improve the quality of their search results.
Road Ahead
Like any progressive firm, Kronos has planned a strategy to leverage AI-powered search to its full capability. A few things that Kronos is going to focus on are:
In-product search for contextual help so that customers do not have to leave the product infrastructure to get the help they need
Search-assisted chatbots across digital properties to drive CSAT & case deflection
Agent-assist applications that enhance agent productivity
Dynamic and personalized recommendations to users
Automated knowledge creation with AI to unburden support reps
Leo really looks forward to taking Kronos' customer self-service and support experience to the next level and team SearchUnify is glad and confident that he can rely on us.
Want to Redefine Your Self-Service and Support Experience like Kronos?
Request a free demo and see how SearchUnify can help you achieve your goals. If you'd like to watch the full recording of our TSW session, you can access it here.