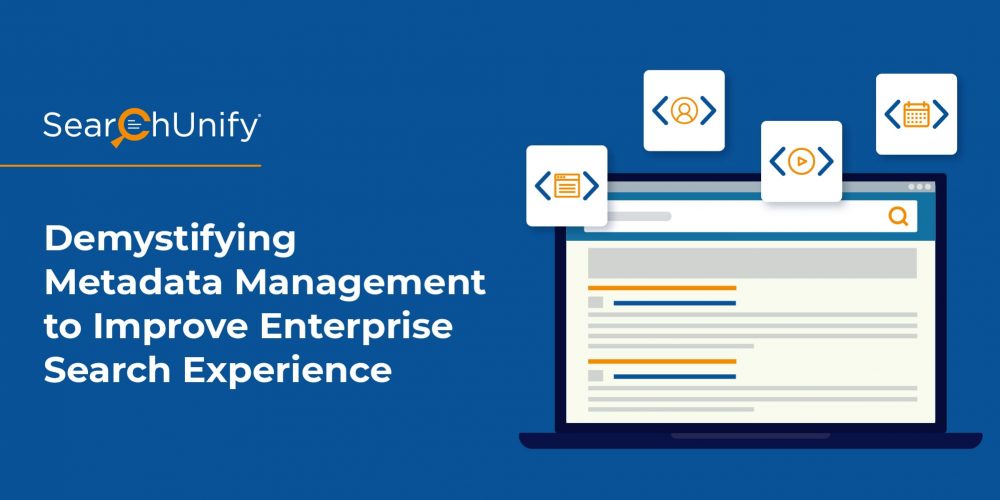 Nowadays, the expectations of online searchers are at peak because both web and ecommerce search engines have set the bar high for internet search experience. Therefore, while surfing an intranet portal as well, searchers expect instant and on top of it, relevant results.
The good news is that most enterprise search engines have all the tools that are used by any of the most popular search engines to learn from transactional and historical data in order to deliver a useful page or an interesting product. However, the data quality impedes from delivering a 'Google‑like search experience'.
Most enterprise content suffers from poor metadata, which further hinders search functionality and impacts the overall native search experience. In this blog post, we'll brief you about the meaning, scope, and importance of metadata so that the next time your search experience doesn't suffer due to poor data quality.
What is Metadata?
What card catalog is to library, metadata is to digital content. At the most fundamental level, metadata is data about data. It summarizes basic information about a piece of content stored in centralized repositories within the enterprise solutions to make findability and working with particular data instances easier. There are various types of metadata, including descriptive metadata, structural metadata, administrative metadata, reference metadata, and statistical metadata.
Why Relevant Meta Tagging is Crucial for Search Relevance?
For search queries to surface relevant information at the top of SERPs, it is of paramount importance to use appropriate and relevant metadata attributes in title, meta description, and keywords. Metadata serves as the reference point for search engines in governing what pages or products are relevant to search queries. Let's see how by simply adding valuable metadata, you can improve the search relevance of your cognitive tool.
1. Enhances Indexing and Findability
Entering a query into the search bar of a cognitive technology leads to a more complex faceted search. For example, an online searcher looking for touchscreen laptops on a vendor's site directly is a high indicator of a purchase decision. If a key product doesn't have relevant metadata such as "touchscreen", then there's a high probability that it won't be indexed and discovered by the search engine; directly impacting the sales and revenues of your organization.
2. Ensures Real‑Time Personalization and Recommendation
Cognitive technology leverages insight engines for displaying alternative content and upselling or cross‑selling products. Missing or irrelevant metadata can cost you a fortune. For instance, Amazon's product catalog is rich with metadata about shoppers ‑ what did they buy, when did they buy, what all results did they view before buying the product, various sellers selling the product bought, etc. All these metatags when processed in real‑time help you understand the buyer's behavior better, ensuring personalized recommendations.
Best Practices for Effective Metadata Management
If you or your information managers are struggling to deliver the necessary level of metadata management, then here are a few tried and tested practices that will come to your rescue.
1. Add Valuable Metadata
Since metadata provides descriptive tags, it acts as a reference point for search engines in determining what results are relevant to search queries. Therefore, while creating content, ensure that every piece of metadata adds value to your content. For example, on a product page promoting laptops, add key features like screen quality, memory capacity, price, etc. as metadata in order to make it easier for search engines to display results as per end‑users' search queries.
2. Establish Data Owners, Custodians & Users
It is crucial to be aware of data owners, custodians, and users in order to enhance data quality. Tracking who is responsible and accountable for data quality and timelines become easier if you know who manages it. Moreover, duplication of efforts and resources throughout your company is reduced if potential marketable content is identified.
Data users are the ones who consume data. Therefore, it is of utmost importance to know the target audience to incorporate business terminology or taxonomy used by that particular use case or industry. Content teams contributing to KB articles must use these terminologies while adding metadata to tag the content in order to enhance search functionality.
3. Conduct Regular Metadata Audits
'Something is better than nothing' can cause more harm than good in the case of metadata management as bad metadata is always worse than no metadata. Whenever you create any document, information like file name, date, path, size, and location happen to be the default metadata. Content teams need to make a continuous effort to revise these pre‑filled fields and refill them correctly. Besides the initial metadata audit, promote cross‑functional collaboration throughout your marketing organization to create taxonomies and flow charts, define processes, and evaluate tools to support your metadata management efforts.
4. Make Metadata Management an Ongoing Process
Metadata management doesn't always have a defined start date, and it most certainly should never have an end date. It should be an ongoing process that propagates adaptability and flexibility. After all, businesses operate in a very dynamic environment.
With your business changing and growing; your data, corporate jargon, and acronyms will change; demanding the addition of new terms, growth of the various branches of your taxonomy, and retagging of content. By and large, metadata management is an ongoing process that requires attention and nurturing in order to keep pace with the changing business environments.
5. Leverage Search Analytics
Insights generated by search analytics helps you make smarter decisions for an enhanced search experience. In metadata management, it helps you gain a firm understanding of new keywords, query terms or jargon that online searchers are looking for; and you can incorporate those accordingly in metadata to enhance searchability. The key to boosting search relevance is ensuring new search term(s) in meta titles, meta description, and keywords.
Looking for More Ways to Improve Search Relevance?
Injecting relevance to your search engine is not a piece of cake. It requires a good understanding of various factors, which can be learned with the help of our whitepaper titled The Anatomy of Search Relevance. Download it for free and gauge how relevant your search engine is.