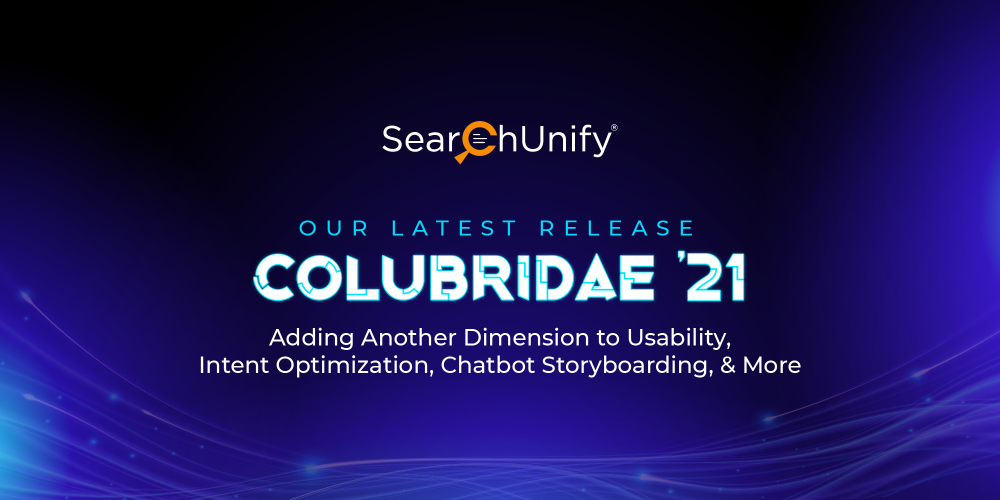 Aaaand, we're back! Another scintillating release, Colubridae '21, has just landed. 🛬
You asked—and we delivered! There are also a few things that you didn't really ask for, but we threw 'em in any way! Why? Because keeping our customers happy is quite high on our to-do list. That makes delivering a splendid SearchUnify experience paramount.
This release focuses on bolstering your customer and employee experience. In addition to new integrations, it improves the search experience, throws in more insightful reports, and introduces dynamic decision tree structures that make chatbot training a breeze.
Apart from them, there's a whole flurry of impactful features and enhancements that will come in handy to customer support, knowledge management, and customer success teams.
Let's jump right in and understand what all Colubridae '21 brings to the table.
1. Search Tuning
The SearchUnify journey started with search alone. Over the years, we evolved into a platform with a whole suite of AI-powered applications. Yet, search continues to be a big part of our DNA. And this time around as well, it has got something exciting for you.
Intent-driven experience tuneup (Beta): Following the massive success of intent-based responses with our chatbot, we decided to add a similar capability to our search engine as well. It allows you to populate relevant content pieces after identifying the user's intent. This way, you can assign a custom rank to a document for thousands of similar queries based on the user intent. Read more about search intent within enterprises here.
More control over search experience: Colubridae '21 has taken search tuning to new heights with the addition of field boosting. Now, you can easily boost content fields like author name, summary, title, and more. This gives you more granular control over your search results' relevance.
2. App Tray
With a revamped chatbot and nifty improvements in Escalation Predictor & KCS Support Console, our suite of apps contain a sweet dash of upgrades.
Chatbots

A faster, cleaner, & more intuitive StoryBoard: It is one of the leading changes of the release. A new, tree-based StoryBoard provides a clearer picture of the flow, parent node, and child node to the chatbot trainers. It isn't linear, which means that the admins select the intent once and create a story with as many nodes they need. This visual take on conversation design makes it easy to manage a story with a solitary intent branched out to multiple nodes. Read more about dynamic decision trees here.

KCS Support Console

Simplify & promote collaboration with article drafts: This upgrade will make KCS coaches rejoice. Firms can now make knowledge base article drafts visible to all the service reps. Pair this with gamification like "Most Valuable Draft Slayer" (based on usage of articles, not the number), and you've got the perfect formula to continuously drive collaboration and improve KB quality.

Escalation Predictor

Real-time sentiment analysis for all cases: The release adds an easy and fun way to glance at the ticket sentiment – emojis. The Escalation Dashboard now monitors all tickets and reveals positive or negative customer sentiment with emojis and snippets. It helps with better prioritization of tickets and faster resolution.
3. Insights Engine
From new reports to more holistic and customizable ones, the insight factory just became a lot more exhilarating for the data nerds.
Intelligent conversion tracking: Despite your best efforts, relevant results don't always make it to the first page. And the number of people who look past the first page is abysmal. That makes it imperative to ensure the aptest pieces always appear at the top. This report makes it happen. It shows all the results that are getting traction without being on the first page. What makes it even more interesting is that it bundles a ton of information like session ID, document title, search query, and facet selected. As a result, you can easily amplify your content's reach and impact.
Glean search data to augment knowledge discovery: Search Report just got better. Now, it doesn't just track search performance in terms of result generation and engagement but also the facets used in every query. This way, you can gauge facet performance to pinpoint what people are looking for but cannot find. Consequently, you can take corrective action to help users find what they seek and drive content performance.
More malleable & insightful session data: Next up is the report for all things session. Session Tracking Report now features a new filter for content facets. It helps you analyze sessions across your digital avenues in which users selected a particular product or category. This way, you can see the facets that aren't being used frequently and try to understand why.
4. User Interface
We now have a juiced-up interface to elevate the SearchUnify experience.
Admin inline guidance: Every new release expands the scope and capability of our platform. It means the console has a lot of depth, and that can make the going a bit difficult for new customers. That's where the SearchUnify Help Assistant comes in. It is designed to assist you by answering all your queries in real-time. It not only retrieves relevant help content but also doubles up as a medium to share your ideas or feedback.
More autonomy over end-user experience: Colubridae '21 amps up search client configurability. You can now choose the default preferences for facet order, summary length, and select the values that appear in the content tag. This ensures you exercise complete control over how your end-users navigate around your channels.
5. Integrations
Upholding our tradition, the release adds native connectivity for a number of new content sources:
Aha! – Now make information residing in your product roadmap software quickly findable too.
Discourse – Ensure the findability of the user-generated, unstructured content of your Discourse forum.
Appinium (LearnTrac & ViewTrac objects) – Improve data findability from your data-driven learning management system.
Thought Industries – Foster self-service learning among your employees and customers leveraging the learning content residing in Thought Industries software.
Khoros (Group Hubs) – Amplify engagement further with improved relevancy and findability of your Group Hubs' content.
That's Not All Folks! 🥕
There is more. Colubridae '21 moves leaps and bounds towards more relevance, smarter chatbot interactions, richer insights, and better usability across the board.
Like what you see? Would you like to know what more our platform has to offer? Then reach out to us today to see how SearchUnify can help your support ecosystem warp to the future! Talk to someone today.