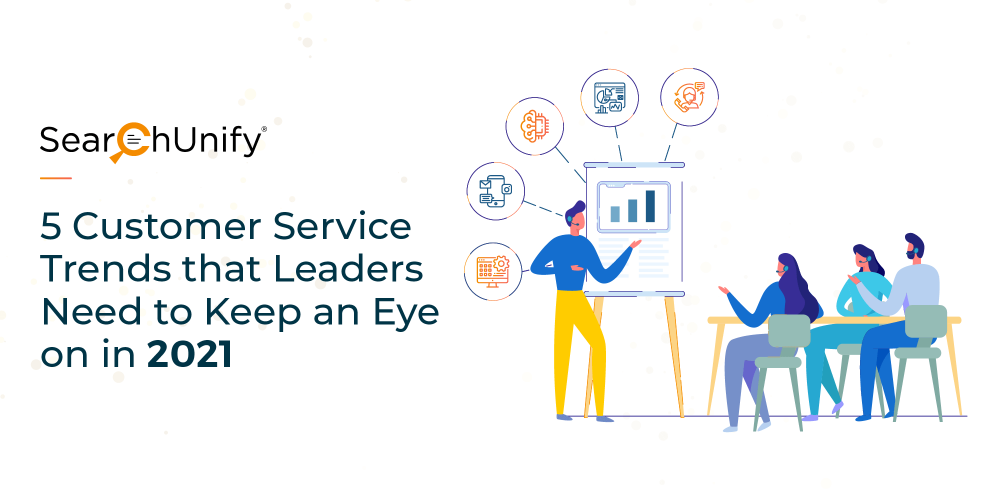 An every-cloud-has-a-silver-lining kind of professional will describe this year in two words- digital transformation. Although the abrupt shift–moving businesses online, enabling employees to work from home, conducting conferences virtually, etc.–posed challenges initially, it's safe to say that companies weathered the pandemic as gracefully as they could.
The situation(s) led to the installment of a flurry of apps to help employees, as well as, customers. Having used new interfaces for the first time (by some customer age groups) and the new way to conduct business (remotely), led to an influx of questions directed at customer service teams. The volume of customer questions and expectations–such as three-quarters of consumers wanting their problem to be solved immediately upon contacting customer service–revealed the gaps in service models and the importance of filling them. This blog post lists five customer service trends that emerged this year and will prevail in 2021 and beyond.
1. Social Media aka Social Care Will Become More Prominent
Social media got the ultimate push (as if it was needed; ask the parents of 14-year-olds.) Apart from being a place to share memories, it is increasingly becoming an important channel of customer support. Nike serves as a good example.
DM us with the order details, Jonny. We'll can help you set up a return. ? https://t.co/dsJjx1OYXB

— Nike Service (@NikeService) August 21, 2019
According to ValueWalk, 63% of customers expect businesses to offer customer care or service via social media. Not just that, solving an issue on social media actually works out better for brands as it's 83% cheaper than resolving through a call center interaction. Thus, giving your social media strategy the boost it needs will become indispensable next year for better customer experience and lower support costs. Not to mention, people turn into advocates once you play your 'social media' cards right.
2. Customer Support Will Need the Right Apps to Create Better Digital Experiences
Imagine running in a marathon wearing a loose pair of shoes–you'll still place in the race, but you'd place higher if you had the right shoes. The same goes for customer support as well.
PWC's survey says that 72% of office workers would prefer to work remotely, at least two days a week, even after Covid-19 has subsided. To create digital experiences on par with customer expectations, your service agents will require the right set of tools to augment their productivity. For example, apps that provide customer information for personalization, chatbots that handle L1 support tickets, and a system that predicts escalation so that agents know which tickets to prioritize. If you think you could manage the next year without investing in support-centric apps, you might be heading towards a challenging future. If you're not sure where to start, here's a perfect blog post for you.
3. Customers Will Need 'in-the-Moment,' Proactive Guidance
You know what successful products, be it B2C or B2B, have in common? They make the users feel right at home from day 1. In other words, the customer onboarding process is flawless.
And they don't just stop there. They help users drive value from the product by providing in-app guidance to walk them through the features. Quite often, the new features and functionalities of your product can go unnoticed, especially by new users. Hence, it becomes imperative to present the right help inside your product at the right time. You can offer that with cognitive search. It integrates different data repositories that contain self-help content. Hence, when users start to type in the search bar inside your product they get the information right then and there. This infographic explains it better.
4. The Importance of AI Will Continue to Expand
Contrary to how artificial intelligence is portrayed in science fiction (God bless Jonathan Nolan), businesses can benefit tremendously if they choose the right AI. There's a reason why this point is part of every blog post remotely related to business trends–AI is the most powerful and quickest way to transform your business.
AI powers tons of nifty aids for customer service teams such as chatbots, intelligent call routing, sentiment analysis, etc. They're likely to gain more traction in the coming year. Another thing worth mentioning here is that companies planning to invest in AI should go for solutions built on cognitive intelligence. They help them deliver exceptional digital experiences at scale and seamlessly reform workflows.
5. Data Insights Will Drive What's Next
What's the best way to deal with a rapidly changing business environment? Use the 3M strategy: measure, monitor, and manage. Customers and prospects are going to be online even more than before. So, it will be worthwhile to have a system that analyzes customer interactions and turns the acquired data into insights.
Data analytics, or more precisely search analytics, fuel predictive AI (something which Netflix has mastered.) There are two benefits to it. One, it helps you identify customers at risk of churn, thus giving you the opportunity to retain them. Second, it also serves as a great way to recognize upsell & cross-sell opportunities.
Want to Know More About Transforming Customer and Employee Experience With AI?
Tune into this on-demand webinar, where Vishal Sharma, CTO, SearchUnify, and Chad McDaniel, President, Execs In The Know, dive deep into proven strategies that can transform your CX and EX across every stage of the customer journey.