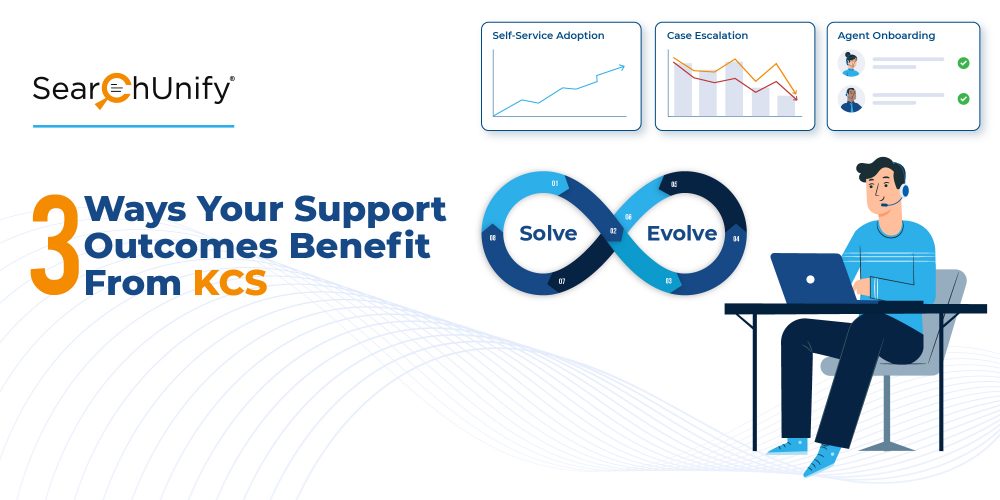 Unlike the traditional add-on process of knowledge engineering, KCS becomes the way people solve problems and creates knowledge as a by-product of problem-solving. – KCS Academy
Knowledge-centered service (KCS) has been around for a long time. If implemented properly, it reduces customer time-to-value and improves agent workflows by facilitating intelligent workflows, so much so that an average team observes:
A 30 – 50% increase in first-contact resolution
70% faster time-to-proficiency for new analysts
20 – 35% improvement in employee retention
20 – 40% improvement in employee satisfaction
10% fewer reported issues/support requests
I get what you're thinking. You know what KCS is and what it does, but you are concerned about the time and efforts this project will take. Because, let's face it, redesigning workflows isn't exactly thrilling. But after reading this blog post, you'll agree that you don't have to reinvent the wheel for imbibing KCS values in your work culture. So, let's dive deeper and see how KCS works in favor of your business.
1. Enables Better Self-Service
Self-service portals are of two kinds–one for the agents and the other for customers. When any user steps into your self-service portal, they're comparing it to the likes of tech giants like Google, Amazon, or the now less loved Facebook. You've already lost the battle. But like they say, all is not lost, just yet.
To provide relevant and 'in-the-moment' guidance, you need to have a system that not only stores information but is capable enough to reuse it in different scenarios. KCS workflows capture knowledge that will be used by your support agents when they have to resolve a customer's issue. Not just that, a repetitive issue can be published on customer communities, thus increasing your case deflection rates and improving self-service satisfaction. AI-enabled tech has made all these things very easy. Some apps automate KB article creation, and all your agent has to do is click the 'publish' button. Click here to know more.
2. Curbs Case Escalations
Forrester says that of all the self-service channels, customers make the most frequent use of knowledge bases.
Your knowledge base isn't going to do much good if it's old and outdated. Resolving undocumented cases takes time & energy. And if the new resolutions aren't added to the knowledge base, not only is your agents' time wasted, it has implications on support costs too. KCS promotes improving already existing knowledge articles to maintain a dynamic knowledge base that is up-to-date. This, in turn, keeps case escalations and CSAT scores in check.
Once new content is added to the existing knowledge base, it's imperative to check its performance. Knowledge management solutions come with reports that reveal the usage of created articles, as in how often the new articles were shared or attached to cases. When you can monitor and improve your knowledge base, it reduces the chances of escalations. Additionally, these reports provide actionable insights about customer issues and point towards product development & improvement areas.
3. Reduces Agent Onboarding Times
Long agent onboarding times can hamper an agent's productivity and result in demotivation and disengagement. During their onboarding process, they need to gain technical skills and the right product & services knowledge. Unlike traditional KM that promotes face-to-face knowledge transfer, KCS practices equip new agents to get up to speed via KM tools.
Originally, finding answers to the questions in the flowchart required the assistance of experienced agents. Now, there are KM tools that offer intuitive, user-friendly, and in-the-moment guidance for the same. They empower your employees to stay motivated, make KCS a part of their process, and reduce onboarding times significantly. This also lowers their dependency on other agents.
Want to Imbibe KCS But Not Sure How? Hear From The Horse's Mouth
The reason why some organizations don't see the value of KCS is that their KM processes aren't optimized. That's why we are delivering a virtual webinar with KCS Academy to discuss the new age KCS best practices & tech that enables them, on January 26, 2021. Click here to register.
Not sure if you're free that day? Register anyway and get access to the webinar on-demand for a limited time. Hurry, the clock is ticking!