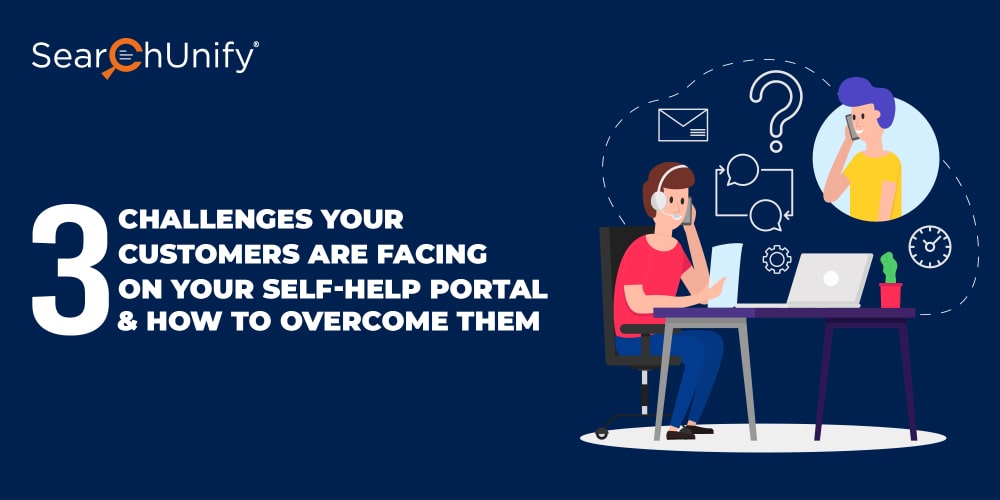 "Customers are not just buying a product or service; they are buying an experience."
– Bernard Kelvin Clive
Customers value experience over everything else, their expectations are at an all-time high, and that's true for every organization. Tech behemoths like Google and Amazon have raised the bar for customer experience and it's become imperative for others in the industry to up their game and deliver spectacular customer experience, especially in the case of customer service.
33% of Americans say they'll consider switching companies after just a single instance of poor service.
– American Express 2017 Customer Service Barometer
Whenever faced with an issue, customers do not prefer going to your service reps first. According to a study by Zendesk, over 50% of customers think it's important to solve product issues themselves rather than rely on customer service. That's why more and more support leaders are investing in self-service and you should too.
However, merely having a self-service portal or community doesn't make you a self-service leader. Often a self-service community, which is meant to empower your customers to help themselves, starts to fail its mission. If you dive deep into the reasons, you'll find there are a few challenges your customers are facing that leads them to abandon the community, or the brand altogether. In this blog post, we've discussed the top three of those challenges and how they can be fixed. You may want to ponder over them.
Challenge 1: The information on your community is not easily discoverable.
Users come to your self-help portal looking for answers. They don't really care where the information that they need is residing. They want it right there where they're searching for it. Understand that anybody who visits your self-service community is already having some trouble with your product or services and is looking for help. If your search engine can not give them the right answer because it can not crawl all the silos, it just adds to their frustration.
Solution: If you're still using traditional federated search or siloed search, it will give you mediocre results. There are limitations to the number of content sources a siloed search can crawl. To give the users better results, and more importantly, a better experience, you need to unify all the information spread across different portals and forums. Make your community a single source of information. A cognitive search engine nails that. It fetches data from disparate content pools and provides results within the community itself. An advanced cognitive search engine can index unlimited content sources and provide results at lightning fast speed. Unleash the power of your community by integrating information spread across your enterprise like help center, technical docs, and websites.
Challenge 2: The results your users get are not relevant.
"Water-water everywhere, not a drop to drink." When resolving customer issues, it's not the number of answers you give them that counts, it's the accuracy and relevance of those answers. They don't want to see hundreds of search results related to the keywords they typed; they want just one result that actually resolves the issue they're facing.
Like we said, someone visiting your self-service community is already facing some issue with your product. Strike one. They search for a solution and get an unrelated answer. Strike two. One more strike and you've lost them to your competitors.
Solution: You have sufficient customer data to personalize their experiences. Leverage ML (Machine Learning). An advanced AI-fueled cognitive search engine leverages user history along with keywords to map the context of the searched query. Consider this
John and Stephanie are customers of two products of the ABC (a conglomerate). John uses the ABC X8 smartphone and Stephnie uses the ABC TV-M450 home theater. They both visit the ABC self-service community and type the word 'display' in the search bar. It presents a different set of proactive suggestions to both of them. For John, the results are smartphone-centric whereas, for Stephanie, those are related to home theatre display issues. That's the power of an AI-fueled search engine. It's capable of learning from the user profile and search history and provide relevant results.
Challenge 3: You're not listening to the indirect feedback of the users.
Assuming that your search engine does provide insights into the user behavior and search patterns, there's a good chance you're not acting on those insights. The number of searches with no results is indirect feedback for you that there are some lacunae in the content published on your community. Similarly, the number of searches with no clicks show that the answers provided by your community are not relevant to the user. Session length is another metric that helps to identify the quality of content on your community. If the users are spending enough time on a particular piece of content and still creating cases, it's a cry for better content quality.
Solution: A powerful cognitive search engine provides rich reports that provide detailed yet user-friendly analysis of user behavior. By knowing the above-mentioned statistics you can strategize your content spread over different portals and improve the quality of search. That itself would elevate the user experience on your community. Create articles for filling the existing content gaps and update already created articles with the latest information to improve the quality of information.
Want to solve these challenges for your users? Use cognitive search.
A self-serving community is an asset to your business, don't turn it into a liability by using traditional and outdated search. Leverage AI and behavioral insights to delight your customers with relevant and personalized results. Drive self-service success. SearchUnify is the youngest cognitive search engine evaluated by Forrester in its latest report. To see it live in action, get a free demo today!