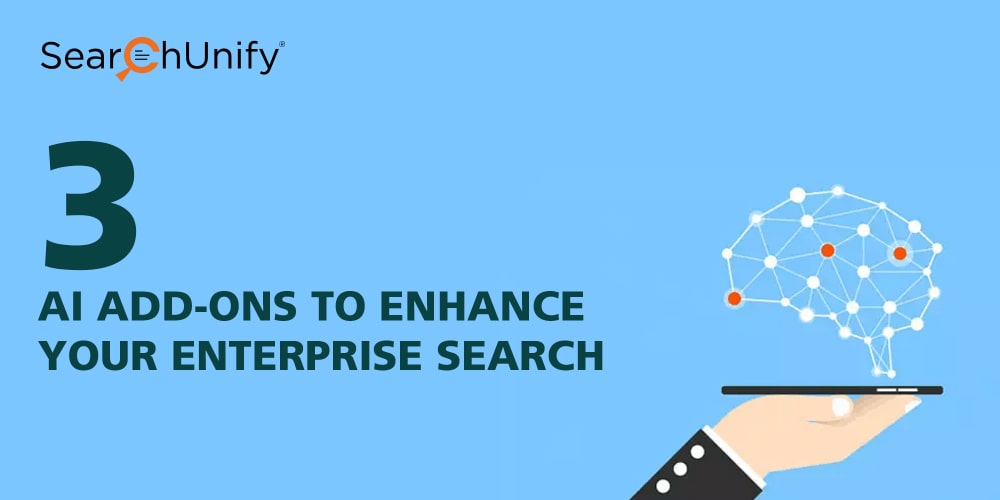 The search bar on your portal may not be the first thing that your customers click on but they surely resort to it every time they're lost and that's when you go big or go home. Businesses have started seeing search as a powerful tool and are heavily investing in enterprise search to stay ahead of the curve.
According to MillionInsights, the global enterprise search market is anticipated to reach USD 8.90 billion by 2024. It's about time you too jump on the enterprise search bandwagon. And if you already have, you can step up the game by throwing Artificial Intelligence into the mix.
While there are a lot of things that can be explored on the AI front when it comes to enterprise search, here are our top 3 picks from what AI has to offer that you can add to enhance your search:
1. Chatbots
According to Gartner, chatbots will power 85% of all customer service interactions by the year 2020. Chatbot market is now hotter than ever. Simply because they help you live up to your customers' expectations. They deliver support with speed and accuracy, are available round-the-clock, and know no language barriers and no fatigue.
They can handle multiple conversations at the same time. An intelligent chatbot can take it a step further by fine-tuning conversations for individual users and keeping the steps to a bare minimum. Thanks to AI and NLU (Natural Language Understanding) technologies at its core, it can accurately identify the user intent. A well-trained chatbot does not just rely on 'keywords' but also past conversations to identify and provide more contextual responses.
Another feature which makes chatbots worthwhile is their cross-channel functionality. Be it emails, portals, community, support center, a good chatbot provides a seamless transition of information irrespective of the channel. This elevates the customer experience and hence improves your brand image manifold.
Most of the cases that come in are pretty basic and chatbots can address these L1 queries with ease. This reduces the caseload and gives your service agents more time to resolve complex customer issues. This helps to improve your brand's CSAT score. Chatbots that leverage search insights are even smarter. Check this eBook to know how.
2. KCS Enabler
KCS is a tried-and-tested method for building and maintaining a knowledge pool while resolving customer cases. More and more organizations are adopting it to revolutionize their customer support.
However, successful KCS implementation is easier said than done. Our second AI-pick hits the bull's eye. Arm your knowledge workers with an AI-powered search solution. Search is a prerequisite as well as an enabler for a successful KCS implementation. While your support agent responds to a user query, AI analyses the case data to auto-populate knowledge article fields such as title, subject, description & resolution of the issue on a pre-defined template. All your agent has to do is click the publish tab and voila! The KB article is created and becomes a part of your knowledge pool, ready for reuse and review. It's that simple!
3. Agent Helper
People form a first impression in a mere 50 milliseconds. So imagine what your customers think when your agents takes their sweet time to provide a solution after they have described their problem in detail; all they hear is the sound of clock ticking!
Empower your support representatives to quickly send out the first response when a case comes in. A smart cognitive search engine has the ability to analyze past cases and their subsequent responses to suggest a fitting answer in the form of a comment or an article. It's like your agent has an agent at their disposal all the time.
Want to upgrade your enterprise search solution? Contact us!
SearchUnify's AI powers highly relevant and personalized search results for customer support, self-service and its chatbot, Sarah. It is the youngest AI-enabled enterprise search product among the 12 evaluated by Forrester in The Forrester Wave™: Cognitive Search, Q2 2019, cited for its virtual assistant, technical architecture & ease of implementation.
To see it live in action, request a demo today!