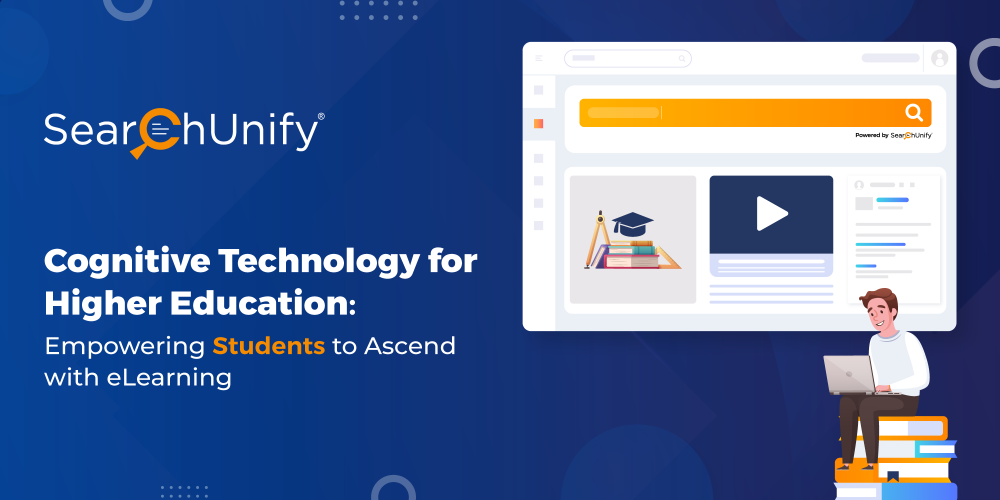 AI in the education market is predicted to rise to $10.38 billion by 2026
Artificial Intelligence has mustered a lot of ballyhoo from all over the world. A quick search for "AI across industries" will return billions of results that pinpoint the same thing: the need for a digital brain.
Thanks to cognitive technology, you can have one without much of a hassle. But, when the pandemic emerged, a need for digital transformation became a necessity for all industries. The higher education sector was no different.
Education institutions welcomed the monumental shift to online learning options—blended learning, hybrid learning models, synchronous and asynchronous learning, flipped classroom—only to discover the evolving user preferences and difficulties that tag along with it.
Around 92 percent of students worldwide are interested in personalized support and information on degree progress. And we're just talking about the students here. Other users—alumni, educators, management—have different requirements. But we'll talk about them in our upcoming posts.
Today, we'll cover the challenges faced by students while learning online and unveil how cognitive technology can help higher education institutions (HEIs) to overcome them. Let's get started!
Problem 1: Sinking in Information Overload
Back in the day, HEIs didn't pay much heed to their websites. Campus tours and brochures reigned supreme for helping students determine which college or university is the best for them. But not anymore!
In the present era, online presence has taken the center stage & become a synergist that entices prospective students and gets them enrolled by making all the information available at their fingertips. However, this surfaces another roadblock, i.e., information overload.
Solution: Fret not; cognitive technology provides a tailwind to fetch the right information at lightning speed. The native connectors index disparate repositories that help the students find what they seek.
Problem 2: Struggling with Poor Knowledge Discovery
If you think that the website search is a tough nut to crack, think again, mi amigo!
Universities & colleges embedded Learning Management Systems (LMS) for e-learning. And I assure you that it is a different ball game altogether. How, you may ask? Let me run you through a hypothetical scenario. You are looking for a course on 'Intellectual Property for Business,' but only see results related to 'Legal Aspects of Business' on the LMS. Won't you assume that the institute doesn't offer the course you're interested in? Affirmative, right?
But what if the course exists and just got lost in the big ocean of data over multiple portals? That brings us to the second problem students face, i.e., poor content findability.
Solution: Cognitive technology can help with that. It leverages machine learning (ML) and natural language understanding (NLU) for delivering apt results right at the top. Additionally, you can take manual control to position certain pieces at the top of the SERPs.
Problem 3: Under-performing Self-service Community
Modern students prefer to access simple information—online library catalogs, exam schedules, course details, working papers—on their own over contacting your student administration and support staff.
Online student communities are a great way to help them with that. However, hurdles such as duplicate threads, poor UI, and scripted responses to queries provide a negative experience that drives students away from the community.
Solution: Worry not; cognitive tech comes to the rescue. It turns your student community into an engagement center. It leverages the power of real AI to identify duplicate threads, provide dynamic filters, show granular reports, bestow personalized responses without any human intervention, and much more.
Problem 4: Getting Irrelevant Recommendations & Experiences
Gone are the 'dark ages of basic personalization.' Modern students seek hyper-personalized experiences today, be it on the website or LMS.
Education institutions offer several fields of study such as architecture, commerce, engineering, law, management, science, etc. Sometimes, this variety impedes the learning experience of students. How, you may ask?
Imagine a learner searches for 'CS for Beginners'. Now, it has different meanings in engineering (Computer Science) and commerce (Company Secretary). So, how do you ensure that your students only see results that are relevant to them?
Solution: That's where a unified cognitive platform saves the day. By leveraging the ML-infused suggestion engine, it automatically gathers and analyzes the user data to proactively produce a rich pool of relevant content and deep search results for personalized recommendations.
Problem 5: Lacking 24×7 Assistance
The upside of remote learning is that the students can study whenever they want: early birds and night owls, rejoice! But the burning question is who will clear their doubts during that time?
Do the students wait for their mentor? Or do they just share their doubts and wait for a response, which might require a lot of back and forth spanning over days? Not ideal, right?
Solution: Intelligent chatbot got them covered. It acts as their e-mentor that leverages NLP to understand their intent based on the grades, current modules, and previously asked questions. In addition, it uses NLG to frame a blistering-fast contextual response for real-time assistance. Impressive, right?
Problem 6: Missing the Self-Assessment Mark
Self-evaluation is a potent way to build metacognition and develop self-efficacy skills. It helps students understand where their strengths and weaknesses lie, how they can improve themselves, and more.
But there's one problem. Traditional LMSs either don't compile that data or do it in such a complex manner that students can't make sense of it. This is where an insights engine comes into play. It provides them a summary of all analytics to stay abreast of their learning in an immersive and intuitive dashboard.
Solution: Cognitive tech bundles real AI into your LMS for a more holistic and robust reporting. Some advanced cognitive platforms further use these recommendations to improve performance.
Here's a Guide to Eliminate All Barriers from Your Digital Learning Experience
This blog is merely a taster of the problems faced by higher education institutions worldwide. Stay tuned for the hearty main course in our upcoming posts that cover the challenges faced by other users – faculty and management.
If you are looking for a quick guide to know how cognitive technology can optimize your e-learning experience, this datasheet might help. Or connect with our experts to experience the power of real AI for your users. Request a demo today!