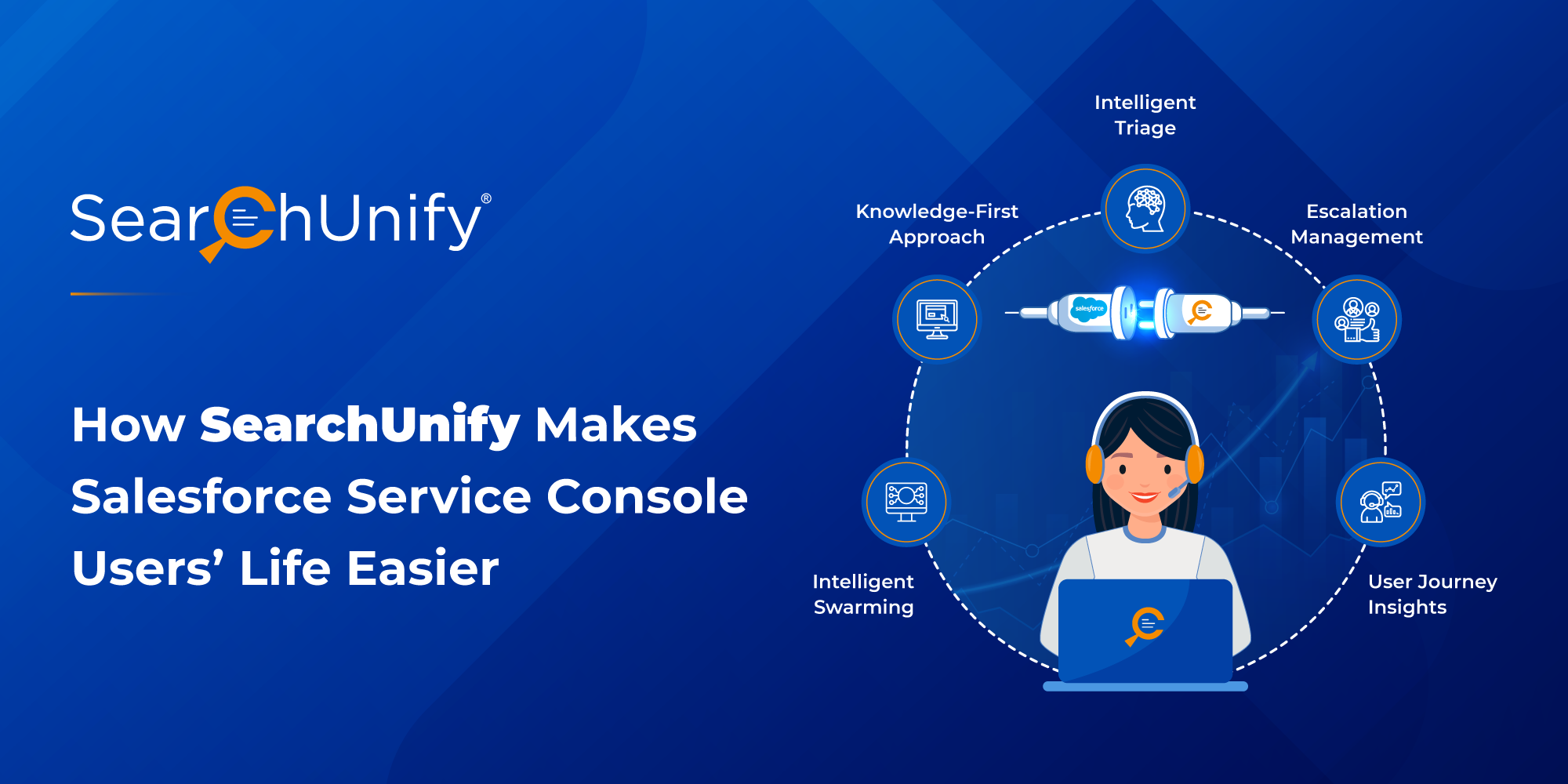 Salesforce® Service Cloud needs no introduction. It is one of the most popular and highly-rated customer service software solutions. Support agents spend most of their time browsing through it to quickly solve problems.
But here's the catch: enterprise knowledge is not limited to one application or platform. It spreads across repositories, which is why support agents have to toggle between multiple systems and consoles to access the right help content at the right time. This platform-hopping results in long wait times and delayed resolutions, taking a toll on CX.
That is where a unified cognitive platform like SearchUnify can turn the tables. It provides quick access to enterprise-wide knowledge within the Salesforce Service Cloud to fast-track case resolution time and improve agent productivity. Wondering how? This blog post explains.
How SearchUnify Enriches the Salesforce Service Console
SearchUnify's unified cognitive platform taps into AI and ML to revolutionize information discovery. It powers enterprise search and a suite of intelligent applications to help support agents achieve customer success without burnout.
1. Bids Adieu to Swivel Chair Effect
Since enterprise knowledge is scattered across disparate repositories (like product documentation, support portals, CRMs, etc.), agents spend ample time sifting through them to get their hands on the right information. SearchUnify's cognitive search integrates disjointed content sources to provide a 360-degree view of enterprise knowledge within Salesforce, thus saving a great deal of your agents' time otherwise spent looking for information.
2. Ensures Hyper-Personalized Results & Recommendations
In the digital era where customers connect with brands at multiple touchpoints, it becomes paramount to provide a connected experience. And, content personalization is the perfect stepping stone for building a unified brand experience.
Powered by AI and ML, SearchUnify optimizes processes and interactions across all touchpoints. It provides your support agents with easy access to comprehensive customer search history within the Salesforce Service console. This way, your agents can personalize interactions at scale and steer clear of solutions that the customer has already tried.
3. Augments Agent Productivity with Agent Helper
SearchUnify powers smart applications like Agent Helper, KCS Enabler, and Escalation Predictor to step up your case resolution process. Speaking of Agent Helper, it presents four key pieces of information right on a case page: user journey, related cases, agents that worked on them, and articles that helped to solve them.
This way, agents get their hands on relevant case-resolving content in a jiffy, thereby significantly shortening turnaround time and augmenting agent productivity.
4. Drives KCS Adoption & Multimedia Support with KCS Enabler
KCS is a methodology that emphasizes documenting resolutions as help articles so that they can be used by other support agents to resolve similar issues. But service reps often struggle to inculcate KCS in their workflows owing to multiple reasons like complex solutions, logging solutions demand time and effort, and so on.
SearchUnify's KCS Enabler simplifies KCS implementation and enablement to generate help articles quickly within the Salesforce Service Cloud. It leverages preset templates to populate new help articles as a by-product of agents' resolutions for undocumented issues, thereby accelerating knowledge creation and overcoming the biggest hurdle of KCS adoption. It also empowers your service mavens to add images and videos to the knowledge articles and make them more gripping.
5. Prevents & Manages Escalations with Escalation Predictor
What's every support organizations' worst nightmare? Losing customers due to subpar experience. SearchUnify's Escalation Predictor prevents that by identifying tickets about to escalate and assigning them to the best agents. Wondering how?
It enables sentiment analysis and prioritizes tickets based on the issue type and severity. Then, it intelligently triages them to get the best agents for a speedy resolution, thereby shortening handling times and boosting customer satisfaction.
Support mavens have to juggle between systems to prevent and manage escalations. Not anymore! Escalation Predictor's dashboard can be synchronized within the Salesforce Service Cloud, thereby making all the data from the app visible inside the agents' console.
Want to Simplify Your Support Agents' Lives?
Then, SearchUnify is your go-to solution. It leaves no stone unturned to extend the capabilities of your Salesforce Service cloud. It streamlines internal support processes to ensure personalization at scale and a fast-track resolution process. To witness how SearchUnify provides your support agents with an all-inclusive Salesforce Service console, request a free demo today!