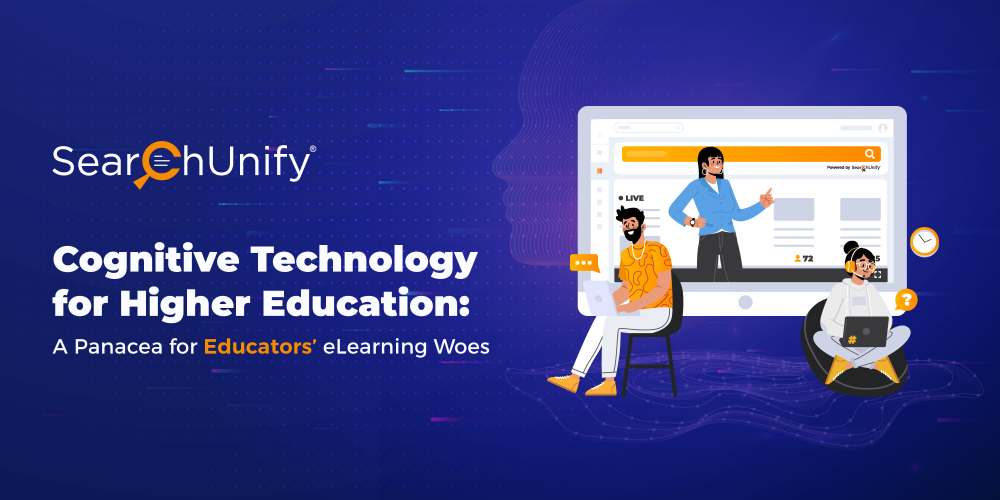 The bizarre realities of the pandemic showed how unprepared industries were when up against abrupt changes. Sectors like higher education were hanging on a ledge. Evolving student preferences alongside new workforce challenges pushed education institutions to reinvent their operation with a digital-first approach.
After the initial phase of the overhaul, online learning options—blended learning, hybrid learning models, synchronous and asynchronous learning, flipped classroom—became the 'new normal.'
However, this 'new normal' engulfed academia in a bubble of obstacles. In our previous blog post, we rang up the curtain on the eLearning challenges students face and how to overcome them.
Today, we'll unveil the top hurdles faced by faculty in the eLearning realm and how they can be fixed with a secret ingredient. Let's get the ball rolling.
Challenge 1: Jumping Between Digital Avenues
Universities & colleges adopted a wide range of e-Learning tools—Microsoft Teams, Google Classroom, Zoom, Moodle, etc.—to make the projects, modules, and collaboration virtual. But while the tech-savvy students find it exhilarating, some educators are struggling as they venture into the online learning space for the very first time.
On top of that, professors deal with a truckload of assignments regularly. Not to mention, while learners have a handful of subjects, the faculty grapples with a big pile of workbooks from students across various classes. Moreover, they need to log into different portals or software for marking attendance and organizing other tasks.
Challenge 2: Wading Through Several Tasks
Surveys have shown that professors spend their time on:
The aforementioned stats show that the faculties are not only teaching & evaluating assignments but also preparing lessons, grading homework, making progress reports, attending seminars, managing teacher-pupil & teacher-parent interactions, and so on. Seems like drowning in an ocean of tasks, isn't it?
Challenge 3: Identifying Students Who Need Individual Attention
There is no shred of a doubt that different students have different approaches to learning. It was easier for educators to focus on an on-campus class full of learners. But doing that in virtual classrooms is a different ball game altogether.
Most professors find themselves looking at an array of squares on a screen, making it hard to focus on everyone. And clearly, their go-to strategies from the offline classrooms fell short when classes became virtual. This made it an insurmountable task to pinpoint which students are lagging behind and may require individual attention.
Challenge 4: No Round-the-Clock Assistance
Thanks to eLearning, students can access their projects & modules at their own disposal anywhere, anytime on LMSs. Accordingly, they plan their schedule to their most productive hours, including early morning or late night.
However, there might come a point when they seek additional assistance. Be it clarifying any doubts or finding a particular assignment. And it is highly likely that the educators are unavailable during the odd hours. This might slow the learners down and impede their experience. This might translate into a delay in submissions, which ultimately becomes a headache for the faculty.
Trouble, trouble, trouble….. (Taylor Swift's song plays in the background)
Challenge 5: Looking for Better Insights
Another struggle of our educators is keeping track of each student's performance. The progress reports usually do not provide a comprehensive, holistic view of how a learner has performed throughout the term.
Traditional LMSs help to a certain extent. But, they either fail to compile the data accurately or do it in such a complex way that making sense of it becomes time-consuming. That renders it almost useless for the professor as they are not able to share effective feedback or recommendations.
The appertain question arises — who do faculties rely on to sail through murky waters?
How Cognitive Technology Can Help Educators Prevail All Barriers
It helps education institutions to streamline content findability with the help of inbuilt connectors. It also creates a unified index of different content repositories—Microsoft Teams, G Suite, Zoom, Moodle, Slack, etc. That means whenever your staff runs a search query, the cognitive engine instantly shows the most relevant results from all the sources.
In addition to this, it offers dynamic filters that categorize information by channel, date, file type, topic, work modules, etc. It also provides real-time insights into students' performance and content gaps. If any student requires individual attention, it alerts the faculty to arrange a one-on-one session.
For 24×7 assistance, it also brings intelligent chatbots on the table that leverages NLU and NLG to address and resolve students' queries with personalized responses. That's not all, folks.
Obliterate All Barriers With A Unified Cognitive Platform
In this battle to stay relevant in the new normal, forward-thinking institutions are looking for ways to redefine by turning to real AI. SearchUnify is a unified cognitive platform that wields real AI to simplify eLearning for educators.
This blog post has just touched upon a soupçon of troubles faced by the stakeholders in the higher education system. In our final blog post of the series, we are going to uncover the challenges encountered by none other than the management.
Want a quick guide to know how cognitive tech catapults your remote learning experience, here's the datasheet for you. If you have any doubts or want to witness the power of real AI live in action, please feel free to request a demo.
And while we're at it, don't forget to stay home and stay safe. 🙂