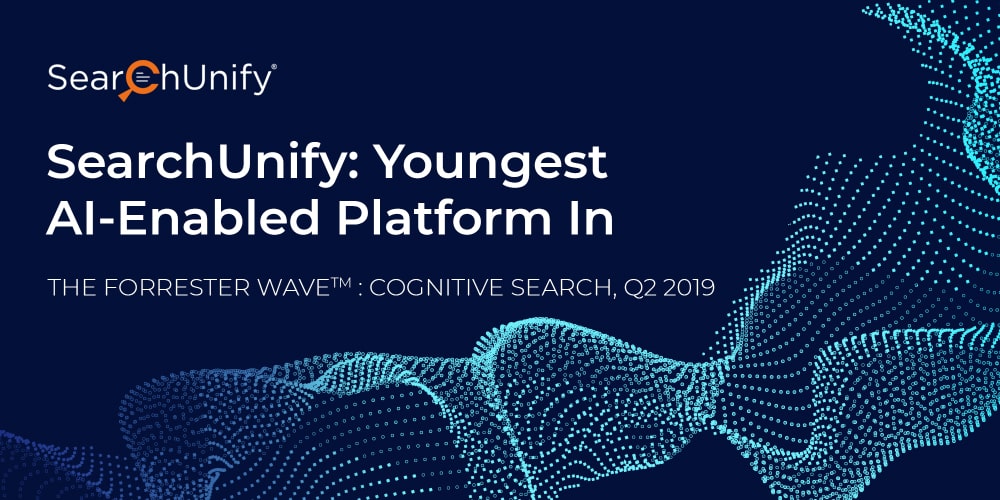 On May 29, Forrester released The Forrester Wave™: Cognitive Search, Q2 2019. Among 12 solutions, Grazitti Interactive's AI-enabled enterprise search platform, SearchUnify, was the youngest vendor!
This is a very proud moment for all of us here at SearchUnify. We started developing this innovative enterprise search solution in 2016, and in less than three years we took a spot in the Forrester Wave™ Report alongside bigger companies that have been around far longer.
The report points out that, "Employees and customers have an insatiable need for information. Cognitive search delivers it," and we couldn't agree more. Organizations want to deliver a unified search experience for amplifying productivity, driving innovation, and extracting more insights.
Conversational Intelligence
"Its virtual agent leverages search technology to answer conversational questions."
One of the key things that we believe makes us stand apart is our virtual agent, which works on the SearchUnify platform. The virtual assistant taps into the entire enterprise knowledge repository to present context-aware responses for a superior customer experience. This enables businesses to automate the delivery of technical assistance via conversational experience.
To put it simply, the virtual agent makes it far easier for organizations to provide highly personalized and engaging experiences to their customers.
Seamless Deployment & Usage
We've always strived to be the most expansive solution by providing OOTB connectivity for every enterprise platform out there. Our steady steps in the same direction did bear fruit as our native connectors helped to make SearchUnify's implementation process rather effortless and significantly bring down the deployment time. For the platforms that are yet to be included in our arsenal, there is the REST API that evens the odds. Beat that!
Continual Learning
SearchUnify builds on the cognitive ability using machine learning and natural language understanding (NLU) to gather maximum knowledge about user behavior and user preferences, helping users with relevant and personalized information.
About SearchUnify
SearchUnify, by Grazitti, is an AI platform that powers cognitive search, an insights engine, and applications. The cognitive search solution delivers relevant and personalized search results with cross-platform enterprise search powered by AI algorithms derived from end-user behavior.
Want to see it live in action? Request a free demo now!