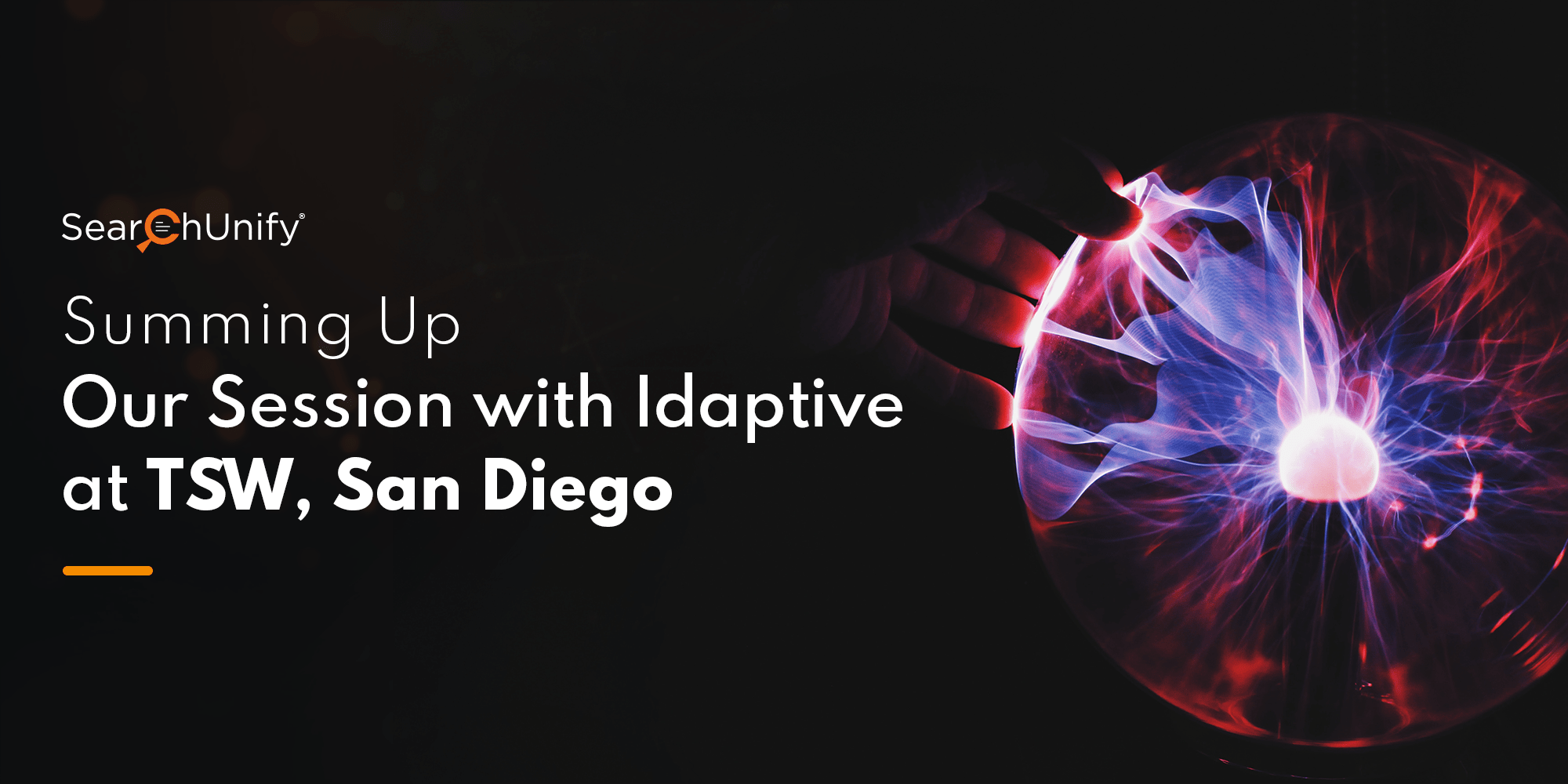 I got a wonderful opportunity last week – to share the stage with Raman Kumar, Senior VP of Customer Success, Idaptive, at TSW San Diego. To attend the 23rd Conference organized by TSIA, which covered a diverse range of topics and provided networking opportunities for service executives and tech companies, was itself a delight. The event touched upon a lot of interesting themes that included:
Leveraging technology, especially AI and ML, to revolutionize support
Providing multi-channel support
Ways to improve employee retention
AI and ML-based search for relevance & insights
Intelligent chatbots which provide a guided search experience for customer self-service
Sharing the stage with Raman was an honor and absolute pleasure. Since AI was the main focus of TSW this time, Raman and I presented on how AI-fueled search and bots are changing the business landscape, sharing Idaptive's success story.
To give you a little background, Idaptive spun out of Centrify, Grazitti's long-time customer and trusted partner, in Oct 2018. We have been helping Raman's team with various implementations and optimizations inside the service console for its successful Service Cloud Maturity Journey.
All of this was made possible by the step-by-step implementation of various ideas like – setting up the customer portal on Salesforce Community Cloud, setting up Salesforce entitlements based on SLAs, creating a partner portal, integrating Salesforce and Jira for a seamless flow of information between customer support, engineering, and product management teams, accurate calculation of case deflection and tracking the article which helped deflect the case, a unified reporting dashboard to combine independent reports.
This led Idaptive to exemplary customer service results such as:
However, Idaptive didn't want to stop just there. Like any other customer-centric firm, it aimed to outperform itself and take customer success to the next level. Raman wanted to transform user journeys by providing a more immersive and relevant experience. So Grazitti introduced Raman to its product – 'SearchUnify', an AI platform that powers cognitive search, an insights engine, and applications.
How Idaptive Leveraged SearchUnify and its AI-powered Search
Idaptive transformed the user experience on its community with SearchUnify by indexing multiple content sources within the community and providing more relevant responses with search tuning, advanced facets, and intelligent navigation.
It elevated the employee experience too. Using SearchUnify, the employees were:
Able to search for everything without leaving the console
Accelerate case resolution with AI-based results and recommendations
Create, improve, and share articles easily driving successful KCS implementation
Access customer journey analytics
Leverage the agents' search behavior to fill content gaps
Having seen the value in implementing a cognitive platform for self-service communities and inside the support console, Raman further wants to exceed all customer expectations by harnessing the power of SearchUnify's AI. Here are a few things he, like every customer-first success leader, is focused on:
Bringing Down First Response Time
Your customer support agents are your superheroes who help your customers whenever they need assistance.
AI equips your superheroes with their superpower – relevant information right when they need it, where they need it. SearchUnify's Agent Helper empowers Idaptive's support reps to quickly send out the most relevant first response when a case comes in. It uses machine learning to analyze past cases as well as the agent's previous responses to suggest a suitable answer for the current case.
Automating Content Creation to Drive KCS
KCS really works, but implementing it successfully is easier said than done. Raman is planning to harness the power of AI and ML for a successful KCS implementation. SearchUnify's KCS enabler pre-populates content and metadata in help articles by understanding the context of each case, helping the support agents create and modify articles faster.
Enhancing Customer Experience with a Virtual Agent
A virtual agent on your community to make it more engaging and helpful is common; search-powered chatbots are the next big thing in support now. Instead of asking users what they want, chatbots proactively suggest what they can help them achieve via a small-text based window.
They enable users to take action even if their searches don't return any results – by providing actionable CTAs at the end of every conversation, guiding users to the most relevant source of information available or assisting them to raise a ticket with support. That's how Idaptive is planning to further improve engagement and self-service on its community.
Key Considerations While Choosing AI
AI is going to be a major competitive differentiator and, most probably, you may also be thinking of exploring it.
However, there are certain key considerations that are to be kept in mind when choosing AI tools for support:
1. Time-to-value: Businesses need the right data to truly drive innovation. A tool that can pre-train chatbots by feeding them with behavioral data from search, leads to a faster time to value.
2. Third-party innovation: APIs are a way to cost-effectively scale a company's business in many simultaneous new directions. APIs give you the freedom and flexibility to build your own innovative solutions on top of the AI product that are tailored to your unique business requirements.
3. Ease of Integration: An AI tool must integrate within your existing CXM/CRM systems because it's where your cases and agents already reside. Agents should not have to export data and run it in a separate app, learn a new platform, or build new workflows and/or processes that only add to ticket handle time. It should easily be able to connect to legacy, public platforms or ones that allow API access.
About SearchUnify
SearchUnify, by Grazitti, is an AI platform that powers cognitive search, a insights engine, and applications. The cognitive search solution delivers relevant and personalized search results with cross-platform enterprise search powered by AI algorithms derived from end-user behavior.
Want to see it live in action? Request a free demo now!