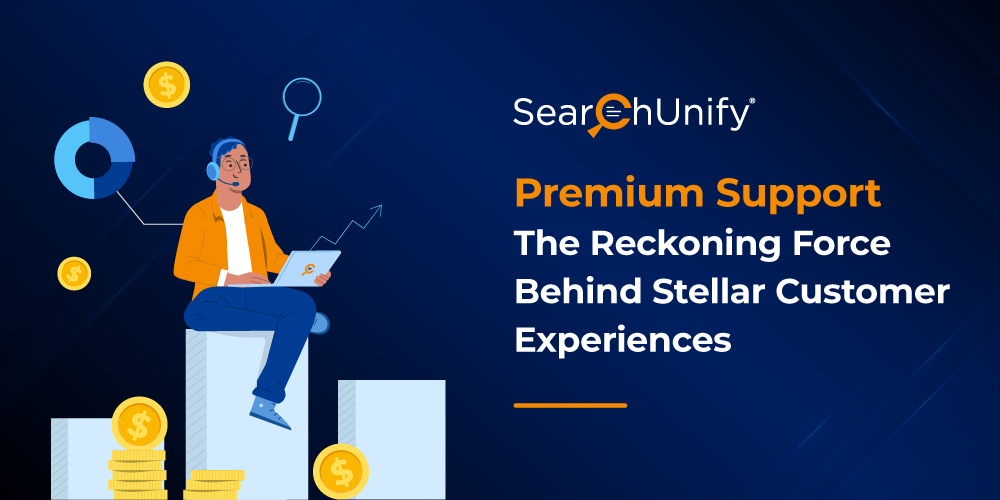 Spotify, with its boastful catalog of 80 million songs and 182 million premium subscribers, is one of the top audio streaming service providers across the globe. Unlike its competitors, like Apple Music, YouTube Music, etc., it features uninterrupted and ad-free music taken to greater heights with the premium option, which it rolled out a few years ago.
It is, therefore, a good idea to pony up a few extra dollars for additional capabilities that make your music-streaming experience delightful, don't you think?
Similarly, organizations have started charging and offering premium support services to strike the right balance between helping clients and providing additional value-added services. Thus, making premium support a strategic element of the organization.
However, as per the TSIA's SRG On-Premise Benchmark Study, software companies report, the number of customers opting for premium support tiers is as low as 16%.
So, what does it take to go premium and why should you single it out for your organization? Keep on reading to know!
What Is Premium Support and Why Do Organizations Need It?
For the uninitiated, premium support augments the underlying business support from dedicated experts, which is required after purchasing the product. It helps drive the transformation of the support organization from a cost-center to profit center by monetizing support and its prospects. This empowers resourcing and optimization of even the most complicated support questions, therefore taking customer support to the next level and increasing the overall customer satisfaction. Additionally, your customer reps will be more attuned to their goals and realize their potential in no time with premium support. A win-win for both, isn't it?
Transform Customer Relationships with Premium Support
Now that you know what premium support is all about, here are a few more perks of traversing its features:
1. Strengthens & Differentiates Your Brand
"50% of people expect personalized experiences in products and services." ~ Zendesk
Rising customer expectations have compelled brands to provide cutting-edge offerings. Additionally, every company dreams of building a powerhouse of assets dominating the marketplace.
A premium support system can help enhance your brand's reputation by spurring tangible benefits for the customers. It can also help elevate customer experience, reduce churn rate, and boost revenue.
This is why the importance of having a robust premium customer support system can't be negated. Concurrently, differentiating your brand and strengthening it by offering proactive support and meeting the SLAs on time.
2. Boost Customer Retention
"61% of customers say they would switch brands after a bad support experience" ~ Zendesk
In tandem with rising customer needs and digital revolution, companies are witnessing many shifts in the way they are perceived. The increasing millennial influence, population raised as digital natives, has made it tough to keep up with the competitors and bring your brand to the forefront.
Exceptional premium support with personalized offerings acts as a key structure to provide customers with cohesive experiences that align well with their requirements, thereby retaining them for life!
3. Stay Ahead of Complex IT Challenges
"33% of the consumers prefer contacting companies via social media rather than phone." ~ Invesp
The cut-throat competition has mandated organizations to introduce a fresh layer of product deployments every now and then to meet the dynamic market requirements. But, these waves of technological advancements have brought in a lot of business complexities. As a result, IT & support managers face relentless pressure to pace up and scale their support operations in a bid to address the surging user queries.
This is where premium support can be used to digitally transform your business, maintain its continuity, and minimize downtime by providing tailored support solutions. Additionally, laying a strong premium support foundation gives you the flexibility and expertise to resolve tickets quickly and maintain a competitive edge, a dream come true for many!
The Final Verdict
Although adopting premium support and augmenting it into the operations is the gold standard for any business, it is easier said than done. This is especially true while executing rapid technological implementations in a convoluted work environment.
So, how can you steer clear of these vulnerabilities and ace the premium support game?
Join the imminent webinar where John Ragsdale, Distinguished Researcher, VP Technology Ecosystems, TSIA, interviews Patricia Lughezzani, Customer Experience Executive & Ex-Global Head of Support Strategy & Operations, Adobe, and Vishal Sharma, Chief Technology Officer, SearchUnify to find out!