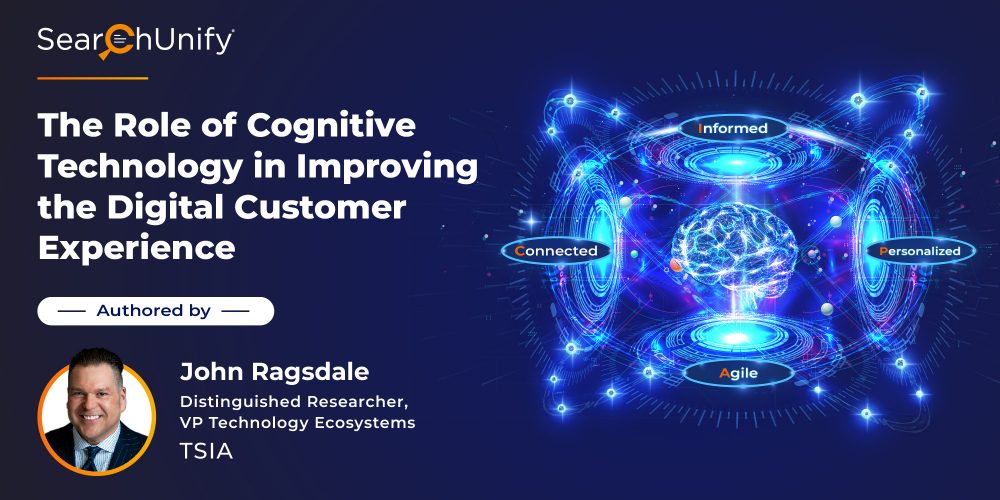 With the rise of customer journey analytics, and analysis to correlate customer experience with subscription renewals and account expansion, technology companies are identifying the support experience as a primary driver of customer success. There have been extensive investments in support technology related to both assisted and unassisted support. However, TSIA's support services benchmark data shows that on average key indicators of the customer experience, such as satisfaction with self-service, and self-service success, are not trending up at the desired rate. This blog will address some of the opportunities to improve the digital support experience for both customers and employees, with a specific focus on the role of cognitive technology. It will also look at some of the common challenges companies face when approaching the people, process, and technology of this transformation.
Rising Complexity and the Consumption Gap
In a subscription economy, customers must be able to rapidly adopt and receive business value from technology investments to ensure they will renew their subscription, and ideally, continue to purchase additional products and services. As TSIA documented in our first book, "Complexity Avalanche," technology products grow increasingly complex.
Chart: Rising Technology Complexity
As seen in the above chart, TSIA benchmark data shows that in 2003, 42% of B2B technology firms defined the products they support as "highly complex." Representation of highly complex products has now grown to 73% in 2022. This rising complexity creates an ever-widening consumption gap, i.e., the difference between expectations customers have for technology versus the actual results, which is often due to their inability to rapidly adopt and receive value.
You can see this dynamic playing out in support incident volumes. TSIA data shows that on average, more than a third of support incidents, 36%, relate to customers looking for help in how to use technology, not break fix issues. In his "The State of Support Services 2022," Vele Galovski, TSIA's VP of Research for Support and Field Services, said that "closing the Consumption Gap could save B2B companies as much as 40% of company revenue in both cost of goods sold (COGS) and selling, general, and administrative (SG&A) expenses." Over the last decade we've seen a new organization introduced, Customer Success, whose primary charter is onboarding and boosting adoption of technology. Customer education groups, professional services, and support and field service organizations are all helping customers overcome complexity and hopefully deliver an amazing customer experience.
Support organizations have invested heavily in tools to create a digital customer experience. Both for agents, to help them solve customer issues faster and minimize customer effort, and for customers, providing additional self-service options and improving usability of the self-service site. Yet what has been missing from much of these investments is a focus on cognitive technology. In humans, cognitive processes are intellectual activities, such as thinking, reasoning, or remembering. From a technology perspective, cognitive capabilities include natural language processing (NLP), machine learning (ML), data mining and pattern recognition. Introducing a single unified cognitive solution into the service experience will allow companies to mine years of support interactions, across all of the disparate systems in place. This will enable them to identify root causes more quickly, and recommend the next best action based on what has been the most successful in solving similar problems, with similar customers, in the past.
Common Challenges in Transforming DCX
In my conversations with TSIA members at all stages of their digital transformation, I often see the same common challenges thwarting attempts to improve the digital customer experience. Two primary challenges are:
Support channel proliferation. As support organizations introduce additional interaction channels to meet the evolving needs of customers, conversations are now happening in multiple systems, and previous interactions may not be easily accessible when a customer calls, emails, text, or chats with you. Though we have been talking about customer relationship management (CRM) creating a "360-degree view of the customer" for more than two decades, the reality is that customer data and interactions are stored in multiple repositories, case management systems, remote diagnostic tools, email, and more, with little or no integration. Support techs spend a great deal of time searching for information, and likely are overlooking some critical data. And a lack of a unified view leaves customers feeling very disconnected and having to explain previous issues repeatedly, driving up customer effort.
Siloed departments and processes. According to TSIA's customer success benchmark, 55% of companies have executed a customer journey mapping exercise, however, that doesn't mean we have eliminated departmental siloes. Only 29% of XaaS companies strictly enforce having the sales team capture desired outcomes of customers. The implications of this mean that most of the time customer expectations for technology are not being passed to professional services to guide the implementation. Additionally, when a customer goes live, support typically has no information on customizations and integrations performed during implementation. While there is a lot of talk about how companies are all organized around the customer, from the customer's perspective, they often feel like they are being thrown over the wall from group to group, with little visibility into previous projects, commitments, and conversations.
The CIPA Maturity Model: The Key to Winning at DCX
In a recent joint webinar with SearchUnify and TSIA, "Winning at DCX With Cognitive Technology: The CIPA Maturity Model," Vishal Sharma, CTO for SearchUnify, explained how the CIPA Maturity Model makes customer centricity and cognitive technology the core of a successful DCX strategy. The following sections will highlight the four elements of CIPA: Connected, Informed, Personalized, and Agile.
Connected
Connected means that each step of the customer digital support journey is connected, seamless and frictionless. Each interaction is in context of previous interactions, regardless of who the customer worked with, or in what channel the communication took place. The customer never has to explain the history of the problem, or what they were told in previous conversations. This connected, persistent approach to communications lowers customer effort and speeds time to resolution, and never forces either the customer or the employee to "reinvent the wheel."
Informed
In the perfect support scenario, Intelligent insights help anticipate and inform the support experience across every interaction channel. Support techs are proactively prompted with information on how the same issue was resolved previously. Customers attempting self-service automatically see results for issues they are experiencing without having to search or dig through online libraries of information. So, companies need to better understand what content customers need. Currently, only 6% of companies, according to TSIA's 2021 Knowledge Management Survey, are leveraging analytics to identify content gaps based on what customers are searching for and not finding on the self-service website.
Personalized
Today's customers are aware more than ever of the amount of information you are collecting about them—not only their demographic information, and product and incident history, but their level of product adoption, the results of satisfaction surveys, and even clickstreams of activity from self-service and the community. With this much customer data, customers expect you to leverage it to improve their experience and reduce the customer effort required. An example of how you can use existing information about customers to provide a more personalized experience includes pre-filtering FAQ lists, or search results, to only show content relevant to the customer, i.e., products they own, version they are using, geography, etc. Unfortunately, this is something only 16% of TSIA members do today.
Agile
Making support more agile means setting up support techs for success by mining historical patterns and giving them insight into how to approach issues. This could mean intelligently routing issues to an agent who has successfully resolved a similar issue before or predicting the likelihood that a case will be escalated, so a support supervisor or customer success manager is informed the minute the case is created. Also, it means empowering support teams and giving them the intelligence to think more proactively about customer interactions. Whether that means prompting them with a list of experts on any topic, and the means to instantly collaborate with them, or enabling collaborative support, aka swarming, with employees automatically checking in to assist if needed.
Final Recommendations
At our upcoming TSIA World: Interact, SearchUnify will co-present a session with their customer, SailPoint, on "Incremental Change for Continuous DCX Improvement," On Monday, May 16th, at 12:30pm on the InteractZone Stage. For those of you joining us in Orlando, please add this session to your calendar, and hear details of SailPoint's data-driven successes around content findability, learn how to incorporate the voice of the customer into content, and drive the success rate of self-service.
Whether you are just starting your DCX journey, or have stalled after some initial progress, here are some closing recommendations for you, with an eye toward the CIPA Maturity Model:
Build bridges between channel islands. Take an inventory of every way you interact with customers today and create a roadmap to either directly pull this information into a central repository that is easy for employees to access or leverage cognitive technology to create virtual view of customer history across interaction channels.
Mine customer insights to deliver the experience they expect. Companies often look at knowledge management to boost productivity. If employees document how they resolved a problem, the next time that issue occurs, it can be closed faster and with much less effort. Still beyond how to solve a problem, mining customer history to identify trends and predict what may happen, such as a case escalation, will not only reduce the employee and customer effort, but provide an excellent experience for the customer.
Leverage customer data to personalize every touchpoint. Not only should customers never see knowledge articles or links to reference documents for products or versions they don't have, but employee searches should also be prefiltered to only show what is relevant to the account they are working on. Additionally, you should respect channel preferences, so you are reaching out via WhatsApp with updates, when the customer has indicated this is their preferred channel for communications. This goes a long way in providing the experience the customer expects and deserves.
Empower support techs to enable them to be proactive. It is time for a redesign of the agent desktop. When a support tech opens a new incident, they should automatically see a list of recent interactions. They should have a pre-populated list of recommended actions based on the text of the email, or notes added to the case online, including relevant knowledge articles, links to previous cases for similar issues, and a list of experts on whatever the question or problem may be. Armed with this information, the employee can hit the ground running, and ultimately be successful every time.