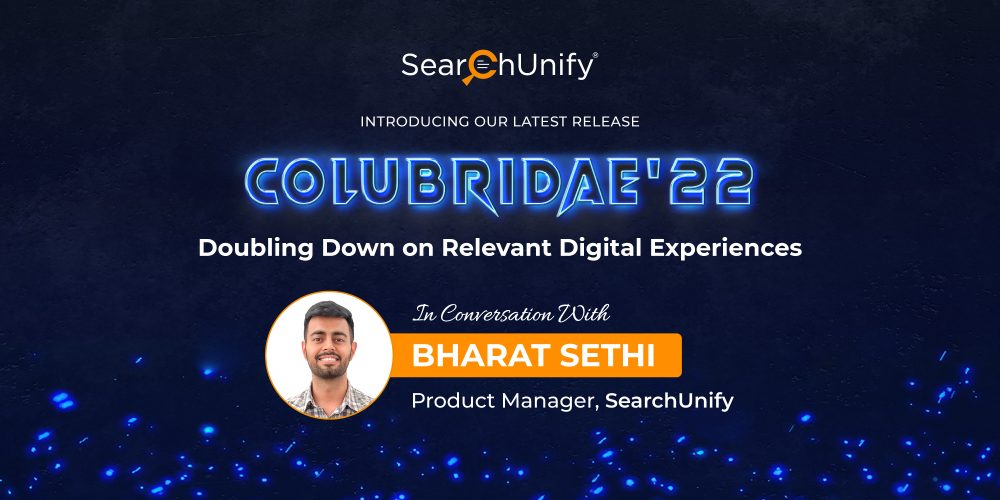 *Drum Roll*
We're back! 😀
Another ebullient release, Colubridae '22, has just landed! It embodies everything you asked for and much more!
Being on par with the competitive price and quality only goes as far as keeping businesses in the game. Stellar customer service, on the other hand, enables organizations to excel and establish themselves as alphas.
Towards that end, our latest release brings in a slew of nifty enhancements that will amplify customer support and self-service functions by driving the relevance, speed, and agility quotients. Colubridae '22 is a game-changer, and we are confident that you will be pleased with all the upgrades.
To shed more light on the release, I asked Bharat Sethi, Product Manager and an AI enthusiast at SearchUnify, some intriguing questions. Bharat's in-depth knowledge of enterprise challenges and all things tech coupled with his pleasant demeanor made this interview an absolute delight. Without further ado, let's get started!
Yamini: So, the first release of the year, Colubridae' 22, is out now. Is SearchUnify geared up to set the trail ablaze?
Bharat: Absolutely! We are all pumped up. I am confident business owners will be equally elated when they find out how Colubridae '22 is taking massive strides to ameliorate the support and self-service experiences of users.
Not to toot our own horn but in an industry predominantly driven by veterans, SearchUnify has turned the market on its head. What started with search alone has evolved into a platform that fuels a whole suite of next-gen applications. This time around too, we have something exciting in store for you to double down on relevant digital experiences.
Yamini: Woah, that piqued my interest! But before we talk about the up-and-coming features and enhancements, can you describe what drove the curious minds at SearchUnify to develop Colubridae '22?
Bharat: Rendering superlative user experiences is the need of the hour. In fact, 40% of a company's expenses, on average, are spent compensating for a weak DCX. Businesses that align user needs with their growth strategies can easily distinguish themselves from run-of-the-mill players in this ever-evolving customer battlefield.
Along the same route, Colubridae '22 is going full steam ahead by adding some innovative features and incorporating periodic feedback from our customers. Most of the additions will come in handy to support mavens, knowledge managers, customer success teams, and community managers. That's why our platform constantly gets lauded for its versatility and category-leading capabilities.
Yamini: Haha, you're right. Customers are at the heart of business success. But tell me, Bharat, how is the platform increasing its velocity and delivering deliver seamless experiences to its users?
Bharat: This is an interesting one! Did you know that employees spend around 9.3 hours per week—searching and gathering information?
Time is of the essence, especially in the world of support where companies are always racing against it. Users come in the quest for instant answers. But with employees foraging for pertinent information, all the efforts to deliver swift service can be hamstrung.
On the other hand, patrons who prefer to self-serve are also left to scour for answers from siloed repositories like your brand community, product documentation, online tutorials, etc. This inadvertently gnaws on their experience and spikes the channel abandonment rate.
Hence, adopting a unified approach has become a burning business requirement. SearchUnify can help with that! It consolidates disparate content sources to ensure instant access to case resolving information, irrespective of where it resides within the organization. Additionally, to deliver on the promise of breakneck speed, we've walked the extra mile and frozen unused indices, increased node query cache size, optimized shards, among others to deliver a blistering-fast experience.
Yamini: That's interesting. But it also makes me curious—are supersonic search experiences enough to delight users?
Bharat: Absolutely not. Although swift responses are an important aspect of good customer service, it's not enough. What purpose would quick results serve when they fail to articulate or answer customer queries? None, right? It won't be wrong to say that every irrelevant suggestion or recommendation is only sounding a death knell for your organization.
In the era of instant gratification, keeping up with the incessant expectations of customers is a bit strenuous. I reckon the key to nailing two needs with one deed is by ensuring relevancy and speed work in tandem. After all, it'll be far-fetched to ace the CX race if either one goes astray.
But, with SearchUnify in the picture, you not only fulfill but also surpass expectations. It offers a myriad of features that ensure relevance prevails at every touchpoint and paves way for seamless experiences.
Yamini: Aha. And what about relevance? How are we taking it to a higher echelon with this release?
Bharat: There's no better way to hit the CX home run than through relevant, agile, and personalized experiences. To that vision, SearchUnify has made significant enhancements to its unified cognitive platform that elevate relevance and content findability. These amplifications include faster search, synonym-based intent boosting, embedding, re-ranking of results, Named Entity Recognition, and more.
Among all things, two features that I am particularly excited about are re-ranking and NER. For re-ranking, we start by creating a 384-dimensional semantic embedding for a query and all the documents. Thereafter, the query is matched with the top 50 candidates with the help of cosine distance to shortlist pieces most relevant to the query.
The next feature is Named Entity Recognition which, put simply, is the process of detecting named entities from the text and further classifying them under predefined categories; such as person(s), location, company, etc. Using this subset of NLP, our algorithms easily extract important information to push relevant results to the top and take users on an exhilarating ride towards highly relevant experiences.
Yamini: That sure is interesting! Moving on, what are SearchUnify's strategic plans for the near future?
Bharat: We've always been laser-focused on elevating customer support and self-service experiences. Going forward, SearchUnify will continue to weave our product roadmap in ways that make user experiences even better. Stay tuned for Mamba '23 which will introduce oodles of new features alongside a myriad of improvements to enhance usability, facilitate decision making, and contribute toward a more fluid UX.
Want to Know More About SearchUnify & How it Makes The Going a Lot Easier?
Do you also want to experience the serendipity of relevant information arriving at the moment of need? Then you must request a live demo and see the epitome of enterprise success unfold right in front of you.