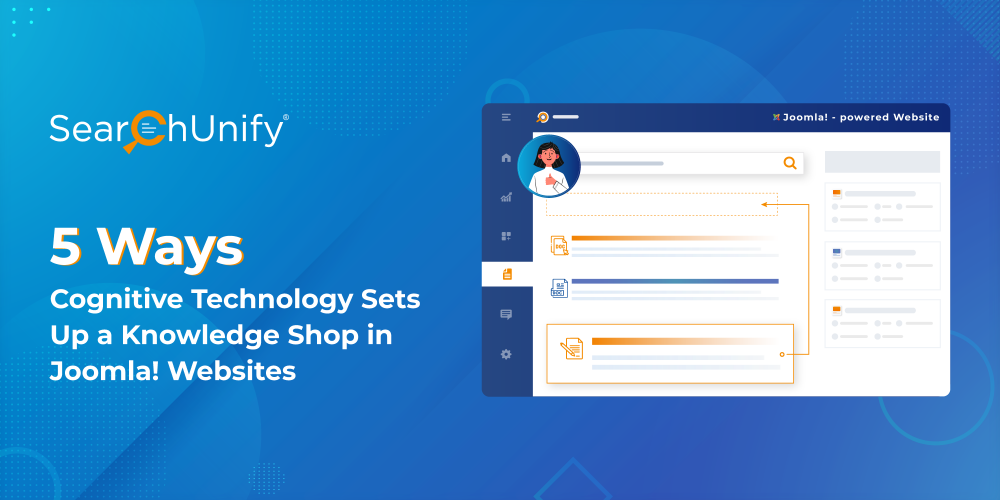 Joomla! is a feature-rich, open-source content management system (CMS) used for publishing web content. It allows you to build and manage responsive websites from one single platform. It further simplifies creating, publishing, archiving, and distributing web content or data.
But no matter how advanced or responsive your website is, if the users can't find what they're looking for, it will unwittingly plummet your CX. And, to add to the user's agony, enterprise knowledge is not limited to one website, application, or platform.
It propagates across your community, product documentation, help centers, etc., thus forcing your users to ferret around for relevant information. They hop repositories and run endless searches only to return empty-handed.
Among all customers, 73% point to experience as an important factor in their purchasing decisions, behind price and product quality.
This is where a unified cognitive platform like SearchUnify comes into picture. It provides quick access to enterprise-wide knowledge from Joomla-powered portals to ameliorate findability and elevate CX.
This blog post reveals how integrating SearchUnify with your Joomla! website can outmaneuver barriers with a one-stop solution thus, amplifying its true potential.
Unlocking True Knowledge Shops with Cognitive Tech
Read below to know how SearchUnify amplifies Joomla!'s properties to delight customers and provide value from get-go:
1. Provide Seamless Access To Knowledge
The only thing worse than a delayed package is not knowing its status. Likewise, the only thing worse than not finding relevant content is knowing it's buried somewhere under the labyrinth of information.
As your organization's information jungle grows, more data silos are added, leading to poor content findability. Your users come in search of instant answers but are left to forage for them from siloed repositories like your brand community, product documentation, online tutorials, etc. This inadvertently gnaws on their experience and spikes abandonment rate.
SearchUnify can help. It integrates disparate content sources to create a unified index of all knowledge which empowers your users with instant access to all the repositories from inside your Joomla! portals, thereby minimizing their effort and frustration.
Fact – Content was 53% less effective for people who experienced difficulty finding it.
2. Decipher User Intent with NLP
People come to your website for a purpose. They have an overwhelming amount of data right at their fingertips. But to ensure they stay on your Joomla! website, you must understand what they desire – or rather what their intent is. SearchUnify can zero in on every intent with ease.
Spearheaded by real AI and self‑learning ML algorithms, the platform leverages natural language processing (NLP) engines to learn and add multiple synonyms and abbreviations for keywords.
NLU is the X-factor that parses out user inputs to decipher their intent, irrespective of the words used. And once the intent has been correctly comprehended, SearchUnify helps your prospects to cut through the information clutter by recommending the right content faster.
Customers don't search with keywords in mind; they search with an intent.
3. Control and Optimize CX
One size doesn't fit all, which is why businesses now go the extra mile to offer contextually relevant search results and stay on top of the competition. The key to deliver relevant results is obtaining a 360-degree view of the customer. This is where SearchUnify steps in.
With cognitive technology at its helm, SearchUnify maps user history, preferred medium of communication, browsing history, etc., to gauge customers' needs and deliver relevant results, over and above solutions they have already tried, thus enriching their experience.
4. Personalize UX with Smart Facets
How often do you find yourself navigating through the drop-down menus of a website to narrow down on what you seek? Almost never, right? We generally turn to the trusted search bar. Here too, SearchUnify springs into action with its faceted search.
It pre-selects the most relevant facets in accordance with the query entered, intent behind it, user history, and search pattern to ultimately deliver precise and pertinent results. Additionally, SearchUnify's proprietary system possesses the intelligence to retain the selected facet unless the user manually deselects them. This prevents any unwarranted regression and personalizes the experience of your Joomla-fueled website visitor to a T.
5. Extract Actionable Insights
Lew Platt, a former CEO of Hewlett-Packard, once said "If HP knew what HP knows, we would be three times more productive".
Customers today want immediate and accurate results. But no matter how much you prepare, there will always be a few queries that lead to the dreaded 'No Results' page, even when the content exists. This is where SearchUnify's insights engine acts as a catalyst to transcend a dead-end into a pathway forward.
It provides actionable insights into unsuccessful searches or searches with no clicks. Additionally, it reports top and low performing content, bounce rate, popular searches, etc., so that you can bridge the gaping content holes wherever required and provide top-notch CX every single time.
Harness the Full Potential of Joomla! to Nail CX!
Since superlative customer service is a vital cog and key differentiator, empowering your organisation to render personalised and contextual interactions throughout the customer journey becomes a strategic imperative. Unified cognitive platforms can make it happen by delivering relevant answers and personalizing CX on your Joomla! website.
Want to know more about our unified cognitive platform and what makes it a potent addition to your tech stack? Then request a live demo now!