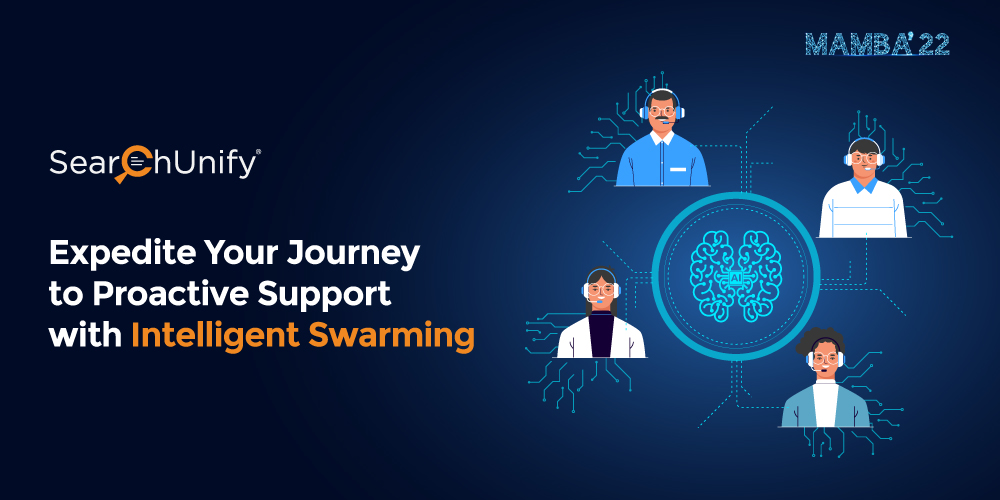 The bizarre realities of pandemic ensured that the technological transformation doesn't just remain a 'bandwagon' to jump on but the default option for businesses. Many enterprises have adapted to orient their short-term survival goals. However, to roar back and master the long game propounds building proactive customer service that keeps the experience of customers and agents at the core.
But how are we supposed to do that? The answer is to adopt proactive support models – such as Intelligent Swarming. How you may ask? Buckle up, you! We are about to go 'Swarming'! In this blog post, we are going to dive deeper into the collaborative approach to customer service and how the real AI helps you swarm the knowledge you already have.
First Things First – Why Intelligent Swarming?
In the era where the world moves at break-neck speed, modern customers getting stuck in the waiting room limbo can be detrimental to any business. Imagine this: A B2B customer reaches out to an e-commerce company about missing products in an order. The agent runs a search through the knowledge bases and tries to connect with various colleagues for help. As time passes, the customer gets more and more frustrated. Unable to find any info, the agent ends up escalating the case to the next-tiered agent who in turn will hand it off to a tier 3 agent. That's messed up, right? This is how reactive models like tiered support works.
Whereas, intelligent swarming flips this vexing scenario on its head. If the same case popped up in a swarming culture, the agent is suggested with the best-fitting expert on the matter to troubleshoot the issue. This cultivates a collaborative culture and eliminates unnecessary hand-offs, thus improving support efficiency and CX.
So, which one do you prefer to elevate your CX and EX? An archaic inconsistent model or a consistent and streamlined approach? The latter one, right? I knew you were a smart one!
Next Up – How Does Intelligent Swarming Works?
Known as 'collaboration on steroids', case swarming is a collaborative approach wherein an agent merges skilled experts from different departments in a team to resolve a complex ticket/case. It revolves around three simple basics:
Collaboration between agents
Flat hierarchy
No escalations
To begin with, the case is assigned to the best-fit agent who is expected to resolve the ticket on their own. If additional expertise is required, the agent contacts top SMEs and huddle along to work together on the complicated issue rather than tossing the case over the wall. This puts an end to the incessant routing, re-routing, escalation, etc. Once a resolution is reached, the agent documents the step-by-step approach in a KB to help other agents with similar issues for future reference.
How Real AI Helps You Swarm Knowledge You Already Have?
The emergence of hybrid models has stirred up the complexities for agents extensively – such as low findability and discoverability, the ineffectiveness of reactive approach, disrupted communication, limited collaboration, and so on. To prevent such challenges from snowballing out of control, SaaS enterprises are leveraging cognitive technology, fueled by Artificial Intelligence and Machine Learning capabilities. Dig in below to know how!
Support agents encounter a cornucopia of data on an everyday basis. And where there is data, there are data silos. The agents were already scrambling with the silos troubles but the shift to virtual collaboration made the matters worse due to the lack of a dedicated communication channel. This led to conflicts, duplicate work, low productivity, and ultimately, poor customer experience. And this creates stumbling blocks for swarming culture. Fret not! Cognitive technology saves the day!
Swarms can take place in a collaboration tool like Slack. When seeking additional expertise, agents can access existing channels first for similar issues that have already been resolved. If they are unable to find the relevant information, they can use a custom workflow in Slack to open a form and fill out the key details like the case number, the urgency level, and the subject matter. This automatically allows the post to be shared in swarm channels and the relevant solutions are shared with the agent accordingly. Convenient, right?
Want to Explore Intelligent Case Swarming in Action?
We've just brushed the tip of the iceberg. There's a lot more that Swarming brings to the table. Want to know how? We've just rolled out the biggest product release of the year— Mamba '22 — wherein we add cognitive horsepower to significantly expedite proactivity and help enterprises to take giant strides forward towards futuristic support & success. You can refer to our full-feature blog here for details.
Also, if you want to experience the real AI live in action, request a demo today!