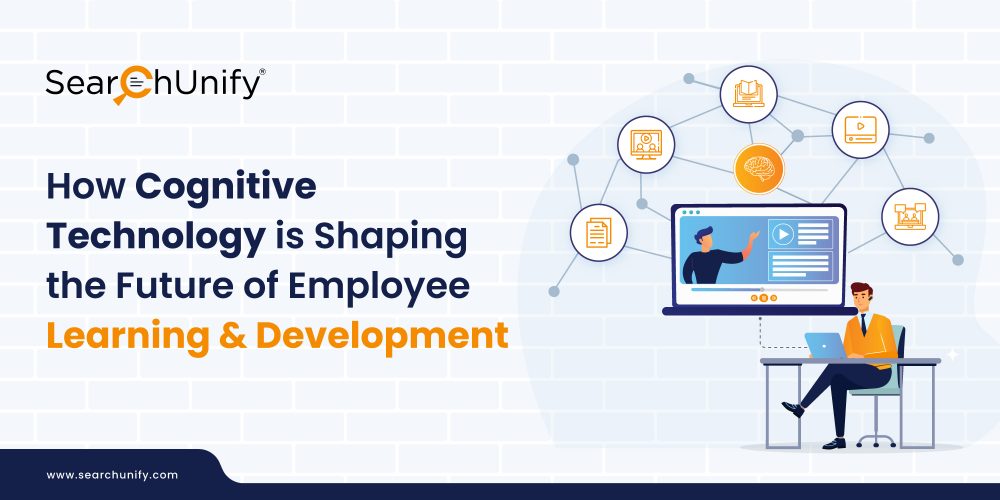 In a recent McKinsey Global Survey, 87% of executives said they were experiencing skill gaps in the workforce or expected them within a few years. But less than half of the respondents had a clear sense of how to address the problem.
We are living in such a volatile era where technological advancements and ongoing business disruptions have resulted in workforce skill gaps. The pandemic, with its unparalleled magnitude of disorder in recent history, has only made matters worse. Many organizations rapidly digitalized their operations to come to terms with the new reality, which further widened this skill gap.
Now, enterprises are gearing up to re-skill and upskill their workforce to successfully pivot to new business models, strategies, and roles. Although traditional employee training methods were in place for decades, the evolving times demand modern techniques, i.e., LMS-induced training with a touch of cognitive tech.
But why cognitive technology, you ask? Because it creates an intuitive UX with personalized recommendations and dynamic interfaces to deliver a learning experience that truly engages employees while solving modern training challenges. This blog post talks about the key employee learning trends and how cognitive applications fuel LMS adoption & employee learning.
Key Employee Learning Trends with the Virtualization of Workforce
In today's fast-paced society, employee learning and development trends change from time to time. We have shortlisted the crucial trends that the enterprises should keep an eye on.
1. Forced Digital Acceleration
Many businesses stored their operational knowledge in training or operations manuals. However, the abrupt shift to WFH rendered this content inaccessible. As a result, all the knowledge that used to be manually registered has been digitalized now.
2. Agile Learning
The business world is changing at a fast pace. There is an obvious shift from structured & planned organizational learning to a more agile approach. By adopting agile learning, employees can crowdsource insights from within the organization, fine-tune the modules, align personal goals to organizational objectives, and break down learning into smaller chunks. This not only helps upskill the employees but also prepares them for disruptions and changing trends.
3. Rapid eLearning on Priority
Rapid eLearning authoring tools are all the rage these days as they facilitate simple, quick, and collaborative authoring. So, instead of spending months to create courses, organizations can now accelerate the whole process without compromising on the quality of instructional design. And the icing on the cake is the surprisingly low cost involved as compared to the older ways.
4. Adoption of Microlearning Approach
In today's business world, efficiency and flexibility are paramount. With microlearning, businesses can add these traits to their employee learning and development efforts. Microlearning helps employees to consume content in bite-sized portions whenever and wherever they want to.
Fortunately, cognitive technology can help you stay up-to-date with the ever-evolving L&D trends. It enables you to stay ahead of the curve and helps close skill gaps in the workplace. In addition, it elevates your employee experience and engagement.
4 Must-Have Applications Fueled by Cognitive Technology to Enhance Employee Learning
By 2026, the global eLearning market is forecasted to reach over $370 billion.
Today, every industry is privy to the proliferation of cognitive technology. Many leading companies are adopting it to transform their employee training & learning programs and develop a future-ready workforce. Let's take a look at some apps that are at the forefront of this transformation:
1. Intelligent Search for LMS Adoption
Employees often juggle between modules in search of finding the right learning content. It is imperative to provide them a uniform and cohesive experience that helps them find and access learning content from anywhere. Intelligent search makes it happen. It creates a centralized learning space that boosts engagement and productivity.
2. Conversational AI for Smooth Employee Onboarding & Nurturing
When new people are hired, they don't know how or where to get their basic questions answered. As a result, the HR professionals have to double up as intermediaries who guide them to the right people or sources. With conversational AI, your recruits can do that on their own.
In addition to that, it tracks the user history to create a positive and fruitful experience with intelligent & personalized suggestions.
3. Real-Time Analytics for Performance Monitoring
Real-Time analytics measures what matters. It helps you understand how much a learner has achieved through the module. This can help you alter the training program as and when required.
Some cognitive platforms come equipped with intelligent monitoring and reporting functionalities that allow you to dig deep and identify high-performing modules and content gaps. This enables you to strategize and optimize your learning modules for maximum engagement.
4. Tailored Learning Journeys for Closing Skill Gaps
Today's learners seek hyper-personalized learning experiences. Cognitive applications employ ML-infused suggestion engines that track behavioral analytics, search patterns, current role, etc., to understand the learner's intent. Then, they suggest courses that offer more value without being overwhelming.
The modules opted from a rich pool of related content and personalized recommendations allow learners to stay interested and upskill. This keeps the employees hooked and turns them into key contributors.
Want to Know More About Improving LMS Adoption, Engagement, & Experience?
The journey from figuring out your employee training needs to witnessing successful LMS adoption can be long and fraught with peril. That's why we hosted a webinar with Brightree that discussed best practices for maximizing the impact of self-service learning and ways to improve LMS adoption, engagement, and experience. Tune in to the on-demand webinar here!