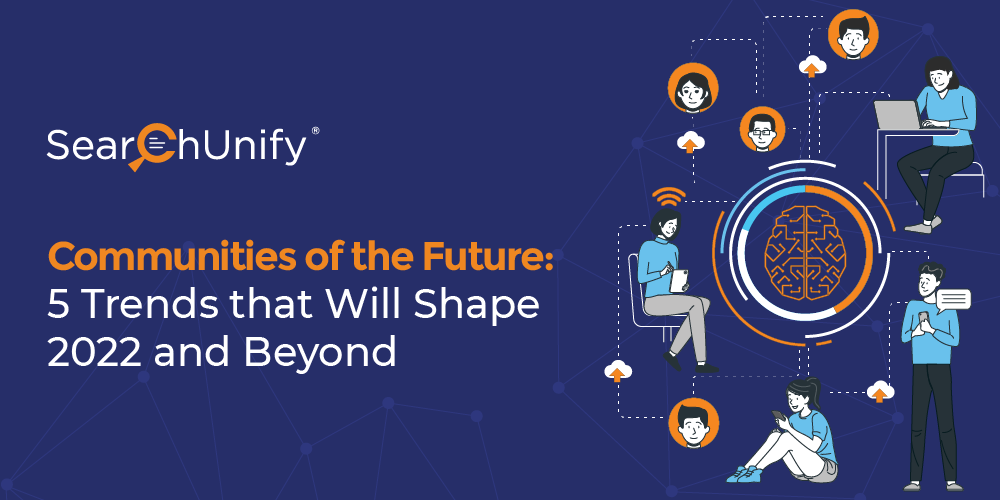 Organizations are constantly evolving to adapt to the rapidly changing world. If the last two years were about responding and recovering from the unprecedented situation, 2022 will revolve around thriving in this customer-centric world. So, to stay ahead of their competitors, organizations are incentivizing online communities as a focal point in their growth strategies.
Brand communities demonstrate near limitless potential, but building an actively engaged community is no child's play. If you're looking for ways to facilitate a superlative experience for your community members, then look no further!
In this blog post, we explore five trends that'll help organizations and community leaders to optimize their community strategy for 2022 and beyond.
Trends That'll Shape Online Communities in 2022
2022 will go big on fostering lasting relations with customers. How? Well, hop on the following community trends, and voila!
1. Online Communities Will Move Beyond Transactional Support
65% of consumers would cut ties with a brand over a single poor customer experience.
Companies are working to create long-term and meaningful relationships with customers that outlast at least one customer service hiccup. And for this, focusing solely on transactional support doesn't suffice. Organizations need to go the extra mile to build collaborative relationships.
The key here is to not only offer personalized support but also to build a personal connection. Simply asking, "how do you think we're performing?" can go a long way. Doing so can make community members feel valued and closer to the business. This also gives you an opportunity to tap into your customers' concerns. Furthermore, you can use the feedback to improve your offering while creating a safe space for relationships to deepen and develop over time.
2. Community of Practice Will be the Game Changer
"Alone, we can do so little; together, we can do so much" – Helen Keller
What underpins an organization is its people. It's intrinsic for people to connect with others to share ideas and get the help they need. This is where communities of practice come into picture.
CoP is a fundamentally informal and nascent concept that will gain momentum going forward. It is the hidden fountainhead of knowledge development, which is not limited to just offering a product or service, but embodying a space where customers feel included.
It nurtures the shared interests of a group of people and is an effective mechanism for organizations to upskill or reskill their users. CoP pushes the envelope to build opportunities for learning, knowledge sharing, and reducing duplication of data.
3. CSM Strategies Will Double Down on Online Communities
For the longest time, online communities were just viewed as a case deflection engine. But come 2022, and they will become the USP of organizations that double up as the strategic differentiator for most companies.
Unleash the full potential of your community by moving from 'just marketing' and foraying into 'customer success'. Cut through the noise and resonate with customers by building a community that is proactive, responsive, and personalized. It all trickles down to helping customers achieve their desired outcomes by anticipating their issues and meeting (actually exceeding) expectations. Once that is sorted, you can look towards securing higher engagement and brand advocacy.
4. AI Will Lead the Beacon in Community Experience
The new epoch on the community front will be led by AI and cognitive intelligence. These technologies can alleviate the burden of repetitive and mundane tasks, thereby allowing community managers to focus on more valuable activities. However, this is the lowest hanging fruit that AI can pluck.
The most promising aspect of AI-enabled communities is their ability to provide rich insights into user behavior. Their ML algorithms continuously tune themselves according to user preference, behavior, and the nature of the query to deliver relevant and personalized content. When users find what they're seeking, it by default increases engagement and helps participants, both contribute and extract value.
Additionally, AI and ML also provide complete autonomy to better enforce governance rules that are free from all prejudices and favoritism. For example, if a community member breaks the rules, s/he will bear the consequences, regardless of their status within the community.
5. A Holistic Approach for Community Development
The communities of 2022 are all about collaborating, communicating, and connecting with others. This approach holds true for the internal structure of an organization as well. The goal is to foster productive relationships not just within but beyond the natural workgroups where the lines of communication are always open between community and internal stakeholders. Blurring the lines between multiple departments and the community members enables the community to become a hustling and bustling growth engine.
Intend to Enrich Your Community Experience?
Then we have the perfect ally! SearchUnify's Community Helper keeps engagement on the boil. It functions round the clock to deliver personalized and relevant responses on unanswered threads. This way, it takes away a significant amount of burden off your support agents, thereby enhancing both AX and EX.
Additionally, if you're struggling to calculate your community's value, then this ebook helps you quantify your community's ROI with absolute ease.