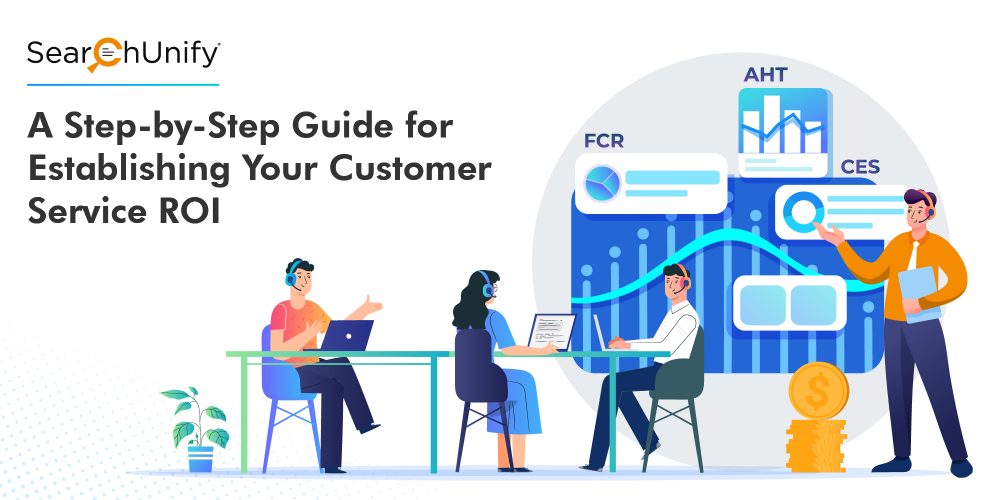 There are two types of customer service: the first one never lets you down, delights you, meets your expectations, engages you in new exciting ways, while the other ensures you lose the will to live. Brands that offer the former build a cult following of customers, and rightly so.
While it's a known fact that customer service can make or break your business in moments (thanks to social media), there is an image of cost-center attached to it. That's why only a handful of companies get it right. Do you want to be one of them? This is where the concept of ROI or return on investment of your customer service steps in.
As the name suggests, ROI of customer service means the resulting benefit(s) received after the management invests in CS functions–staffing, IT systems, tools & training, etc. But calculating ROI isn't that simple. Before we get to its bottom, let's look at how quality customer service catapults your business.
The ROI of Great Customer Service
1. Upselling & Cross-Selling Opportunities
According to HBR, acquiring a new customer is anywhere from 5 to 25 times more expensive than keeping a current one. What more, the probability of selling to an existing happy customer is up to 14x higher than selling to a new customer.
Therefore, it's crucial that your customer service team is aware of the more strategic role they can play and its impact on the organization. This will motivate them to do everything within their reach to keep the customers happy.
2. Building Sales Acumen
Your customer service team is sitting on a goldmine, namely customer insights – the customers' buying behavior, issues, where your company can help more, and so on. Passing this information along to your sales reps helps them understand the customer's standpoint and use those learnings to drive sales. This also helps them perfect their sales strategy and assets.
3. Lowering Agent Turnover Rate
Customer support agents are often overworked (swamped with tickets) and overlooked (outdated technology). Both these things are a death knell for employee engagement and severely hit agent morale. But when you communicate the impact of their efforts, it makes them feel like they are actively contributing to the company's success, not just facing irate customers. This way, you can lower agent attrition.
4. Fostering Customer Loyalty
If you do not pay adequate attention to your customer service efforts, something like this can happen:
Wonderful people at @BTCare just called, kept me on hold for 40 minutes and STILL failed to grasp the issue.

— Andy N (@Mr603) August 31, 2017
This same scenario could've had a different outcome. You can take a page out of Rackspace's customer service book. One of their support agents heard a customer tell her colleague that she was hungry. The agent quickly ordered them a pizza. They were still all on the phone when it arrived 30 minutes later, but the customer was delighted.
On the contrary, if you neglect customer service, it catapults into a series of never-ending problems such as lost revenue, distrust, turnover, disengagement, lower productivity, frustration, negative reviews, etc.
Now that we are clear on the impact of stellar customer service, let's take a look at the various ways of measuring and establishing it.
How to Measure the ROI of Your Customer Service?
There are three main steps to establish and measure the ROI of customer service:
Establish your goals upfront
Identify the key metrics and elements
Analyze customer sentiment
Let's discuss each in detail.
1. Establish Your Goals Upfront
You would never realize how far you've come in your journey towards cracking the code to successful customer service until you set a goal and periodically check your progress. Depending on your business, there can be different goals but certain things are pivotal to every firm. For starters, you can look at something as below:
Existing Customer Upgrade: When existing customers like your product or service so much that they move from the free version to a paid one or they start asking for more paid services.
Customer Retention: Customers renewing the services annually, proving they like your service enough to repeat business with you.
Advocates: Customers sharing their experience or success stories with your product or services with others publicly in the form of a webinar or recommendation, etc.
You can also define short-term goals such as bringing down certain metrics (which we'll talk about in the next section) in a stipulated period.
2. Identify Key Metrics and Elements
ROI is mainly about two things: investing money and extracting value from that investment. It's easy to calculate the monetary value associated with customer service assets such as staff cost, tools/equipment, etc., but assessing the gains is a bit tricky. So, instead of calculating it using one empirical formula, it's better to monitor several metrics regularly to get a clearer picture.
Also, consider indirect contributions of your customer support professionals like:
Number of bugs reported
Product feature suggestions made live
Leads that came through support
Measure and interpret all these metrics regularly. Then try to improve them so that it works in your favor. Check out this free e-book to improve your contact center quality.
3. Analyze Customer Sentiment Analysis
Sentiment analysis is a process that analyzes available user data to establish their attitudes towards your company, product, or service. This helps you to identify your areas of improvement and promote your strong points. After all, as Derek Sivers said:
Customer service is the new marketing.
Various social listening tools gauge customer sentiment and help in delivering proactive customer service. They also help triage social messages based on their sentiment. If you want to dig deeper into this topic, here's the perfect blog post.
Want to Improve The ROI of Your Customer Service? Add AI to the Mix
The customer journey is segmented into several stages. This ebook, however, focuses on three post-sales stages that customer success leaders are focused on – Onboarding, Nurturing, and Retention. Download this guide to find how you can leverage AI to deliver stellar customer experiences at each of these stages.