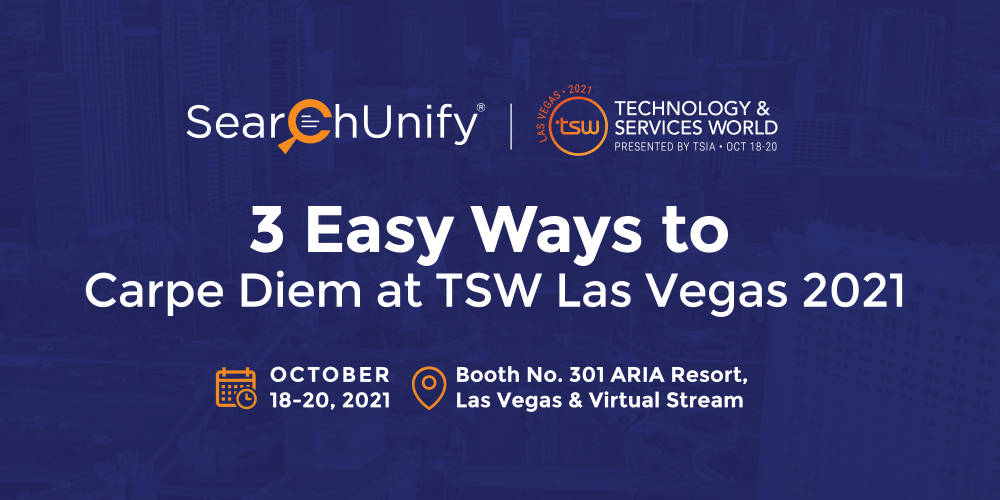 The technology landscape is rapidly advancing. Emerging trends reflect a shift towards digital self-service platforms and analytical capabilities that are designed to better understand and anticipate customer needs. That makes frictionless customer self-service a vital cog for success. Yet, companies are struggling to fully capitalize on technologies that facilitate it.
To make things worse, a recent survey by Khoros deduced that 65% of customers switched to a different brand because of one poor experience. So if you don't want customers to jump ship due to subpar CX, then you can't afford to miss TSW Las Vegas 2021, taking place on October 18-20, 2021.
Many customer service leaders and professionals place the conference on top of their priority list, and with good reason. It discusses the hottest tech advancements in customer service, support, and success.
Here are three nifty ways to drive most value out of this three-day hybrid conference:
1. Stay Abreast with the Latest Trends in Technology Services
TSW keeps support leaders on the ball by unraveling technologies that are gaining momentum in the ever-changing world. It covers multiple realms, including technology services, sales, channel optimisation, product management, customer growth, renewal strategy, and customer success. Leverage real-time and objective insights and get down to the nitty-gritty of enhancing customer engagement, generating new revenue, and providing a delightful experience to employees and customers alike.
2. Connect with Technology Leaders
Every year, leading businesses come together at TSW to discuss the convergence of service, marketing, and technology; and how they can overcome the toughest challenges and set their enterprises up for success.
The conference will feature many noteworthy speakers and industry stalwarts. It is ideal for leaders navigating the tumultuous waters of customer success, support service, and optimizing channels for XaaS business models. The event features over 100 keynotes and sessions that will minutely discuss seizing business opportunities and responding to technical adversities or service challenges.
3. Future-Proof Business Workflows with AI
According to a TSIA research, adoption of technology for self-service portals increased from 71% in 2019 to 87% in 2020. Support leaders are also realizing the need to equip their agents with the right tools designed for the long haul and not just as a workaround solution. This is where cognitive technology comes into the picture.
Built on the core of AI, it equips support teams with unified information, deep analytics, and a suite of next-gen apps that empower your support and self-service teams to deliver a seamless experience. Want to know how? Then, join Brian Corcoran, Certified KCS Practitioner and Regional Sales Manager, SearchUnify, and Lynette Ledoux, Customer Success & Search Specialist, SearchUnify, as they discuss the role cognitive tech plays in future-proofing your business workflows.
See You at TSW Las Vegas 2021!
So, have you packed your bags for this high-octane conference? We already have. You can find us at Booth No. 301 for a quick chat about your customer service goals. What's more, we'll be giving away some cool swags (read: dancing bots), so get there before they run out!
However, if you can't join us in person, fret not! You can tune in virtually and schedule an appointment with our experts for any query. Either way, don't miss this golden chance to learn, engage, network, and get inspired!