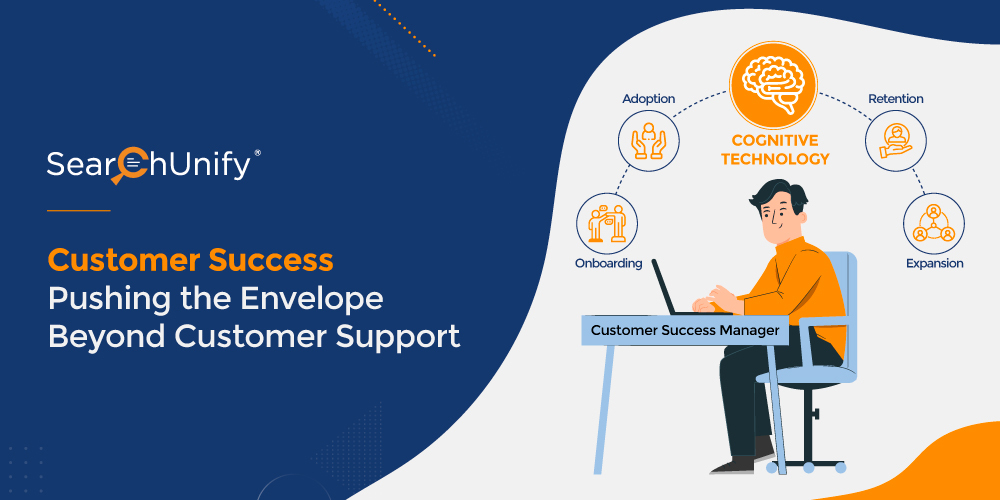 "If your retention is poor then nothing else matters." – Brian Balfour
Imagine this: You just received an email from a company that was *mum/radio silent* for months. You open it; it's a renewal reminder for your subscription. Will it make you feel special? I don't think so.
Most enterprises rest on their laurels until it's time for the customers to renew their subscriptions. Little do they know that this laid-back approach is like digging your own grave as it leads to an increase in customer churn rate. This is where customer success teams come in.
Enterprises have realized the significance of customer success for long-term growth. However, even after having them in place, organizations struggle to woo customers and effectively scale the customer success function.
In fact, a recent TSIA poll revealed that 44% of success teams see scaling as the biggest challenge in 2021. This brings us to the question – how can enterprises circumvent the challenges and scale their customer success function for business growth? Read on to find out the secret ingredient!
Coming to Grips with Customer Success Scalability Challenges
Before unveiling the secret ingredient, it is imperative to understand what are the pain points of CS teams, especially in the SaaS industry.
As we know, CS teams are involved at every step of the customer journey, such as onboarding, proactive problem solving, cross-selling and upselling, and keeping an 'open door' for feedback. However, while juggling between these tasks, they tend to lose sight of the bigger goals, therefore, impeding their efficacy.
A number of roadblocks prevent them from getting down to the brass tacks, such as:
Lack of visibility into customer adoption and value realization
Limited, siloed customer usage insights
A reactive approach to managing customer health
In addition, delivering value at every stage [onboarding, adoption, expansion] of the customer journey is an uphill battle for any CSM or CS team.
Here is the caveat: CS teams need to transition from having a reactive approach to a proactive one that overcomes bigger, complex problems – curbing customer churn and dissatisfaction. To take customer success up a notch, investing in the right technology is the key for businesses today. Else, the reactive organizations will render obsolete in this cut-throat competitive landscape. Dig in below to know how to scale customer success function with the goodness of AI and ML.
Cognitive Technology: The Force Multiplier for Customer Success
According to a UserIQ study, only 25% of customer success teams use a dedicated tool, but 64% have plans to simplify their technology stack.
This proves that many CS teams are looking to embed adequate technology into their tech stack as a helping hand to scale their operations, and cognitive technology is at the forefront of this evolution.
While it comes bearing endless benefits – such as improving the overall customer health score, elevating self-service and customer support workflows, its major role revolves around the key customer journey stages.
STAGE 1: ONBOARDING
This is the first step of the journey that lays the foundation of the customer's relationship with the product and company. Longer and impersonalized onboarding experience can be a major turn-off for them. Cognitive tech can take care of it.
Enabling Personalized Onboarding Experience: Infused with AL and ML capabilities, cognitive tech allows you to connect multiple data sources to see customer journey and generate actionable insights to paint the full picture in front of your CS team. This helps them to curate personalized experiences. Like, at this stage, the customer can be presented with 'product tours' or 'know us' tutorials to help understand the product better.
Intelligent 'In-the-Moment' Contextual Help: During the onboarding process, the customer might face difficulty understanding a specific feature. Instead of the tedious back and forth with the CSM for any doubts that they might have, s/he can reach out to the 'in-product bot' that addresses and resolves the query in a matter of seconds by providing self-help articles or relevant recommendations.
STAGE 2: ADOPTION
Adoption is the next step of the customer journey where they seek more value from the products and services. This stage requires the CS team to focus on existing or new features to pique customers' interests and help achieve objectives. Else, the buyers can lose interest and jump ship.
Increased Product & Features Stickiness: Creating sticky product experiences aid with customer renewals and, hence, recurring revenue. CS teams need to keep proving to the customers that purchasing your product or service was nothing short of an Aha moment. To make it happen, your customer champions can leverage email nurtures, FAQs, support docs, self-serve training material, and more.
Improved Depth & Breadth of Adoption: Most customers find it difficult to adopt all the available features and functionality of a product. This lowers product adoption. To align product portfolios with the customer's needs, enterprises should lend a helping hand in the form of predictive analytics via cognitive tech. This allows your CSMs to analyze historical data, track purchase patterns, extract intent from the searched data, and prepare insights or recommendations to act upon.
STAGE 3: EXPANSION
Customer expansion can be baked right into your product, provided you have the right metrics or analytics. This stage is crucial and, if done right, can create more growth opportunities and amplify word-of-mouth. So, what does cognitive tech bring to the table for this stage?
More Revenue from Up-sells & Cross-sells: The richness of the customer data through multiple data sources is indispensable. AI lets you understand your customers better by identifying their lifestyles, tracking purchase patterns, and predicting the best action in real-time. In addition, it allows you to create upsell & cross-sell opportunities, thus improving CSAT and expansion revenue.
Higher Customer Referrals & Advocacy: If the product and customer journey are exceptional, the customers tend to be satisfied. Hence, they will spread the word about your offering and elevate the brand's reputation. This leads to an increase in customer referrals and brand advocates.
Want to Know More How to Ratchet Up Your Customer Success Function?
We've barely scratched a surface here. There are more benefits to reap as you scale your customer success. Tune in to this webinar where John Ragsdale, Distinguished Researcher at TSIA, and Vishal Sharma, CTO of SearchUnify, discuss how cognitive technology acts as the "force multiplier" for customer success function and how its adoption can optimize customer success KPIs such as Customer Health Score, NPS, and CLV.