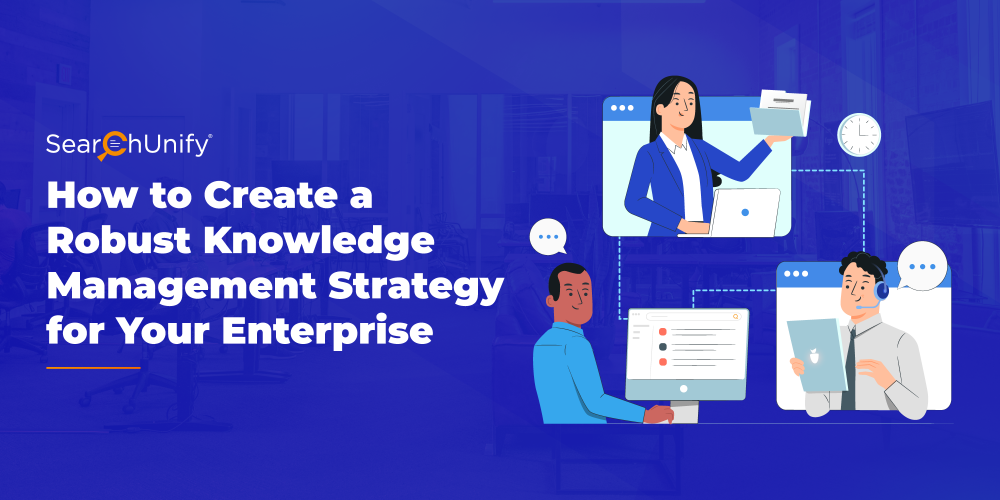 Knowledge is power, but only when you can find it at the right time. One of the reasons why many organizations struggle with harnessing the power of knowledge is due to findability issues (say hello to data silos.) This is why knowledge management is so crucial.
Without it, businesses will be doomed to a horde of bottlenecks, confusion, and disorderliness – especially the customer service desk. Because whenever an agent fails to quickly find relevant information, both customer and the organization bear the brunt.
"According to Gartner, a customer service representative spends, on average, 20% of his or her time understanding questions, searching for correct information, and responding to the customer. While employees struggle to target answers to questions, customers face the same challenge."
To tackle this, many service organizations invest in internal (agent-facing) and external (customer-facing) knowledge bases. The result, you may ask? Gartner answers, "Improved delivery of contextual knowledge to an employee or customer reduces a provider's time to answer by 20% to 80%, raising competency and satisfaction."
But there are some challenges along the way. This post will address them while also covering how organizations can improve knowledge management and elevate overall productivity.
Key Challenges with Enterprise-Wide Knowledge Management
Organizations expand their tech stack every now & then to accommodate changing business needs. Multiple tools and platforms mean scattered data. Even if they do invest in KM tools, they end up with stand-alone solutions for different departments, thus creating more silos. In other words, organizations simply do not have a way to manage all the knowledge. Let's delve deeper into the key challenges.
1. Unlocking Full Potential of Unstructured Data
Massive volumes of data are locked away in texts, calls, websites, social media, and other unstructured sources. Without a proper tool that can index and integrate this information with other enterprise platforms, this information is hard to retrieve and might not even see the light of the day.
2. Capturing the Tacit Knowledge
Managing explicit knowledge is perceived as crucial competence of the organization, but the real deal is to manage tacit knowledge. Tacit knowledge is undocumented knowledge that is gained through experience or isn't commonly known in an organization. That makes it difficult to capture. For instance, you may have a top-notch sales or marketing professional who can read unspoken cues from potential customers. However, he may not be able to articulate every single thing he does for the same. Getting an idea of the challenge?
Strategizing Knowledge Management, The Right Way
1. Focus on Enterprise-Wide KM Systems
As mentioned earlier, multiple systems can create knowledge silos, threatening content findability, which in turn jeopardizes the experience of agents and customers. Hence, service leaders should focus on undertaking enterprise-wide knowledge consolidation projects.
The leaders can adopt knowledge applications to store structured and unstructured documents, disseminate knowledge, and much more. SearchUnify acts as your end-to-end solution for all KM problems. It powers the KCS Enabler app that automates knowledge creation by integrating with existing platforms. It helps in making knowledge searchable from anywhere, at any time. It comes with an attach-to-case feature that makes knowledge sharing a part of your enterprise culture. According to Gartner, adopting such consolidation projects can lower maintenance costs by 15% to 40%.
2. Pay Attention to KM Scalability
Organizations must adopt a KM solution that is easy to implement and scale. For any enterprise, the best approach will be to unify disparate data sources and build a centralized knowledge repository.
SearchUnify offers out-of-the-box support for 40+ connectors that integrate knowledge from multiple platforms like Salesforce, Zendesk, ServiceNow, Microsoft Dynamics 365, etc., smoothly and efficiently. Also, it bundles with a Universal Content API that enables you to build effortlessly custom connectors for any data source.
3. Tap into Collaboration Tools
Creating a central repository for your employees is a marvelous way to elevate content findability and knowledge sharing. But nowadays, employees often prefer to just ping (via solutions like Slack) and ask their colleagues rather than going through the ordeal of sifting through knowledge bases.
Here again, infusing your collaboration or communication platforms with SearchUnify's Intelligent Chatbot takes information retrieval to new heights. With unified knowledge discovery and easily selectable, customized facets for different teams (see image below), it provides quick answers to questions, right in the chat window by indexing information from enterprise-wide data.
Looking To Overhaul Your Knowledge Management Strategy?
Getting KM right is tough. This post barely scratched the surface of KM challenges and what you can do to fill the gaps. If you want to dive deeper, we've got the perfect webinar where industry stalwarts from leading companies like AT&T, Nationwide, and Financial Times reveal the best practices around KM and enhancing the experience for today's customers.
Tune into the webinar where our expert panelists share the latest tools & technologies to maximize the value of KB and break knowledge silos with methodologies like KCS. In addition to that, you can get insights into reimagining contact centers for better agent productivity & CSAT.