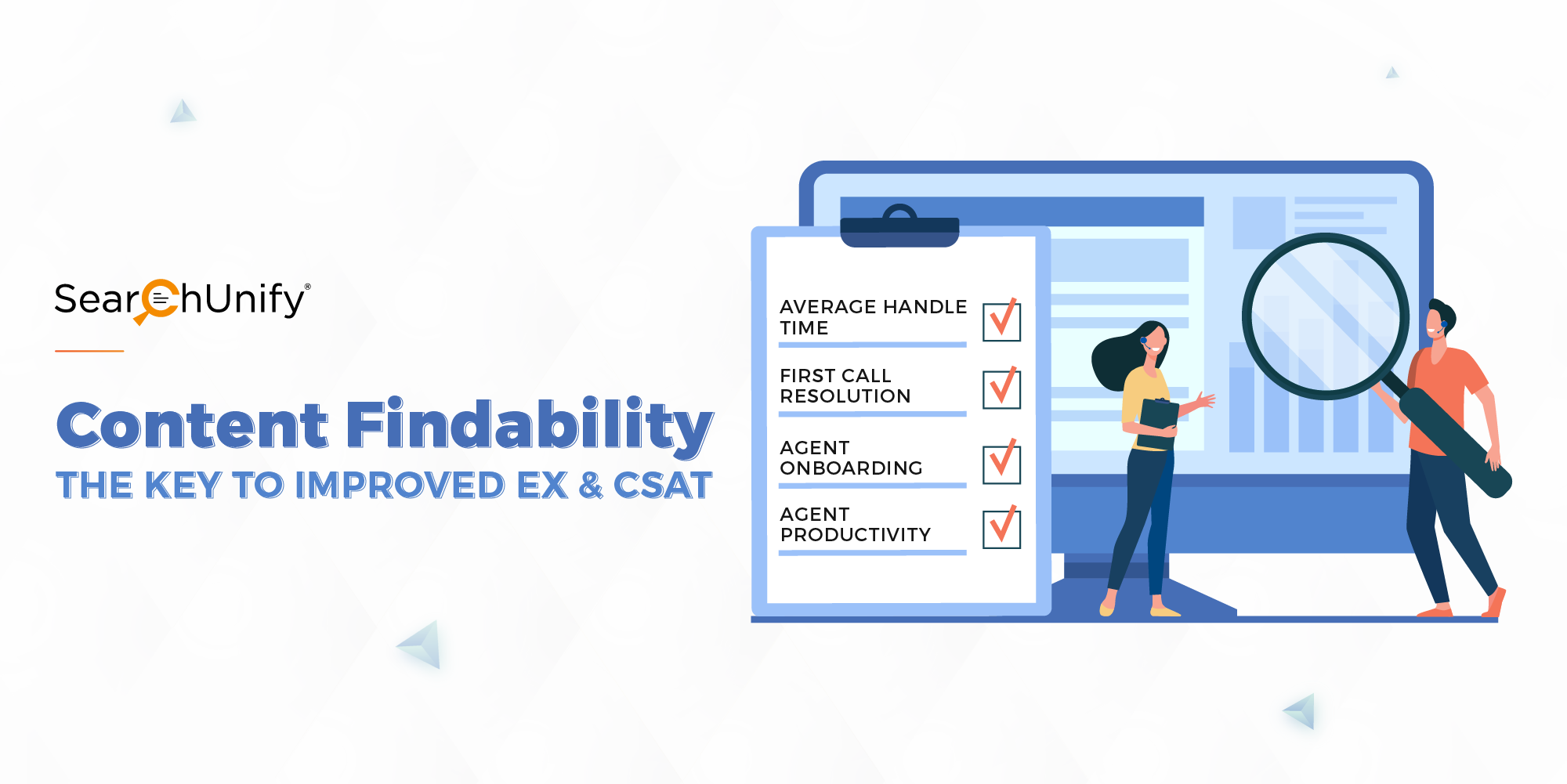 Happy employees are up to 31% more productive, raise sales by 37%, and improve the accuracy of tasks by 19%.
Keeping employees happy is usually associated with recreational activities, foosball tables in the office, and frequent breaks. However, the most important factor often gets overlooked. Managers fail to gauge the pain points agents face and how they can improve multiple aspects of the job to enhance productivity and deliver stellar customer service experiences.
In the information age where the sea of data is growing with each passing minute, content findability is one aspect that can save your support mavens' day. Despite drowning in data, they are starving for information because the right help-content doesn't surface at the right time, and it is as good as non-existent.
In a previous blog post, we talked about the biggest challenges of content findability. In continuation to that, we'll walk you through the ways to improve it in this blog post. Let's get rolling.
Impact Of Better Findability In Customer Support
Before we dive into the various ways that can empower reps with improved findability, let's take a look at how it can change the dynamics of your support game and elevate outcomes.
1. Reduce Handling Time
Ultimately, handling time comes down to how conveniently you can access relevant information in the existing database. With superior discoverability, both customers and agents can access all the information and help to resolve queries in a jiffy without any hassle.
2. Improve First Time Resolution
Customers tend to be impatient when they want service — irrespective of the business nature, they want a resolution to their problem then and there. That's why unnecessary call transfers and escalations lead to disgruntled customers. The better the discoverability of information, the sooner agents have answers to incoming queries.
3. Augment Agent Productivity
When agents can't find what they need, they turn to their colleagues for help. The required information generally resides within the knowledge base, but due to poor findability, interruptions are inevitable. They rob your service representatives of productivity and focus.
4. Ensure Seamless Onboarding
Employee attrition is quite high in the support industry. Lack of training being a prime reason. With better findability, you can tap into the existing knowledge base to train new agents and ensure seamless onboarding with minimal involvement of your experts.
Ways to Improve Findability For Customer Support Agents
Now that we are aware of why it is of utmost importance to ensure better findability for support agents, let's take a look at how we can achieve it.
1. Promote Knowledge Sharing Culture
Remember the old adage, "Knowledge shared is knowledge squared?" The stepping stone to superior discoverability is establishing a culture of knowledge sharing within the organization. And not just agents but everyone, including managers and executives, needs to be onboard with the same. Without it, the synergy needed across teams to make it work simply won't exist.
2. Enable KCS Adoption
Despite developing a great knowledge base, are you struggling with a steady inflow of basic how-to questions from your customers? Then, leverage KCS Enabler to revolutionize knowledge discovery and drive self-service success. It accelerates knowledge creation by populating new articles as a by-product of agents' resolutions for undocumented issues.
3. Build A Comprehensive Knowledge Base
Support agents spend unnecessary time toggling between multiple consoles and apps to find the right help-content at the right time. But with a centralized, comprehensive knowledge base, you can be assured of prompt access to relevant information across channels as and when needed.
4. Improve Your Content Health
There are numerous attributes that affect content quality and discovery. Meta tagging, content entity integration, and rich snippets to name a few. Despite succinct data, if any of these attributes are not in place, then your content is not in good shape. To learn more about how you can improve the health of your content, check out this blog post.
5. Provide A Unified View Of Case-Resolving Data
Information overload is a prime challenge that support reps face nowadays. With apps like Agent Helper, you can provide them a unified view of case-resolving information and insights from similar cases in the past. Additionally, it populates top articles and SMEs to shorten the turnaround time and improve MTTR; saving a great deal of time spent on rummaging through the pool of data.
Want to Know How Semantic-Powered Cognitive Engines Improve Findability?
By and large, poor findability is a complex problem that entails interactions of many elements like content and search engine. Although the relationship between these elements isn't always predictable, a fine mix of both truly defines the discoverability of relevant information on your online portals. Along with improving the health of your content, it is crucial to implement a search engine that provides contextual and relevant responses. This eBook explains why semantic-powered search engines integrated with cognitive technology fit the bill.