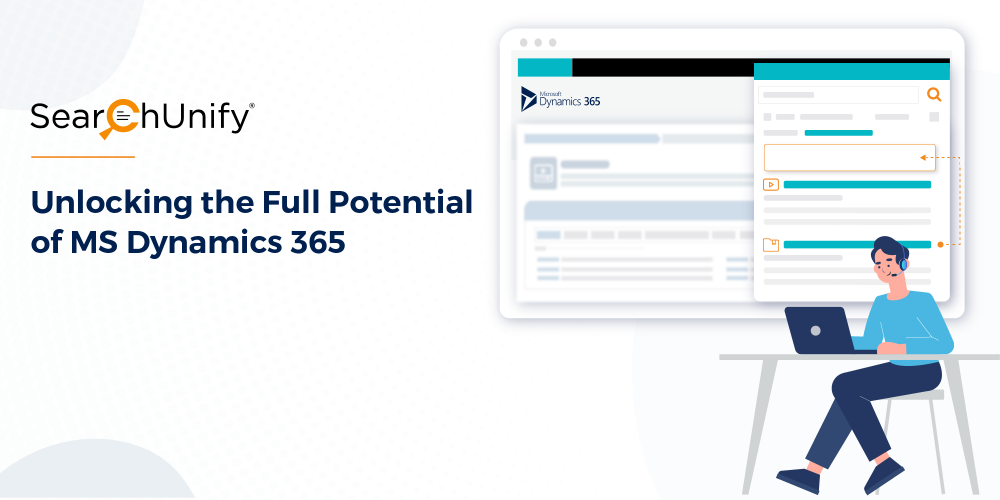 Microsoft Dynamics 365 is one of the most widely used business application platforms. It unifies CRM and ERP capabilities, allowing businesses to transform their customer service.
But there is always scope for improvement. For instance, when contact center agents have to switch from Dynamics 365 to other content repositories to answer customer queries. Navigating the information maze impacts their total time to resolution negatively. Limited personalization and relevance in search suggestions further lower the quality of user interactions.
This is where cognitive search can help. Bringing AI‑fueled search to your Microsoft Dynamics 365 improves the platform's global search function which in turn improves a multitude of things. Let's get to the bottom of it.
How Cognitive Search Amplifies Capabilities of Your Dynamics 365 Instance
1. Unifies Content No Matter Where It Exists
Your enterprise portals are laden with case‑resolving information. You don't want your agents to go scrambling for the right content when a customer knocks at the chat window. Your agents need relevant information at their fingertips.
Cognitive search creates a unified index of multiple information sources using one‑click‑and‑configure connectors. This enables your agents to find all the relevant information right inside their console via the search bar. Thus, reducing their average ticket handling time and improving productivity. And the best part–no exhaustive training required.
2. Leverages Augmented Intelligence and Machine Learning
A cognitive search engine is powered by self‑learning ML algorithms. This means that it learns which documents or articles can resolve cases based on previous user sessions and automatically tunes search results. This helps your agents to cut through the information clutter and get to the right content faster.
The engine also factors in users' journeys and behavioral data to create personalized experiences and suggests additional content which the users might find useful. This improves the efficiency of your teams as well as CSAT scores.
3. Creates a Better User Experience for Every Team
A sales executive and support engineer will have vastly different KRAs. So, why offer them the same search interface? What's relevant for one team can be utterly useless for the other. Goes without saying this 'one size fits all' strategy is bad for business.
Cognitive search overcomes this hurdle. It empowers you to easily tailor the search experience for different teams. This means that every team that uses Dynamics 365 will find useful information in a jiffy.
4. Facilitates Data‑Driven Decisions With Real‑Time Insights
It's imperative to measure the impact of your efforts. But how? Well, you just need to analyze your data. And these days, you can find a lot of it trapped in every digital nook and cranny. So, why not leverage it?
Cognitive search, also called an insights engine, analyzes and provides user‑friendly reports that detail insights into user behavior and important metrics such as customer journey, successful searches, searches with no click, etc. After getting insights into existing and potential customers you can hone your efforts accordingly.
5. Enables Effective Knowledge Gap Analysis
Lew Platt, the former CEO of Hewlett‑Packard, said: "If HP knew what HP knows, we would be three times more productive." A well‑maintained knowledge base is of profound importance in any business. It's not something that you build once and then let it be. As your business evolves, the nature of search queries changes as well. Hence, organizations that maintain a dynamic knowledge base will always stay ahead of the curve.
Cognitive search offers real‑time analytics that allows you to discover content gaps. You can utilize it to create knowledge‑based assets for unsuccessful searches or searches with no clicks. Empower your employees to enhance customer interactions and always ensure the highest standards of quality.
The Bottom Line
Cognitive search unlocks the full potential of the Microsoft Dynamics 365 platform and can be implemented in minutes. The value addition in terms of features and ease of use make it a potent solution for any tech stack.
Still Not Sure? Here's How One of Our Customers Leveraged SearchUnify and Reduced TTR by 62%.
An IT services company wanted to upgrade its technology to use enterprise content more effectively and better serve its customers. Thanks to SearchUnify and Dynamics 365, it reduced the average TTR by 62% and increased agent productivity by 15%. Download the full case study here.